A collection of cigar bands
Building a collection can be a fun and educational experience. Among the types of collections that were very popular for a long time, certainly belong the collections of cigar bands. With many cigar-smoking uncles, grandfathers and neighbors, there were always opportunities to expand the collection of cigar bands.
Smoking cigars
Smoking is strongly discouraged nowadays because of the risk to health. A few decades ago it was quite normal to smoke, when at parties or in pubs the sky was colored blue from the cigar and cigarette smoke, nowadays it is very different. You smoke outside, not in the house, and certainly no longer in pubs, restaurants or in public buildings. While smoking in the workplace used to be fully accepted, now it is exactly the other way around. There is no smoking inside.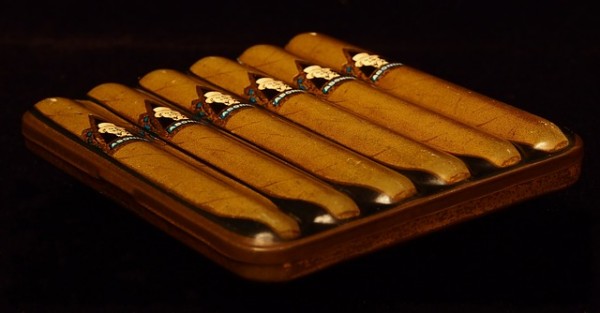 Box with cigars /
Source: WikimediaImages, Pixabay
Cigar bands
With the disappearance of smoking materials from public life, even from the family and family circle, it is understandable that the concept of cigar band is disappearing from collective memory. Still, cigar bands were kept in many families, collected and pasted into albums. What are they actually, cigar bands.
The banderole
It is required by law to state the price on tobacco products. In the Netherlands, a banderole, that's called in Belgium fiscal tie, to the smoking product. In addition to a price indication, this band is proof that the necessary excise duty on this product has been paid. If cigars are sold separately, whether or not in a special tube, such a strap must always be attached. The shape and color (light brown) of such a strap have been recorded.
Cigar band: El Rey de los Habanos /
Source: Glacierman, Wikimedia Commons (CC BY-SA-3.0)
The real band
The legal excise band is present, but not interesting for collectors. After all, shape and color are prescribed, so no variation. But in addition to this mandatory band, there is often an extra band. This strap shows the brand of the cigar. This offers the cigar manufacturer the opportunity for its own design, which can be used to distinguish it from the competition. This own band is next to, sometimes over, the banderole.
Fun?
Their own band not only offered the manufacturers the possibility to state the factory name and the type of cigar, but also nice images could be put on it. Nowadays you can get pictures, cards and figures with various products. These kinds of things can mainly be collected by children. It is often the children who encourage their parents to purchase a certain product. This mechanism was also discovered by the cigar manufacturers.

Cigar band: Vegas Cubanas, original /
Source: Glacierman, Wikimedia Commons (CC BY-SA-3.0)
Series
Cigar bands were given all kinds of images, often in different series. For example a series with different windmills, coats of arms, cars, you name it. Series were recognizable by the design and often the tapes were provided with a number. You knew exactly which bands you were missing. And of course with that knowledge you could go to the neighbors, your father, your uncles and grandpa, or they might have such a band. And if not, you asked if she wanted to buy that type of cigars, because that increased the chance that you could get your collection complete. You understand that perfectly suited the intention of the manufacturers. Sometimes loose extra straps were put in boxes with cigars to stimulate sales.
Collect
Whatever the commercial intentions and whatever your opinion of smoking, the tapes were just fun to collect. You could proudly show your collection of cigar bands, and compare it with the collection of others. Double straps were exchanged for those special copies that could further complete your series and collections.
Collection books and catalogs
Cigar bands could be stuck in notebooks, but that meant that they usually could not be moved undamaged. This was anticipated and special collection books came onto the market. You could slide the straps in special cuts in the book, so that the image remained clearly visible. Special catalogs showed exactly which bands were issued by a particular manufacturer, and which bands you still had to look for.
The collection now
There is no longer as much smoking as in the past, and given the health risks, this is very logical and understandable. This means that the possibilities for collecting cigar bands have been drastically reduced. Yet there are still collectors!