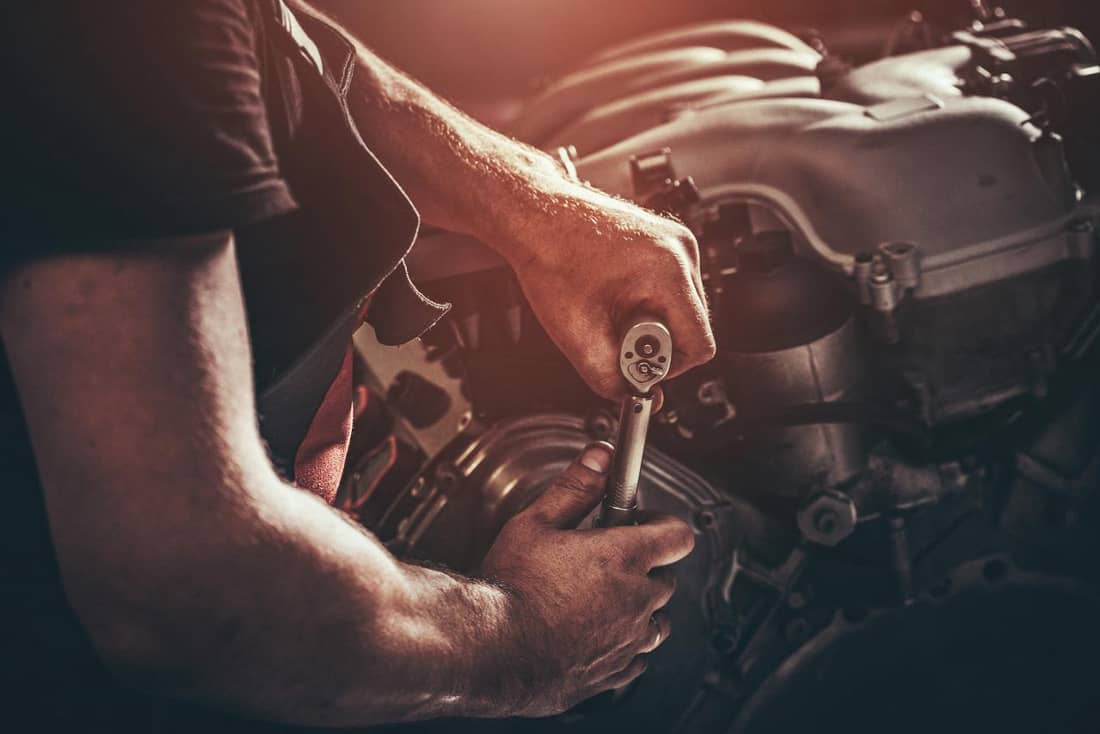 Online platforms for making appointments make many areas of our lives easier
95% of Germans have already booked flights online – and according to bitcom, 38% of all patients are willing to book online even for sensitive doctor's appointments. Things are still different when it comes to cars: According to industry experts, just 3% of workshop visits in Germany are booked online. Why is that? After all, online appointments with advance price information (which, by the way, are calculated in exactly the same way as workshops do) hit the nerve of the times. Motorists want to know in advance how much the next inspection will cost. Is it still necessary to pick up the phone to coordinate the next workshop appointment?
The first innovative workshop portals have developed technologies to make the selection of a workshop as easy and transparent as you are used to from booking a hotel.
With just a few clicks you will find out…
what the upcoming repair will cost
which workshops are near you
how the workshops were rated by other customers
when the workshops have free appointments, which you can then book directly online.

In just a few clicks you can find your preferred workshop date at repareo.de
Detailed cost estimate before visiting the workshop – online is definitely possible
Today by no means a matter of course: a detailed, transparent cost estimate before visiting the workshop. This is even possible online. The car manufacturers specify exactly which repairs take how much time and how much the necessary spare parts cost. Some workshop portals have made it their task to use precisely this information to give motorists already to calculate the costs of the pending service or repair online before visiting the workshop.
The provider repareo.de goes even further and calculates the costs based on the individual hourly rates of the listed workshops in your area. This puts you in a position to use the concrete cost estimates to compare the price and service of the relevant workshops before you book.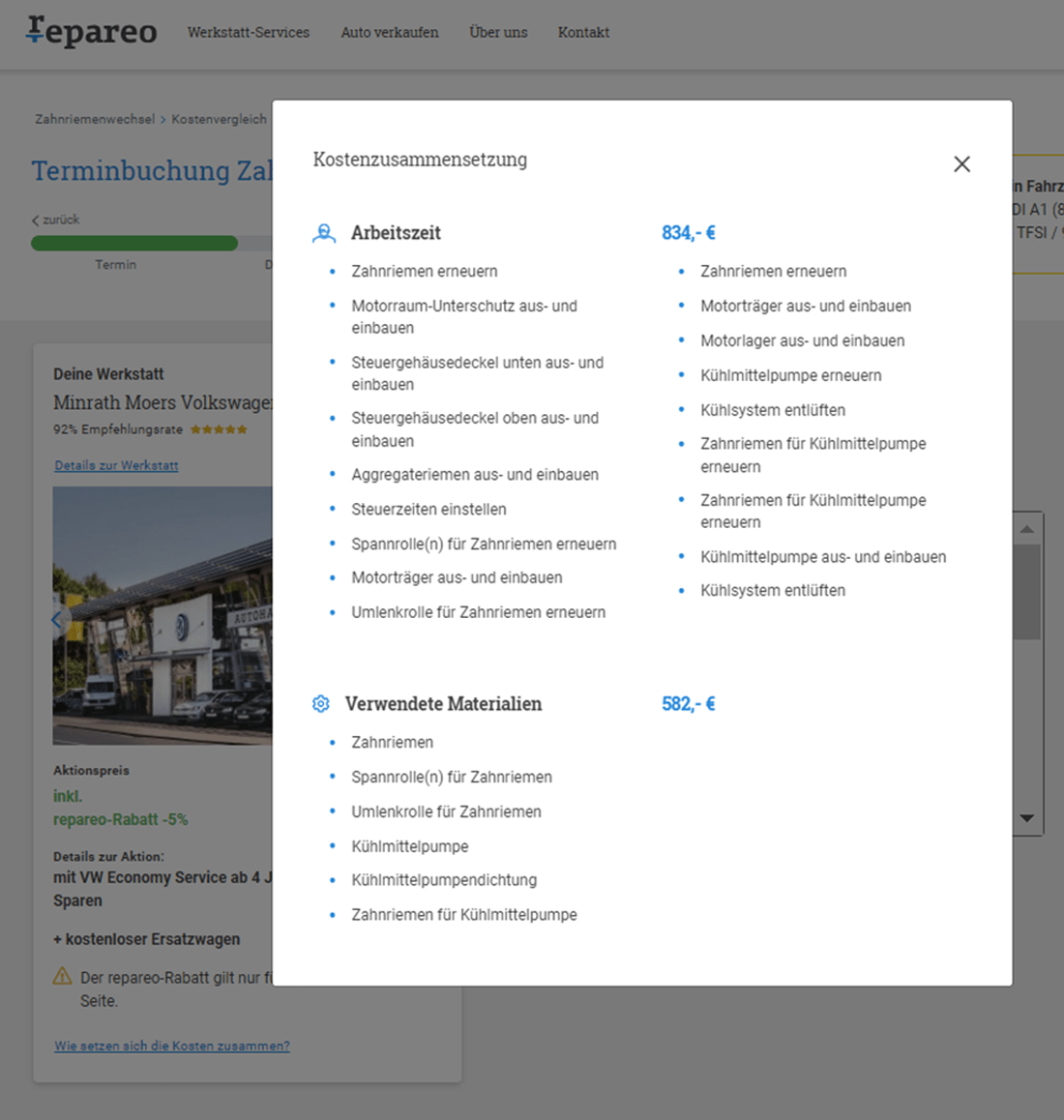 Estimate of the price of a timing belt change at repareo.de
Find the right workshop – from independent operations to branded car dealerships
There are more than 36,000 workshops in Germany, including around 21,000 independent companies and 15,000 branded car dealerships (source: DAT). Depending on the age of the vehicle, the value of the vehicle and the upcoming repairs, both independent and branded companies should be included in the choice. Online platforms show you on a map nearby businesses and help with the selection, in which they conduct independent user surveys and thus provide you with a quality indicator for the individual workshops.
Book an appointment conveniently online – 24/7
Good workshops are usually almost full, so it is not easy to find an appointment that fits into your planning. All the more tedious when you have to call several workshops for this. Good online platforms invest a lot of development effort to give you to be able to show at a glance which workshop nearby has free appointments for you. Interfaces to the workshop systems often have to be developed here. repareo works with robotics or interface connections (so-called APIs) to read free appointments from the workshop calendar and display them to you. It is easy to book on the platform and the appointment will be confirmed to you by email.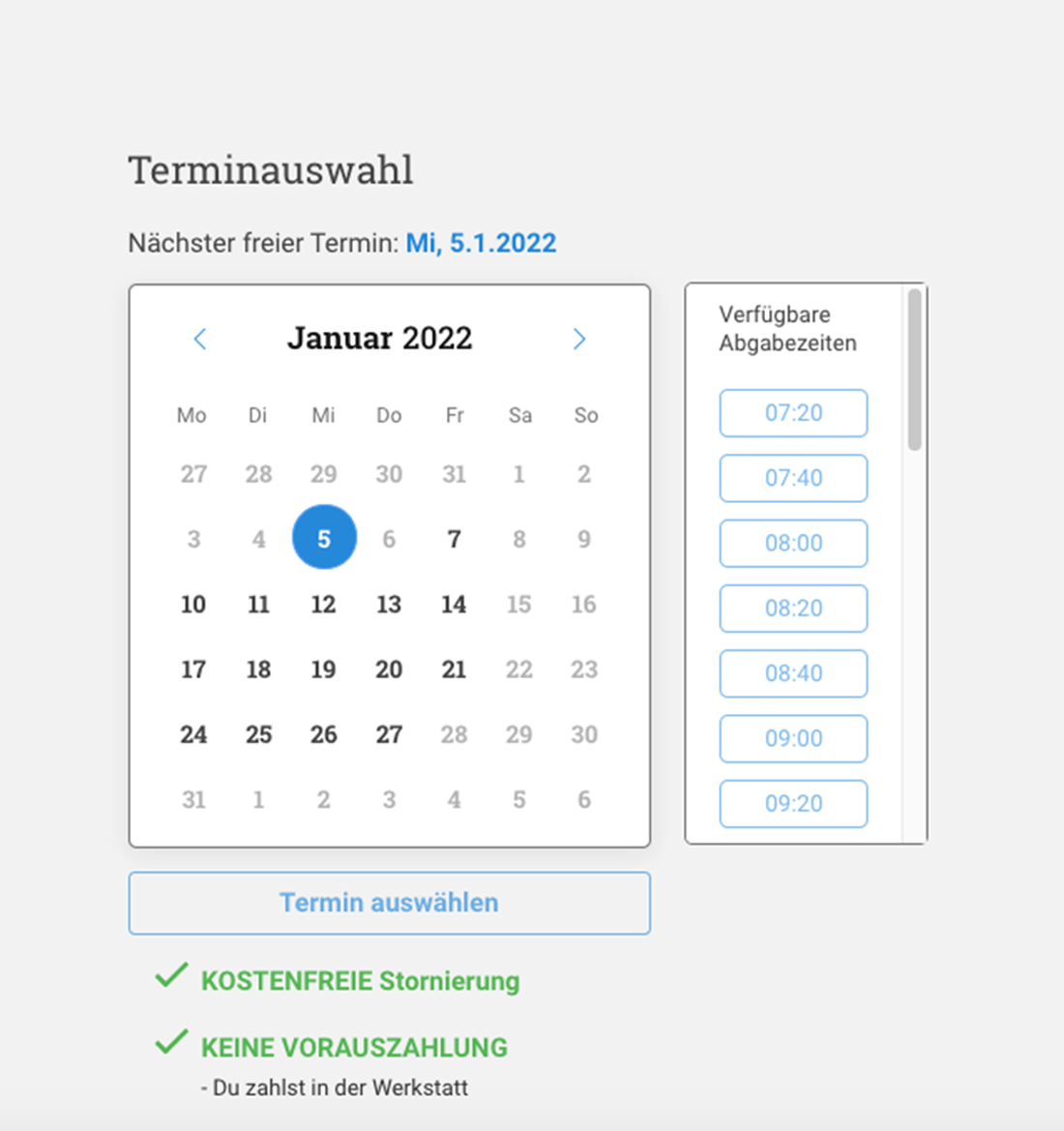 Convenient online booking of your workshop visit
From changing a wheel to scratches and engine damage
Find all relevant car repair appointments online, that will be your claim if you use a workshop portal. Typical maintenance and wear work such as changing tires, inspection or work on the chassis and brakes can be carried out by most workshops. It is primarily about the best price/performance ratio and available dates. For more complex work on the engine, such as toothed belts, timing chains or engine damage, online platforms can also help to find the right specialist company. It also becomes interesting when there is damage to the body. Here in particular, most workshops want to see the vehicle on site. In order to save you unnecessary workshop visits, the repareo team, for example, is working on you Obtain concrete offers based on a few photos that you upload.
Win-win situation for drivers and workshops
As a driver, you can get it via online workshop platforms a detailed cost estimate free of charge according to the manufacturer's specifications. You can then choose the best workshop in your area based on real user ratings and find an appointment online that fits into your planning. In addition, some platforms also pass on price advantages to their customers in the form of discounts or organize free pick-up and delivery services for you. And of course you can also contact the workshop portal by phone and get advice.
For you as a customer this is Online service mostly free of charge. The platforms usually take a fee from the workshops when an order is placed via the portal.
It is still an attractive model for workshops. This is because today they have very high fixed costs for rent, employees and expensive workshop equipment. Therefore, the companies are generally grateful that they display free capacities on a platform and thus increase their utilization. In addition, garages have to spend a lot of time making appointments over the phone, providing advice and preparing offers, and are generally not easy to find online.
The repareo.de platform, which is a role model for workshop scheduling, is worth a look. Workshop portals significantly reduce the administrative effort, bring the workshop new, well-informed customers and also help the company to be visible online. A real win-win situation for everyone involved.