Assess a horse's health
One of our most important tools in assessing a horse's health is observation. Systematically and closely monitoring your horse's condition is the only way gradual changes for the better or for the worse can be noticed in time. But how can you best observe your horse? And what exactly should you pay attention to?
Observing horses
By observing horses, gradual changes can be noticed. Observation works best by doing it regularly and systematically. Take photos and video recordings of your horse standing still and in motion, preferably from all angles and in all gaits, straight ahead and on the circle, on hard and soft surfaces. You can also keep a log of your horse's training progress, diet and appetite, as well as your behavior. This way you can immediately notice changes in his condition, way of moving and behavior, discover the cause more quickly and intervene in time if necessary.
What should you pay attention to?
It is better to ask what not to pay attention to, because the answer would be much shorter: nowhere. Everything your horse shows, in its movement, condition and behavior, is relevant. Especially in the first phase, in which you are determining the basic values. That is the phase in which you observe your horse to discover what is 'normal' for him, or at least what his current condition is. When you have a clear picture of this, you can focus on potential problems and, during the treatment, focus your observations more on changes in that area. However, you should not lose sight of the other areas of interest, otherwise you may miss important information.
The basic values
The basic values ​​are the condition and behavior that the horse shows when you start your observations. To keep the observations clear, you can divide them into three different categories:
Appearance
Movement
Behaviour
These categories can then in turn also be subdivided into subcategories:
Appearance
Ears, eyes, nose and mouth
Skin
Condition (i.e. muscle and weight)
Other notable things
Movement
The basic gaits
Theorem and bend and straight line
Hard and soft surface
Behaviour
In the stable
In the meadow / free moving
With other horses
With people
During grooming, including vet and farrier
During saddling / tightening
During work
Around food and during eating
In strange locations or in unexpected circumstances
Indications of problems
By making regular observations in these areas you get to know your horse very quickly and you can notice changes more quickly. But how do you know if there is a problem in one of these categories?
The appearance
There are a number of things to keep in mind when observing your horse's appearance. For example, your horse's ears, eyes, nose and mouth must be clean. Mucous membranes should not be red or bleed. The eye should have a soft sheen and nasal outgrowth should be transparent and watery. Watery eyes, dirt in the ears or blood, or thick, yellowish or greenish undergrowth from the nose indicate problems. Swollen or red mucous membranes or gums can also indicate infections.
The skin is a good indicator of a horse's overall health. A healthy horse has a soft, smooth and pleasantly warm skin with a clear shine. Deviations from this can indicate problems. Look for very hot spots, swelling, skin and coat damage, or noticeable hair growth. A dull coat or hair that falls out are also reasons for extra vigilance.
The condition of a horse is related to its overall weight and the ratio of muscle to fat tissue. One well-known way to check the horse's condition is to pay attention to the ribs. In a horse with a healthy weight, the ribs on the flanks are not visible but can be felt. Muscles shouldn't be rock hard, but feel more like a firm pudding. They should therefore not be flubbing like a soft elastic. Also make sure that the musculature is balanced on both sides of the horse, between the fore and hindquarters and between the bottom and top of the neck.
You can also have the weight of your horse measured or estimate it yourself using the following calculation:
((Chest circumference in cm x 4.3) + (Height at the withers in cm x 3)) – 785 kg = Weight in kg.
You measure the chest circumference by running a measuring tape from the tip of the withers behind the front legs (where the girth normally runs) and up again. The height at the withers is measured from the ground to the tip of the withers.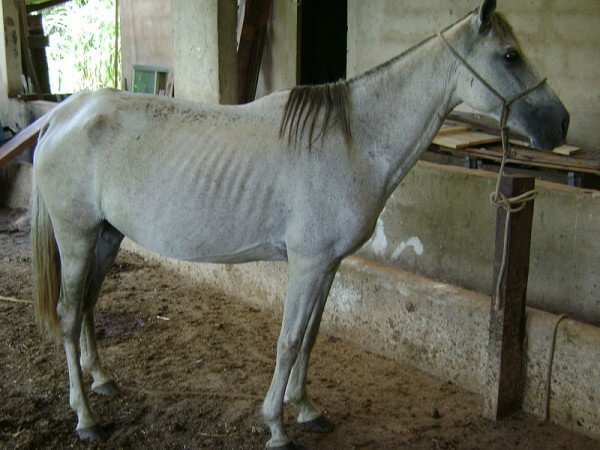 This horse is too skinny. Note the sunken hindquarters, protruding ribs and lean neck. /
Source: Andrevruas, Wikimedia Commons (CC BY-3.0)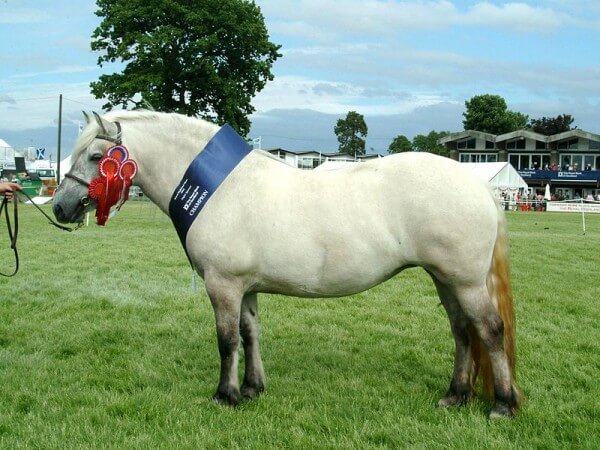 This horse is overweight. Notice the fat bumps on his flanks, chest, neck and hindquarters. /
Source: Confuslefu, Wikimedia Commons (Public domain)
Movement
When assessing the horse's movement, we want to see that the horse is relaxed and walks with wide strides. Muscles should 'sway' with the movement. Signs of tension include holding the neck high, pushing the back away, stiff and short steps. When a horse suddenly starts moving differently, it is important to call a vet. It is important to pay close attention. Horses are prey animals and therefore they often just keep walking even when they are injured, after all they do not want predators to notice their weakness, only observant owners will nevertheless see that their way of movement changes.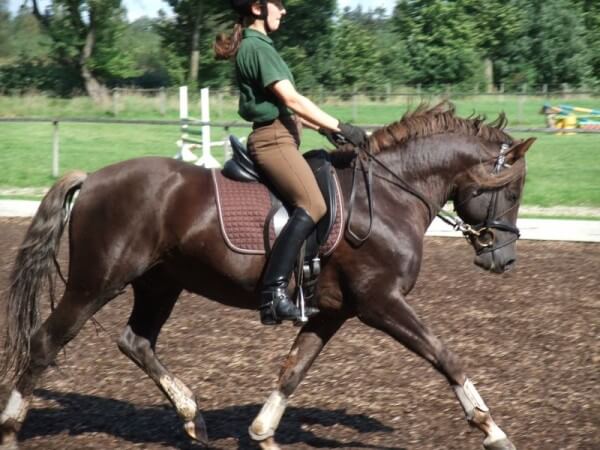 This horse moves relaxed. Note the low neck and relaxed jaw, the round back and wide steps. /
Source: Ceiling, Wikimedia Commons (CC BY-2.0)
Behaviour
Behavior is also a very good indication of the health of your horse. Horses communicate continuously, but the only way they can communicate with us is through their behavior and changes in it. It is therefore very important that horse owners get to know the character and behavior of their horse very well. As a result, deviations can be noticed quickly. Horses never show behavior 'just like that'. There is always a reason for a certain behavior and it is our job to find out what that reason is. There are three main reasons why a horse's behavior can change:
Physical causes: Pain / discomfort / illness
Environmental factors: Unsuitable management (solitary confinement, unsuitable food, stressful environment, too little or too intensive work, etc.)
Handling: Improper handling by handlers / riders (wrong reactions to behavior such as rewarding or punishing fear, letting the horse take over, not recognizing and / or ignoring signs of tension in the horse)
The behavior that a horse displays depends in large part on the character of the horse and the cause and severity of the problem. Some horses become extremely anxious, others retreat to their shells and appear lethargic, while other horses become extremely aggressive. For any indication of this type of behavior, an owner should be alert and look for the cause, starting with the root cause list above. After that, it is important to try to remove the cause and also keep up with the changes.