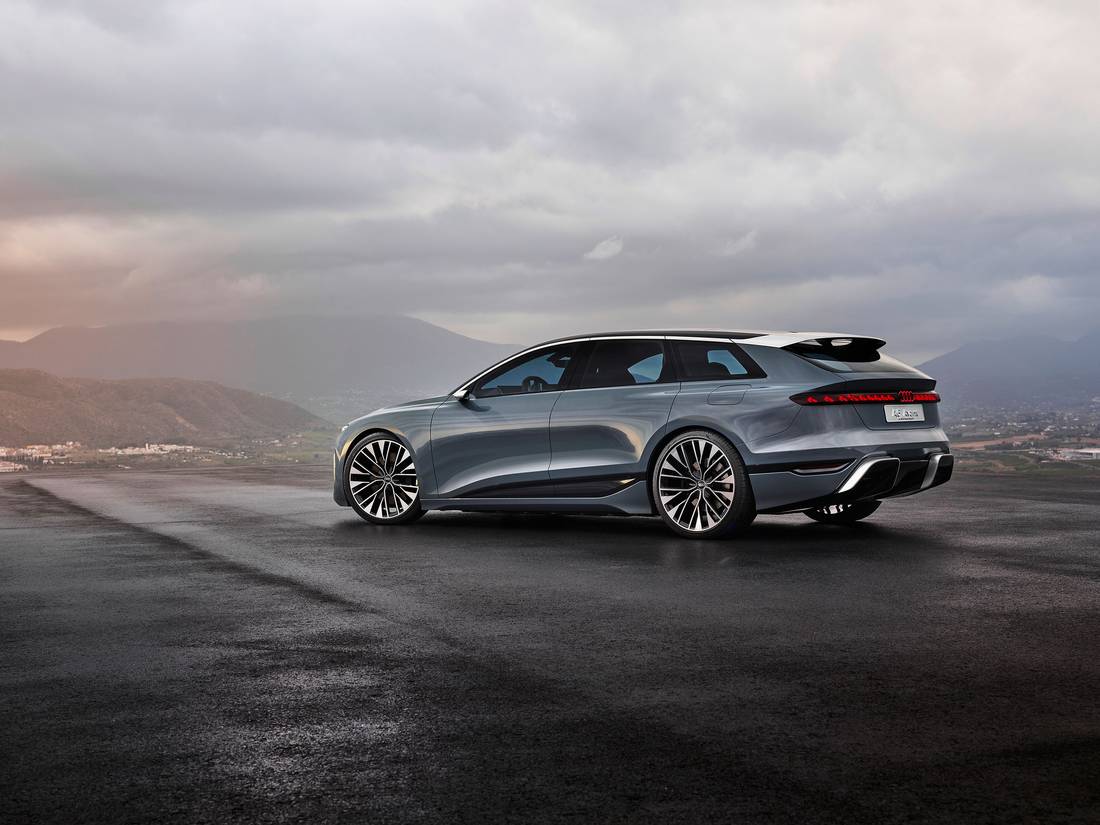 In 2024, Audi is celebrating the 30th anniversary of the A6 series and, coincidentally or not, this year the Ingolstadt-based company also wants to present the brand's first purely electrically operated business station wagon. The Audi A6 Avant e-tron as a concept study (vehicle is not for sale, homologation pending)² should already be optically close to series production, with the finished model likely to have a total length of 4.96 meters. The Ingolstadt-based model is thus based on the current A6 Avant C8, whose length of 4.94 meters is almost identical.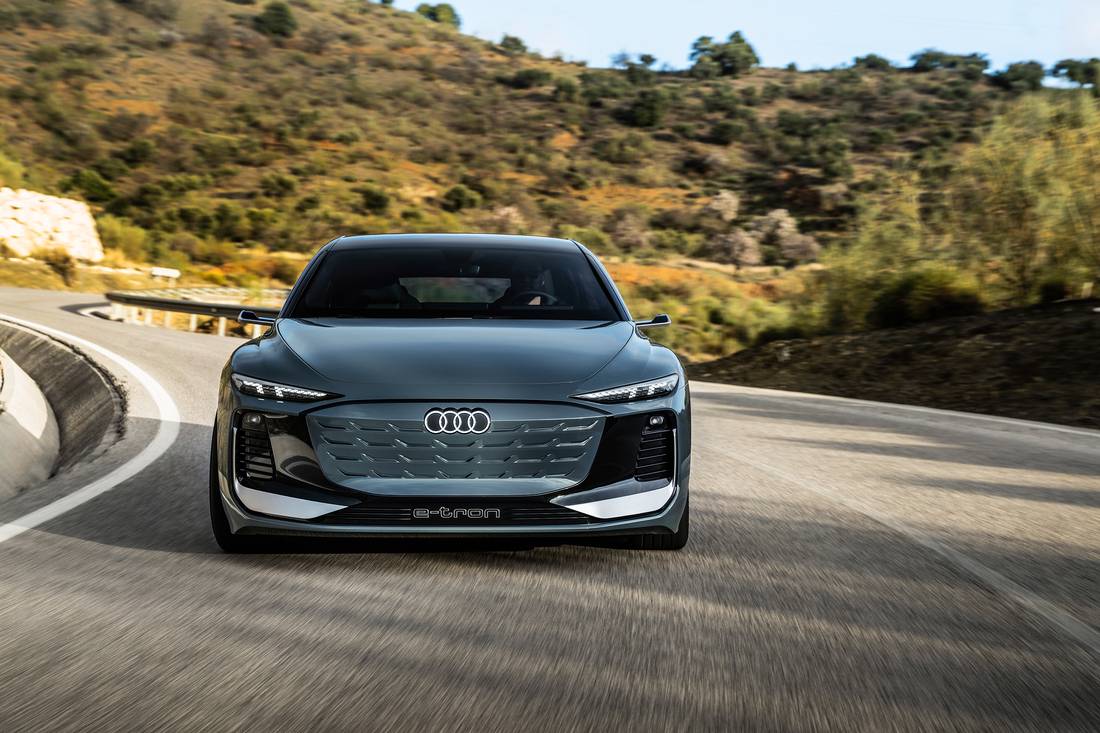 Sleek optics, illuminated rings for the show effect
Even from a distance, the A6 e-tron can be recognized as an electric model from Audi. The large single-frame grille has been inverted, meaning it is in the same color as the vehicle and, similar to BMW, serves as an intelligence surface for the numerous sensors installed in the vehicle. Since it was designed as a purely electric vehicle, a frunk, i.e. a front trunk, should of course not be missing. Similar to the current Audi e-tron GT, it will probably be able to hold soaked running shoes or a few charging cables in terms of capacity.
Luminous Audi rings are still a striking unique selling point of the concept study, but they will hardly make it into series production, at least in Germany. At most for additional illumination in the vehicle stand. Here the legislature provides clear rules, which other manufacturers have also had to find out. Such requirements do not apply in the Chinese market, for example. The camera exterior mirrors shown are also not standard. As with the e-tron SUV, the customer will have the choice of choosing this as an optional extra.
New PPE platform with well-known electrical engineering
Based on the Premium Electric platform from the VW Group, the Audi A6 Avant e-tron shares the basis with numerous new vehicles from the Volkswagen empire. Porsche will also present new luxury models based on the same technology. But if you expected big leaps in battery capacity, charging performance or the like, you might be disappointed. The first technical data for the electric A6 is largely identical to the group's current 800-volt technology.
A maximum of 270 kW should be charged, so a charging process from five to 80 percent should only take around 25 minutes. These values ​​are known from the Taycan and e-tron GT, and at the same time they provide information about the battery technology used. It is therefore to be expected that the electric A6 will be offered with different battery capacities from around 70 to around 100 kWh (net). That would mean theoretical WLTP ranges of between 350 and around 500 kilometers. Audi itself goes even further in the first presentation and speaks of up to 700 kilometers.
Is the Audi RS 6 Avant e-tron coming?
Although the basic version, which was later submitted after the market launch, is only available with rear-wheel drive, potent S and RS variants with all-wheel drive are more than likely at the top end. An Audi RS 6 Avant e-tron should have an electrical performance level on par with the current Porsche Taycan Turbo S, which can briefly call up up to 560 kW/761 hp (combined power consumption: 26.4-24.4 kWh/100 km; CO2 -Emissions combined: 0 g/km)². It would also be conceivable and anything but unlikely to implement the Audi RS 6 Allroad, which has presumably been planned for some time, in the form of an electric version. The current Porsche Taycan Cross Turismo on the closely related J1 platform shows what could be expected here in terms of looks and driving dynamics.
What prices can be expected?
Above all, a volume model like the Audi A6 has to reach an attractive price level in order to be able to land a trick with fleet customers. The A6 Avant currently starts at 54,200 euros, but the plug-in hybrid variant costs from around 62,000 euros. Rising raw material prices are likely to make the production of vehicle batteries significantly more expensive in the foreseeable future. There is still some time until 2024, but it seems unlikely that the new A6 Avant e-tron as a rear-wheel drive basic variant could cost less than 65,000 euros.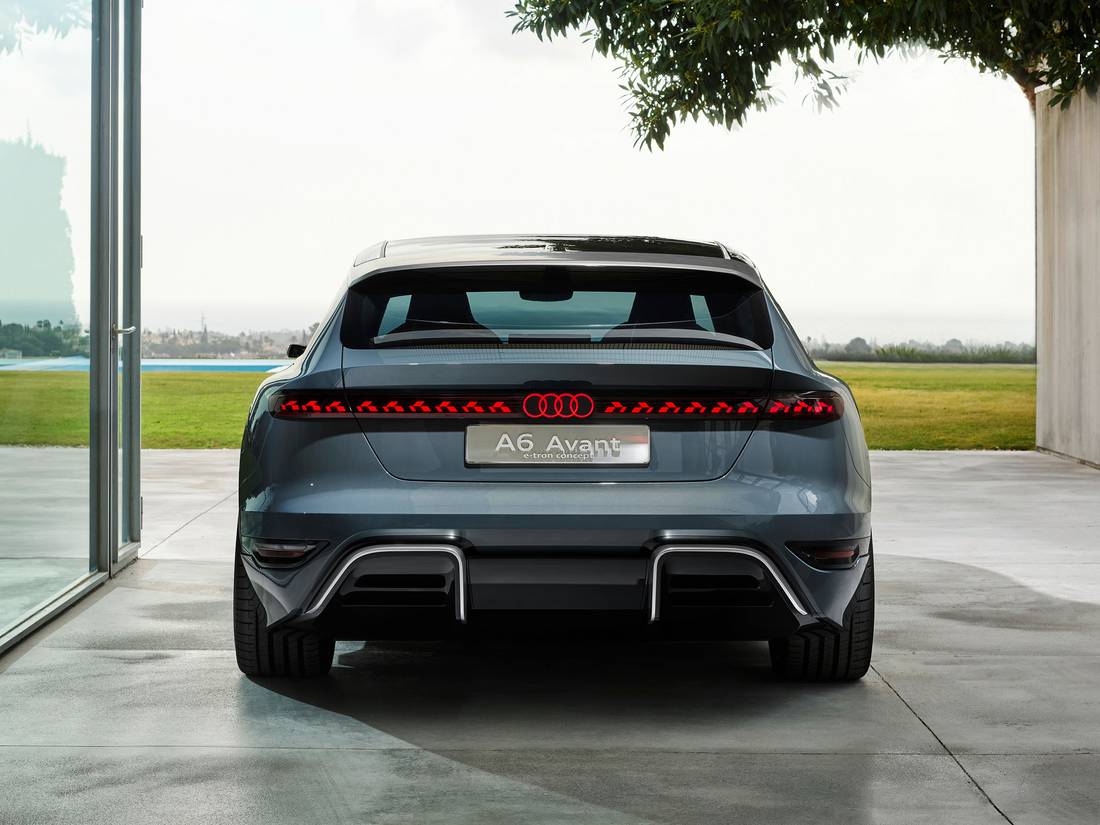 That's what the competition does
Competition for the Audi A6 Avant e-tron is naturally to be expected from Mercedes-Benz and BMW. However, both car manufacturers have so far held back when it comes to station wagon variants. Mercedes is cautiously hinting that an EQE Shooting Brake could be presented in 2023, while BMW should initially present the i5 sedan at the end of 2023 or beginning of 2024. So far, people in Munich have not yet spoken of a later i5 Touring. Other alternatives could come from within the company. In parallel to the A6 e-tron, the new generation of the Porsche Panamera Sport Turismo will be based on the PPE platform, and based on the smaller MEB modular system, we can expect the Passat successor ID.6 or Aero B as early as 2023.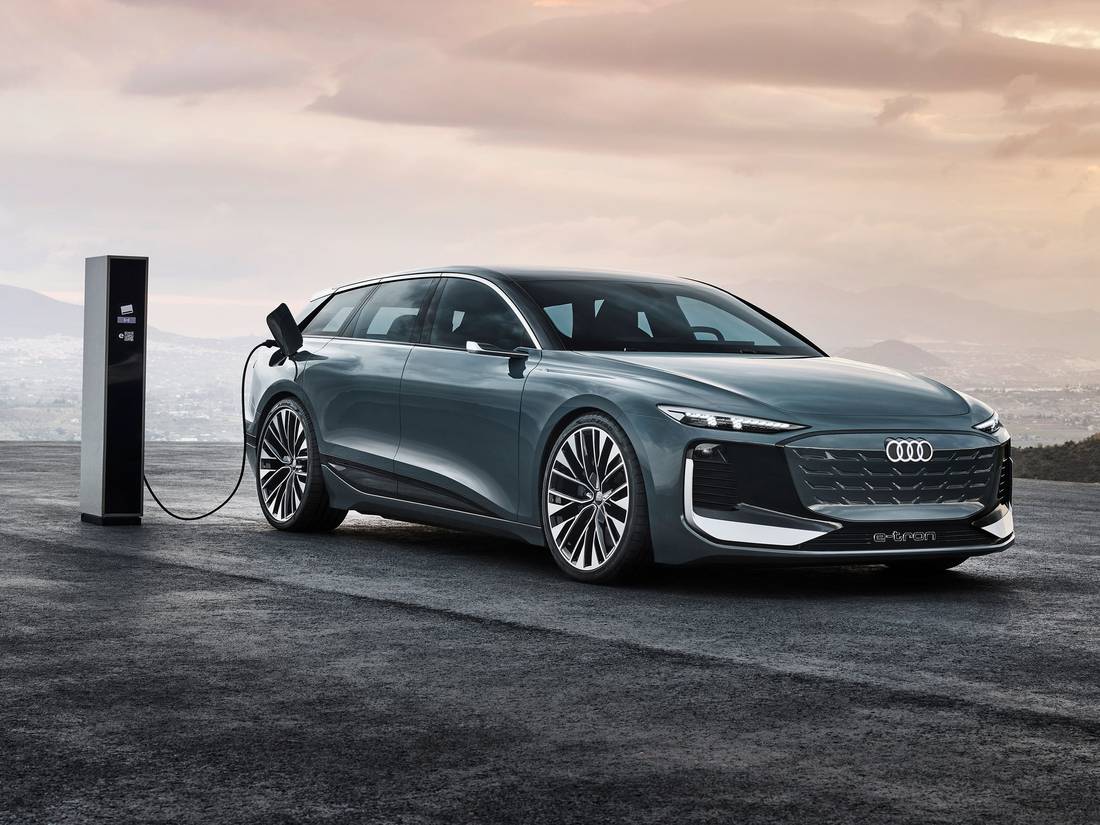 First conclusion
The station wagon is not dead yet! Audi is sticking to the beautiful Avant and if the production model is just as smart, it will definitely find its fans. This is to be taken quite literally, because the electric A6 should in fact be able to take loads on the hook in addition to air and love. Standing on the new PPE platform, we would have hoped for more innovations in the area of ​​drive and battery technology at this point in time. The 800-volt system that is expected to be used and a maximum charging capacity of 270 kW are already state-of-the-art and once again raise the question: where has the "Vorsprung durch Technik" gone? If Audi wants to convince us otherwise at this point, they still have about two years from now. (Text: Thomas Vogelhuber | Pictures: Manufacturer)