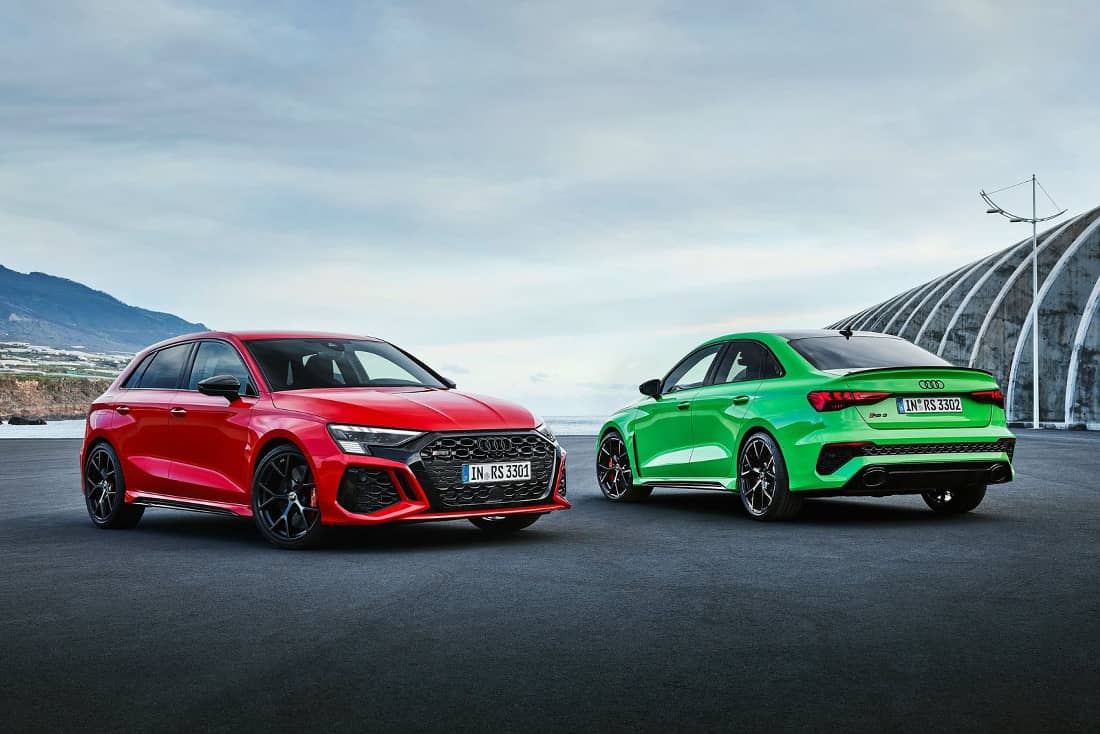 After a good three years' absence, Audi has launched the sporty RS 3 offshoot of its A3 compact series (combined fuel consumption: 8.8-8.3 l / 100 km; combined CO2 emissions: 201-190 g / km²). As before, its 2.5-liter five-cylinder has an output of 294 kW / 400 PS, but the Ingolstadt-based car manufacturer is promising a number of technical innovations that should ensure increased performance.
This also includes an optional increase in the top speed to 290 km / h. The prices for the compact sports car, which will be available from autumn, start at 60,000 euros (five-door) and 62,000 euros (sedan).
Even more self-confident in appearance
The new RS 3 can be recognized, among other things, by a grown single-frame grille with a new honeycomb structure. The side air openings in the front are also larger than before. The new LED matrix headlights offer their own daytime running light signature including a short light animation when locking and unlocking.
This also applies to the new taillights, which also integrate dynamic turn signals. A tailgate spoiler in high-gloss black, an RS-specific rear bumper with integrated diffuser and the two large oval tailpipes of the sports exhaust system with fully variable valve control, together with the more pronounced wheel arches, make the sports Audi appear more dynamic.
Five is still trump card
It remains with the 2.5-liter five-cylinder turbo, which provides its 294 kW / 400 hp from 5,600 up to a maximum of 7,000 rpm and a torque that has increased by 20 to 500 Newton meters (2,250-5,600 rpm). Short shift times and a sportier spread of the ratio with the seven-speed DSG and a new all-wheel-drive system enable better acceleration in conjunction with a likewise new engine control unit that networks all drive components.
The sprint from standstill to 100 km / h is shortened by 0.3 seconds to 3.8 seconds. As before, the standard version drives 250 km / h, but it can be increased to 280 km / h as an option and, if the dynamic package including ceramic brakes is ordered, to 290 km / h.
Bigger wheels and brakes
The chassis has also been upgraded. 19-inch wheels with 245 mm tires at the front and 265 tires at the rear are now standard. In addition, the steel brakes were made larger. On the front axle in particular, the 375 steel disks gripped by six pistons can be replaced by 380 ceramic disks, which saves 10 kilograms in weight.
There are new and firmer dampers, progressive steering and, optionally, an adaptive chassis with three modes. Precision work on the camber, swivel bearings, wishbones and stabilizers should also be more beneficial to the driving dynamics than before.
Torque splitter for all-wheel drifts
A special treat of the new RS 3 generation is the torque splitter technology, which allows a quick and precise distribution of power to the wheels of the rear axle. When cornering, the new RS 3 can not only reduce the torque for the inner wheel, but also accelerate the outer wheel. To make this possible, both sides have an electronically controlled clutch that is opened and closed by actuators in a few hundredths of a second, depending on the driving situation.
As a result, the RS 3 turns better and with less tendency to understeer when cornering because the drive torque on the rear wheel on the outside of the bend is increased. In the newly added drift mode, up to 1,750 Newton meters can be steered onto one of the wheels, making it easier for the driver to initiate the rear drift.
Sporty interior
The interior is characterized by RS sport seats and a flattened steering wheel with paddle shifters. A carbon strip runs over the dashboard with two large displays. The digital instrument cluster offers special sports displays that provide information about G-forces and acceleration times. There is also a shift light as well as an inverted speed display, which graphically resembles a runway and puts the maximum speed in the foreground. (Text: mh / sp-x | Images: manufacturer)