Bangkok! When you arrive at Suvarnabhumi Airport for the first time , fight your way through the traffic in a taxi and explore the city streets for the first time on foot, you are quickly stunned by the countless impressions.
We have now been to Bangkok very often and have taken the city to our hearts.
On our last visit, we did something really crazy: We tried some city tours and sight-seeing in Bangkok.
And although we already knew the city well, we discovered new things on our Bangkok tours and were surprised one time or another.
We introduce you to five Bangkok tours so you can explore the real Bangkok.
There is something for everyone: for the absolute newcomer to Bangkok as well as for the Bangkok connoisseur.
Classic Bangkok city tour
The city tour to the most important sights
The first tour that we have tested for you is the classic private city tour through Bangkok .
If you come to Bangkok for the first time, the classic sights are of course an absolute must: The Royal Palace, Wat Pho, Wat Arun, the Golden Buddha and the Emerald Buddha.
You can explore these tourist highlights in one day as part of a private tour. Our guide was super nice, really only there for us the whole day and answered every strange question with a lot of patience.
At the end of the tour we also had a long piece of paper with helpful sentences in Thai.
It is also no problem to make individual arrangements. Since we were at Wat Arun the day before, we just skipped it and instead strolled a little through Chinatown.
Who is this Bangkok city tour for?
The tour is perfect if you want to get to know the main attractions in Bangkok in one day and don't want to worry about anything. Your guide will pick you up at the hotel, get all the tickets and explain everything you need to know.
The tour is private, which means your guide is really only there for you and your companions. The price is really more ok at 147 euros for a full day including transport and all admissions.
The individual Bangkok city tour
Discover the city according to your wishes on this Bangkok city tour
Tour No. 2 in our recommendation list is the  individual day tour through Bangkok .
Once you've checked out the typical Bangkok sights, the journey of discovery usually only really begins. Bangkok is so diverse and after countless visits we always discover new, exciting places.
With this individual tour, you book a guide who will put together a program tailored to you. So you can discover places that not every tourist has visited yet.
Would you like to discover local markets or maybe the most beautiful viewpoints to take photos? No problem. Just tell your guide and he will lead you there.
Who is this Bangkok city tour for?
This city tour is for individualists, but who still appreciate the help of a local insider. Since you decide where you want to go, this tour gives you maximum flexibility. For a whole day you pay around 190 euros including the car.
A bike tour of Bangkok
Get to know Bangkok in a rather unusual way
The next tour we tested for you is the  Bangkok sunset bike tour .
Probably the most extraordinary tour through Bangkok does not take you through the city by boat, car or tuk tuk. On this tour you get on your bike and explore Bangkok on two wheels.
If you've been to Bangkok before and seen the traffic there, you are likely to shake your head uncomprehendingly. It was exactly the same for us. But hey, of course we still wanted to try it out and it was worth it.
So it started shortly before sunset. We got safety vests and a helmet and it was off into the fray.
The bike tour did not take us along the eight-lane main roads, but rather through quiet side streets that were really easy to ride. Sometimes there were even bike paths! In Bangkok! Madness!
On this tour we visited some completely untouristic corners that we normally would hardly have come to ourselves. We were also in the dark at Wat Arun, which was really great. During the day the tourists stand on each other's feet, in the evening you are completely alone here.
Who is this Bangkok tour for?
We can unreservedly recommend a bike tour through Bangkok for everyone. It is a very special experience, you will definitely not get to know Bangkok on any other tour.
The bikes are in good condition and each group has a maximum of eight riders. There were six of us on our tour.
A guide drives in front of and behind the group so that nobody can get lost. The tour is not exhausting either.
There are no inclines and you rarely drive more than 10 to 15 minutes at a time. There are different tours, we did the sunset tour, which we would like to recommend to you.
On the one hand it is not so hot in the evening and on the other hand you get to know some places in Bangkok in a whole new light.
The tour is in English, costs about 54 euros per person including a restaurant visit (very tasty and authentic, by the way, not a typical tourist restaurant) and takes about 4 to 5 hours.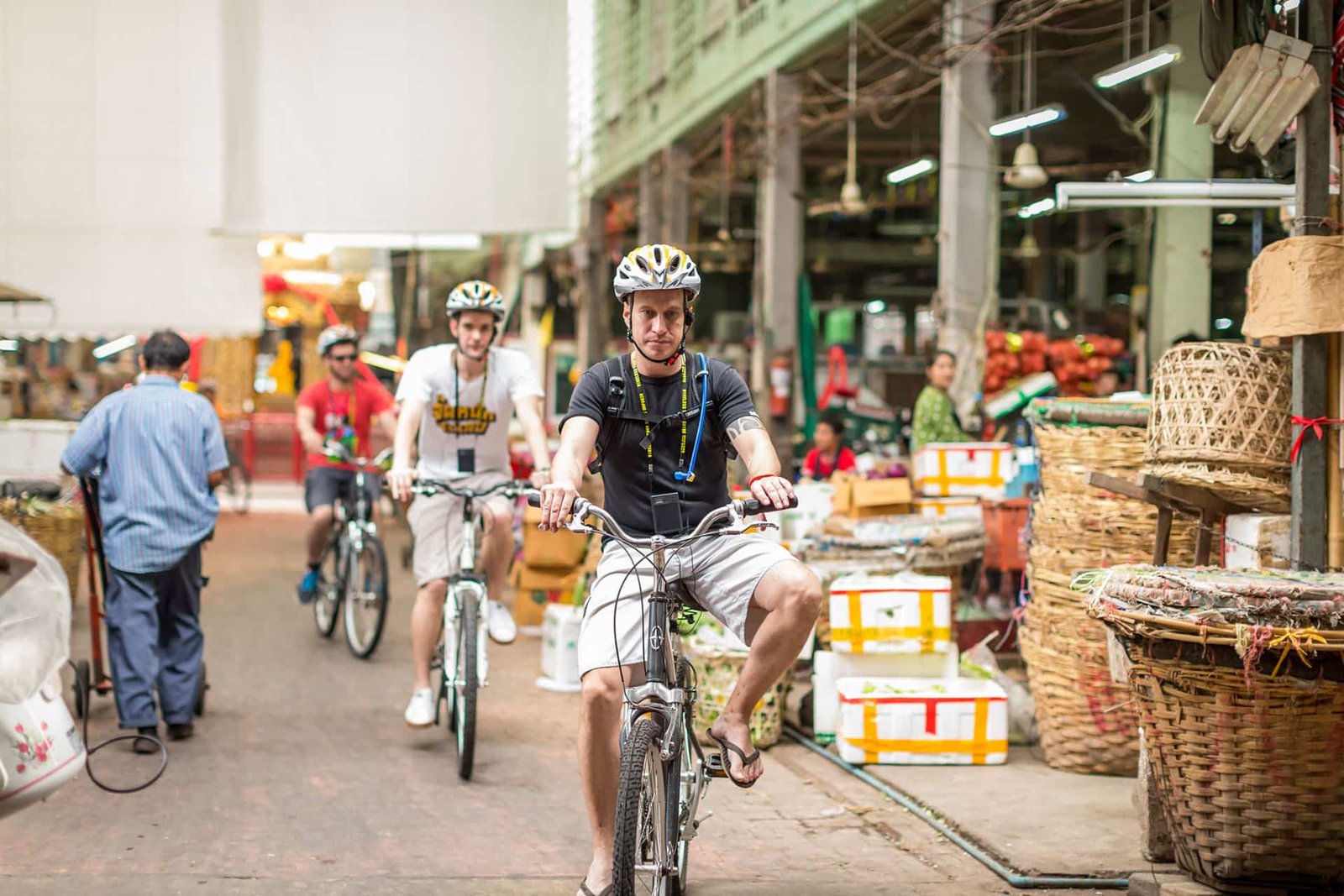 Street food tour of Chinatown
Bangkok is also an absolute culinary highlight. We love to try our way from one street stall to the next and try the many delicious dishes.
Chinatown is an absolute culinary highlight, because here, in addition to Thai cuisine, there are also Chinese influences. The Chinese cuisine is absolutely amazing and has nothing to do with what you get in typical Chinese restaurants in Europe.
On a food tour through Chinatown you will taste numerous delicacies with a real insider. You will eat at street stalls and in small shops that you probably never discovered by yourself or that you might not have dared to try there.
We highly recommend a food tour!
A trip to Ayutthaya
Our next tour takes us out of Bangkok, namely on a  day trip to Ayutthaya .
Tired of Bangkok? After a few days in the city, you can get a little panache. This is the perfect moment to explore the region around Bangkok.
One of the most exciting places in all of Thailand is the old capital Ayutthaya. Here you will find some of the greatest temples in the country.
We went to Ayutthaya ourselves without a tour and explored the temples on site with a rented moped. That was also great, but the journey by train was very bumpy.
For a distance that takes about 90 minutes by car, it took us almost four hours with the slow train. Punctuality is not the case with the Thai-Bahn. Unfortunately, we didn't have enough time on site to look at everything in peace.
The next time we will opt for the guided tour to Ayutthaya, so that we firstly have more time on site and secondly learn more about the history and background.
Who is the Ayutthaya tour for?
A trip to Ayutthaya is worthwhile for anyone who wants to learn something about the original Thai culture. The facilities on site are really very impressive and offer countless great photo opportunities.
A trip to the Maeklong Railway Market
Our fifth and final tour recommendation takes you to the  Talad Room Hoob Market and the Floating Markets .
One of the highlights of any trip to Bangkok is a visit to the Maeklong Railway Market, also known as the Talad Room Hoob Market.
The special thing about this market is that it takes place directly on a train route. Several times a day, the traders hastily pack up their goods and let the train pass.
The train only drives a few centimeters past the dealers and as soon as it is through, the market is rebuilt in no time. This is definitely a great spectacle!
Unfortunately, we were not on the market because the railway line was being renovated during our last stay in Bangkok.
The route has been open again since April 2016 and on our next trip to Bangkok we will definitely make a detour there.
Who is this Bangkok tour for?
If you've already seen the sights in downtown Bangkok, then it's time to visit the highlights a little further away.
In addition to the Maeklong Railway Market, you will also visit one of the floating markets on this tour. So you can visit two typical Bangkok highlights in one day.
You will be accompanied by a guide in a small group, the tour takes about 6 hours and costs 29 euros.
Book Bangkok tours: you have to pay attention to this
Bangkok tours are a dime a dozen. You can book all of the tours we recommend on our favorite tour website Getyourguide , where many other Bangkok tours are on offer. The booking is made online and is absolutely secure.
Your tour guide will usually pick you up at your hotel or arrange a meeting point with you. Most of the tours are private, which means only you and your companions take part.
This has the advantage that you can adapt the program according to your wishes. Would you like to see a particular temple on your city tour? No problem.
On a public tour, such as the bike tour recommended by us, other people also take part. When booking, make sure that the maximum number of participants is not that high. Because who wants to walk through Bangkok in a group of 40 people?
If you don't care whether the tour is in English or other languages, make sure you choose your tour in which language it is offered.
If your tour takes you to a temple or the royal palace, make sure you dress appropriately. The dress code is very strict in the Royal Palace. Long trousers, covered shoulders and closed shoes are a must there.
Otherwise: Enjoy your Bangkok tour, take lots of great photos and have fun!
Do you have any tips about tours in Bangkok?
Have you ever done a city tour in Bangkok or can you particularly recommend a certain tour? We look forward to your comment and of course your tips.