Bees endangered: what causes bee colonies to die?
Worldwide, things are going badly for bees. There are fewer wild bees and entire bee colonies are dying. This has greater consequences than just no more honey in the tea. Bees are the main pollinators. They pollinate agricultural crops, so that food can be grown. Fewer bees means less pollination and therefore lower agricultural yields. The decline of bees has several causes. A mite called varroa is often blamed, as is pesticide use in agriculture. However, several causes can be identified. The so-called Nosema parasites weaken the bees, foul brood results in fewer young and the one-sidedness of food weakens the colonies even further. The more factors that play a role, the smaller the chance that a people will survive. All causes must be addressed to ensure a population's survival, and wild bees can also use a boost.
What's the problem?
It is regularly in the news. The bee is not doing well. This is a global problem. The number of bee colonies in Europe and North America has been declining since the 1970s, and wild bees that do not live in hives are also struggling. Images of hives with dead bees occasionally make the news, but mortality in hives is normal. This almost always happens in winter, when the bees are resting. There will be fewer bees, and if the bees are not healthy they can all die. What is not normal is the number of hives that die completely. The number of hives that die completely varies by area and is between 7 and 50 percent.
How does bee death affect humans?
Humans use a lot of bee products. Consider, for example, honey and wax. Of course it would be a shame if there is no more honey, but people can survive without it. The main problem of bee mortality is the development of one pollination crisis. Bees and bumblebees together pollinate 75 percent of all agricultural and horticultural crops. Pollination is necessary for plants to bear fruit and to reproduce. If bees drop out, it could mean a collapse in production. Food security is under threat.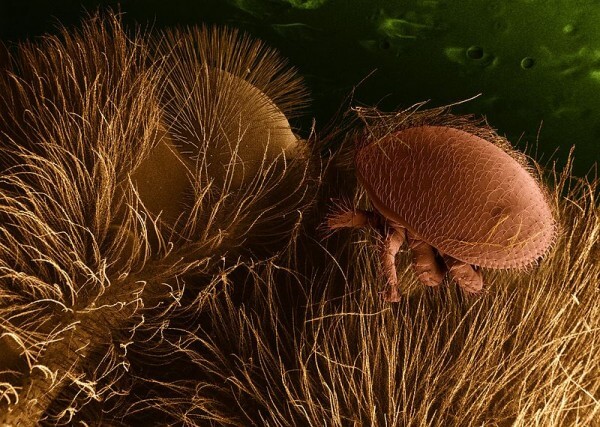 Solution
Varroa can be controlled with the right means. This takes a lot of effort and is only done with kept honey bees. The control does not work completely and the mite quickly develops resistance to pesticides.
Cause 2: Nosema
Nosema is a genus of parasites. Parasites from this genus can only live in the cells of other cells. These specific parasites live in the digestive system of bees. In doing so, they damage the bee's stomach wall. The parasites are transmitted in unsanitary conditions. This includes poo inside the hive, but also improperly cleaned beekeeping materials.
Solution
By regularly disinfecting beekeeper materials and replacing the wax, the effects of nosema parasites on kept bees can be limited or even prevented.
Cause 3: Dirty brood
Dirty brood is actually caused by several things. It is a collective term for various bacterial infections that can affect bees. The bacteria are transferred when larvae are fed by an infected feeder. Dirty brood can lead to larval death, stunting in surviving larvae, and larval discoloration. If not enough larvae grow up healthy, it could mean the end of the entire bee population.
Solution
The two main forms of Foulbroed are European Foulbroed (EVB) and American Foulbroed (AVB). European foulbrood can be controlled with antibiotics and the removal of infected combs, American foulbrood cannot be controlled at the moment.
Cause 4: Pesticides
In order to be able to produce as much as possible, pesticides are used in agriculture. Ironically, this could drastically reduce production. The pesticides also affect pollinators. Pesticides are thoroughly tested before they can be used. They should not harm bees. However, the regulations only consider short-term effects. Bees can die days or weeks after exposure to pesticides. In addition, pesticides accumulate in the hive. Larvae that grow up in polluted combs grow on average 10 centimeters shorter.
Solution
Certain pesticides have already been banned because of their effect on bees. Unfortunately, not enough is known about all pesticides. In particular, the long-term effects, the effects of colony accumulation and the effects of pesticides combined with other factors have not yet been studied enough.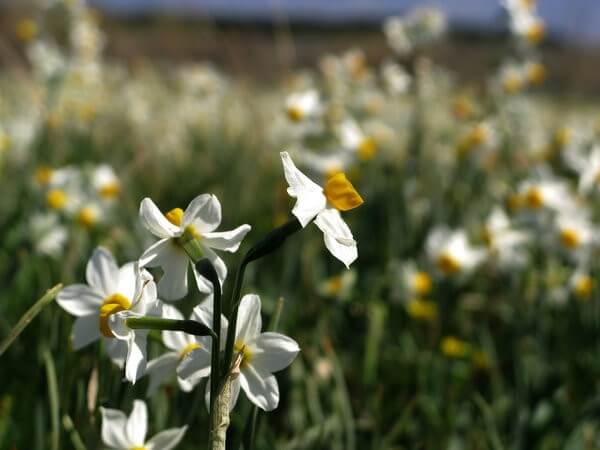 Source: Lusi, Rgbstock
Cause 5: One-sided food
Where in the past many different flowers could be found, both on fields and in vacant lots, nowadays fewer and fewer different flowers can be found. Proteins in particular are a problem, which bees can only get from pollen. The more different flowers, the more different nutrients bees take in.
Solution
This is a big problem, but anyone can help find a solution. Sow some wild flower seeds in the garden or in a container. Various flowers can also be placed along roadsides. Field edges are increasingly being designed to be bee-friendly.
Causes: everything together
The big problem is that not one of these causes is at play, but that everything plays together. Bee colonies are attacked from all sides by bacteria, parasites and pesticides. In addition, they are already weakened by lack of food. A healthy bee colony can easily fight off an infection, but if it is already weakened, this is no longer possible. At the end of a winter, it turns out that too few bees have survived to sustain the population.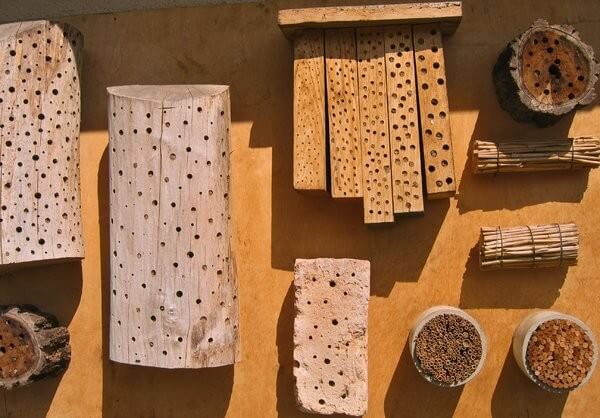 A bee hotel is a great place for wild bees to lay their eggs. /
Source: Ayla87, Rgbstock
Do something yourself
Everyone can do something to help bees. For example, you can sow flower seeds. In this case, provide as many species as possible. Do you have the space and time? Then you can also choose to keep your own bee colony. Wild bees like to have a bee hotel to lay their eggs. It is available ready-to-use at many garden centers, but can also be easily made with different thicknesses of bamboo sticks or other hollow sticks. In short, everyone can help!
Solutions: Will the bee save?
With so many different factors at play, it may seem like a losing battle for the bee. Fortunately, there is still hope. If bee colonies are treated well against varroa and foulbrood, at least a large part of the bee colonies will survive. Pesticide regulations are getting stricter to help these little creatures and different types of flowers are being replanted. If these trends continue, we can continue to enjoy honey and we will not have to pollinate trees with brushes!