contents
That is why tire care is important
Before tire maintenance
tire care products
And what about the rim?
Advanced tire care
Conclusion
That is why tire care is important
The tires are an important part of the car. On the one hand, they carry the entire weight of the vehicle and, on the other hand, they ensure the necessary driving stability and good grip at all times. As the only contact point between the car and the road, they are always exposed to high loads. Their risk of wear and tear is therefore particularly high and they get dirty quickly. The tires also belong to a complete cleaning. for one optimum durability, safety and appearance you should always look after the tires on your car.
Before tire maintenance
Before you start caring for your tires, you should first Check tread depth. If this is too low, the braking distance increases and traction decreases. Aquaplaning and bad weather conditions thus become dangerous situations.
The exact value of the tread depth can be easily determined using a caliper or a tire tread gauge. Suitable devices are already available cheap six euros available. When measuring, you simply put the device on and read the displayed value. Important: At least 1.6 millimeters are required by law.
So confidently drive the tire up to 1.6 millimeters? This is legally possible, but experts advise against it. With such a low tread depth, the handling of the car deteriorates noticeably. That's why they recommend more than one for the following tread depths tire change to think:
Three millimeters for summer tires
Four millimeters for winter tires
The tread depth is measured and in the green range? Then the tire care can begin.
tire care products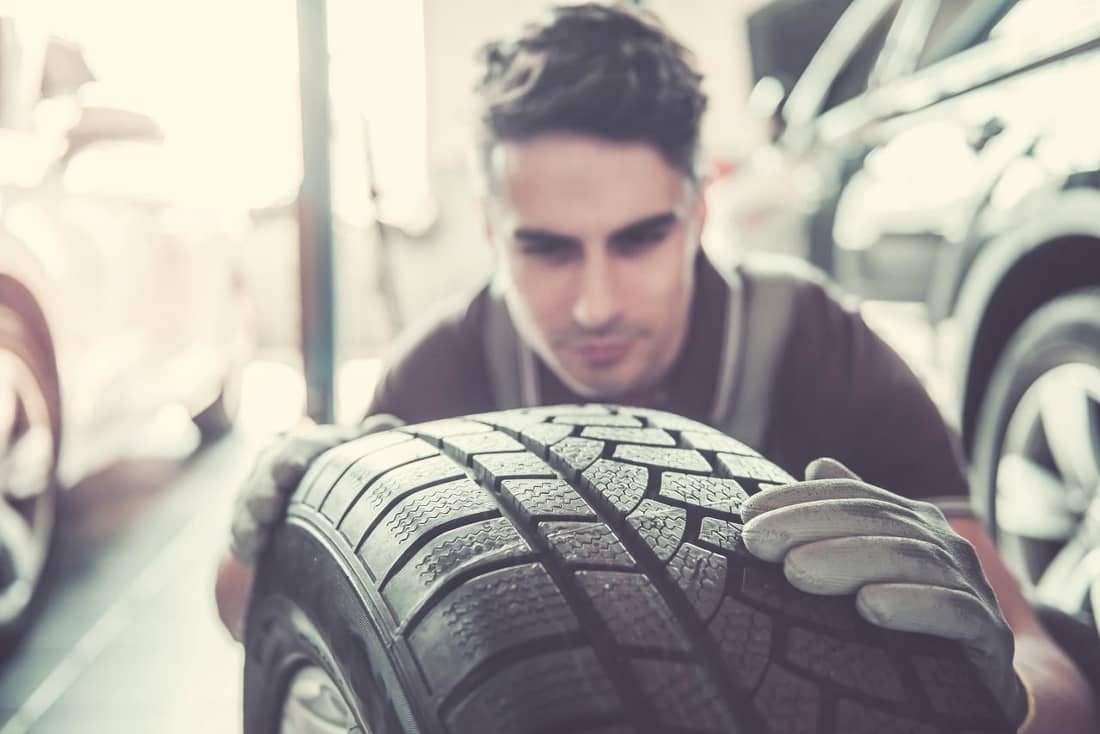 A variety of different tire care products will help you with tire care.
There are various means for the perfect tire shine. From inexpensive home remedies to long-term effective professional aids. the main products we present here.
home remedies
Soft drink for tire rubber: In most households, cola can be found as a stimulant. But it is also used in tire care. How it works? Simply apply a sip to a sponge and then wipe the tire thoroughly. The cola quickly soaks into the gum and creates a shiny look.
Shoe polish as a polish: If you have black or colorless shoe polish, you can not only use it for the shoes. Car tires can also benefit. Simply apply the shoe polish thinly and polish. The previously greyish discolored tires are quickly sparkling clean again.
Hairspray for the right look: Silicone sprays are often used to give the tires a new shine. Commercially available hairsprays already have this to a large extent. Compared to professional products, this is even cheaper.
Be careful with petroleum jelly and lard: Even if the two products can score with good results visually, they pose a safety hazard. In the long term, cracks can occur in the tire or the rubber can become porous. The use of Vaseline or lard is therefore strongly discouraged.
Professional means
In addition to cheap home remedies, various professional means used for tire care. These include:
cleanser
silicone sprays
mature gels
wax
In preparation cleaners help with comprehensive tire care. These sprays remove accumulated dirt and rid the rubber of old agents. Their application is uncomplicated: Apply the cleaner to the tyre, work it in with a brush and let it take effect. Finally, just rinse off – the tire is already cleaned. Functional cleaners are available from a price of just under 15 euros.
for one quick and easy maintenance silicone sprays are suitable. The principle is similar to that of hairspray: spray once and the job is done. The tires then shine bright black again – almost as if the vehicle had just come out of the car wash. Since this method takes less time than others, it's best used when you want to achieve a quick visual shine. Professional silicone sprays from the established brands Nigrin and Sonax start at just under five euros.
A longer term effect you get with tires gel. Here the application is a bit more complex, but the tires look like new for several weeks. The tire gel is put on a sponge and distributed evenly. By applying slight pressure, it then gets into all the grooves. With the help of this gel, the tire not only regains its deep black shine, but is also protected against color fading and cracking. Corresponding products from Nigrin and Sonax are available from around ten euros.
The longest protection offer tire waxes. These black pigmented agents preserve the rubber and also remove stubborn dirt. In addition, the additional layer of wax protects against various factors. Among them are:
sun exposure
Accumulation of dirt again
rain and wet
The application is time-consuming, but only has to be carried out very rarely. First, dirt must be removed. Then the wax is evenly applied to the tires with the help of a sponge. Now let it dry for five to ten minutes. For optimal tire care, then polish the rubber with a cloth until the desired shine is achieved. Tire wax is available from a price of around 15 euros.
And what about the rim?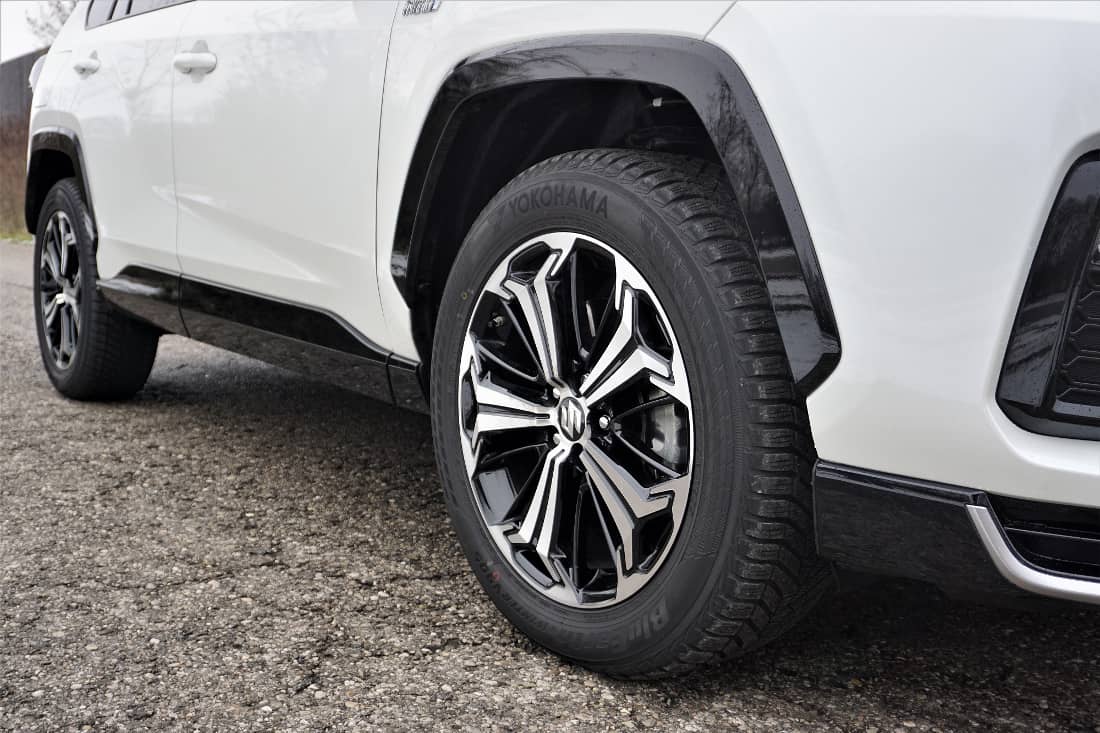 Clean rims not only look good, they also last longer.
In the extensive care of the tires, the rims should not be neglected. Like tires, they get dirty quickly. In addition, brake dust settles on them. In high heat, this fine dust can burn into the material and leave permanent damage. Brown, even rusty rims not only look ugly, they can also become unusable.
Since the rims are best cleaned when dismantled, we recommend one Combine rim cleaning with changing tires. The rim can be thoroughly cleaned from both sides and mounted in a clean condition. In addition, cleaning when dismantled ensures that no unwanted products get onto the brake pads, discs and calipers.
Suitable for cleaning special rim cleaner. But beware: Choosing the right product is important. Painted or aluminum rims, for example, must never be cleaned with alkaline or acidic rim cleaners. Otherwise, the paint or the surface may be damaged. Less aggressive all-purpose cleaners can help here. Although these products require more mechanical pressure to clean, they are gentler.
Advanced tire care
In addition to the tread depth check mentioned above, there are others important factorsthat you should pay attention to when tying. These factors contribute to driving safety, handling and even fuel consumption. It is therefore very advisable to check them frequently, but at least before a vacation or a longer trip.
air pressure: Optimum tire pressure not only increases driving safety, but also saves fuel. Consumption can increase by up to five percent if the tire is just 0.5 bar outside the recommended reference range. A check is therefore worthwhile in any case. On average, the specified air pressure is around 2.5 bar. However, this varies somewhat with each car. You can find detailed information on the driver's or passenger's door, in your vehicle's manual, on the inside of the fuel filler cap or in the glove compartment.
Appearance control: Especially when changing tires, it is a good idea to check the tires for their appearance. You should pay particular attention to cracks and damage in the rubber. If the material is already very porous or cracked, it may be advisable to change the tires, for example. Stones that have entered the profile can also be removed here.
Balancing tires: Bad road conditions, bumps and potholes deform car tires during operation. This shifts the center of gravity around the wheel axis. As a result, the wheel no longer runs perfectly true. Then forces come into play that have a negative effect on the steering behavior and lead to accelerated wear of the entire vehicle. Tire balancing restores the tire to its original shape. Regular maintenance with regard to this aspect is therefore advisable.
Conclusion
Car tire care is very important. An optimally cleaned and maintained tire not only looks good, but also contributes to driving safety, behavior and more economical driving. You can achieve an optimal tire shine with inexpensive home remedies such as cola, shoe polish or hairspray. Professional products such as tire gel and wax provide long-lasting protection. Rim cleaners also prevent tire wear. A visual inspection, regular checking of the air pressure and balancing of the tire offer maximum protection.
Handpicked Related Articles:
Clean rims

Summer tires and winter tires in comparison

Think about changing tires now