Cat breeds: Savannah
The Savannah is a hybrid cat species. The breed originated from a cross between the serval (Felis serval) and the domestic cat (Felis catus). The serval is a medium-sized wild African feline, which stands out for its large upright ears with eye spots, rather short tail and a black spotted pattern on a sandy background. The Savannah is bred to resemble its wild ancestor as closely as possible in appearance. The serval is not suitable as a house cat, but the Savannah is. The Savannah is not only bred for its wild appearance, but also for a friendly character. It is the ideal cat if you are looking for a wild appearance and a soft character.
History
The Savannah originated in the United States. Judee Frank crossed a male trap with a Siamese (domestic cat) and thus the first Savannah cat was born in 1986. The kitten was called Savannah because of her wild appearance. The breed is named after this female. In 1996, Kelley and Sroufe wrote the breed standard for the Savannah. In 2001, TICA (The International Cat Association) accepted the breed. The breed resembles the Bengal in origin. That is also a hybrid variety. The Bengal contains blood from the Asian tiger cat and originated around 1950. Many terminologies and techniques from Bengal breeding are also used in the Savannah ?? s.
Breed
A Savannah cat is a domestic cat that has serval blood in its lineage. The cross between a serval and a domestic cat is difficult to achieve. The serval often will not accept a house cat to mate with. The chances of success are highest when the animals grow up together. The serval has a gestation period of 75 days and in the domestic cat the gestation period lasts 65 days. Kittens are often born prematurely. In the following generations there are also problems with fertility. A sophisticated breeding program ?? with a lot of copying from the Bengal ?? Coping with many setbacks and a lot of patience have resulted in thoroughbred Savannahs, who are welcome at cat shows.
The percentage of serval blood can be low or high depending on how close the Savannah is to its serval ancestor. A Savannah can also be pure (thoroughbred) or less pure by crossing with other breeds. All this is indicated by letters and numbers. Savannah cats get a label, as it were. You can read the generation and varietal purity from the label.
The generations
The distance to the serval is indicated by the letter F (Filial) with a number. The offspring of the cross serval x house cat are labeled F1. So these cats are 50% serval. When an F1 is crossed again with a domestic cat, the offspring are labeled F2, which are 25% serval, etc. Hybrids often have fertility problems. The F1 to F4 males are infertile. Most males are not fertile until the 5th generation (F5). Yet some F6 and F7 males are also sterile. The F1 cats are often fertile, but breeding remains a challenge.
Crossings and purity
The use of breeds other than Savannah ?? s in breeding is indicated by the letters A, B and C. Only after four or more generations (F4) the offspring may be called thoroughbred (pure) Savannah for the studbook. This is indicated by the abbreviation SBT (stud book tradition). This only applies if no varieties other than Savannah have been used within the three previous generations. An F1-Savannah always gets an A. After all, the serval is not Savannah. An F2 Savannah gets a B, or an A, if crossed with a race other than Savannah. The F3 can be A, B or C. The F4 and above can be A, B, C or SBT. F5 males are very popular for breeding, because by crossing with serval or F1 to F3 females they get offspring with a higher percentage of serval blood. For example, it can happen that an F1-Savannah has a percentage of serval blood above 60%. Also with SBT Savannahs, the percentage of serval blood can be increased by continuous backcrossing with servals and higher generations. SBT Savannah ?? s are allowed to participate in shows. The more servalgenes, the more Savannah ?? s will also resemble serval and conform to the breed standard. On the other hand, a higher percentage of serval blood can also provide a wilder character.
Character and behavior
Savannah's character is dependent on the percentage of serval blood and socialization. Early socialization is very important with this breed, especially in the first generations. F1 Savannahs therefore prefer to be bottle-raised. In later generations, growing up in the house with other animals and / or children is sufficient and very important for social development. The character of the parents has a genetic influence on the character of the offspring. Not every savannah character is suitable for breeding. The character traits described apply in general. Earlier generations tend to be more anxious, wilder, have more energy and are more athletic. These animals cannot live without a large run and need fresh meat in their diet. Later generations are kinder and calmer. They look more like a house cat and can be treated and cared for like that.
Savannah ?? s are loyal and follow their owner through the home. They are intelligent. They can learn to walk on a leash and like to fetch. They are prized for their dog-like nature. They are very curious and active, but not all Savannah's like strangers. Savannah's have great jumping ability. They pop easily on top of doors or high kitchen cabinets. From a standstill they can jump 2.5 m into the air. They love water and can take a shower or play in a children's pool, for example. A Savannah's tail beautifully conveys its feeling. They can greet you with it and even wag with pleasure. Savannah's can meow like a cat or chirp like a serval. Sometimes they can do both or produce a sound that is in between. They can blow like a cat, but sometimes hiss like a serval. That sounds more like a snake hiss. In 2018, the Savannah is still a young variety that is in full development. Due to the use of different breeds in the breeding program, the character of individual Savannahs can be very different. Varieties that have been used a lot are:
Siamese and Oriental Shorthair (slender build, large ears)
Bengal (undesirable because of Asian Tiger Cat's input genes, but gave good color and contrast)
Ocicat (because of the spots)
Egyptian mau (because of the spots)
In the character of a Savannah, the characters of the above races can be reflected, but also of less used races.
Appearance
Savannah's are built tall and slender. With their long legs and long body, they often seem bigger than their weight. The hind legs are longer than the front legs, making the back look overbuilt. The size depends on the sex and the percentage of serval blood. Males become larger than females. Also, the more serval blood, the bigger the cat. F1 males can weigh up to 10 kg. Later generations with less serval blood are usually the size of a common house cat.
A Savannah's coat should have a spotted pattern. Accepted colors are brown spotted tabby, silver spotted tabby, black and black smoke. With the black coat colors, the spots are visible as black spots on a black background. They are easy to see when the light hits them nicely.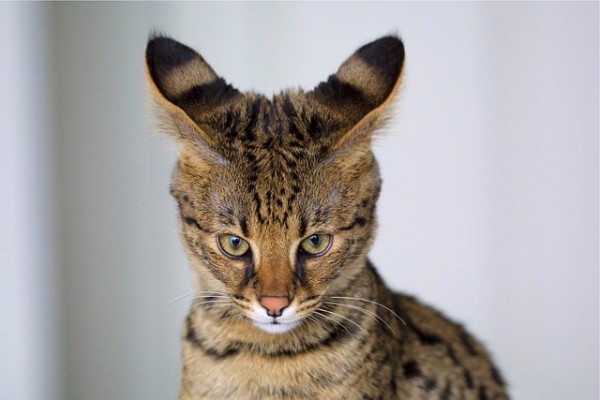 Source: Skeeze, Pixabay
The ears are long, deeply cup-shaped and set high on the head. The presence of eye spots on the back of the ears is desirable. These consist of a light strip with dark-colored edges. The eyes are green, yellow, brown or a mixed color. The upper eyelids have a boomerang shape with an eyebrow that protects the eyes from sunlight like a shelter. A dark colored tear stripe (like the cheetah) is desired and gives a wild look. The nose is convex like a pillow. The stocky tail reaches to the heel and has black rings and a black tip.
Finally
Savannahs are beautiful athletic cats that bring a piece of wild Africa into their home. Later generations (from F4) are nice house cats that rarely have behavioral problems. The care is the same as for domestic cats. With previous generations you really have to think about what you get. An outdoor run is a must. The diet of earlier generations should be high in protein in the form of raw meat. Think chicken wings, beef heart and day-old chicks. These cats are not usually nice lap sleepers.
Never let your Savannah outside unattended. They can be stolen or have an accident. It's great to see your Savannah display its natural behavior. A run, screened-in balcony or well-enclosed garden are therefore ideal. Indoor enrichment in the form of scratching posts, toys and high seating areas can also contribute to this. It is better not to keep Savannahs as the only pet, but in the company of a dog or other cat.