Centipedes and Millipedes – robbers and garbage disposers
Centipedes and millipedes are often confused, but they are very different organisms and belong to different classes. Centipedes (Class: Chilopoda) have one pair of legs per body segment, while millipedes (Class: Diplopoda) have two pairs of legs per body segment. In addition, centipedes are hunters and millipedes live on dead plant material. Centipedes are our brothers in arms in the fight against pests and other pests in the garden, including small (naked) snails. Millipedes make themselves useful by cleaning up dead plant material. However, sometimes the latter can also be harmful.
Index
Centipedes
Millipedes
The oldest inhabitant of the land is a millipede
Centipedes
Appearance
Centipedes have a flattened body with a distinct head and two antennae. The jaws are modified legs connected to venom glands. They have a pair of pointed eyes, with which they can only perceive movements and light and dark. The abdomen is very long and consists of almost equal segments; each body segment has one pair of legs. They are usually found in the soil or compost, or under objects (branches, stones, etc.) resting on the bottom. They catch their prey by chasing it at high speed if necessary.
Since their skin is thin and dries out easily, they hide during the day and hunt at night. There are three orders of centipedes in the Netherlands, two of which, the Lithobiomorpha and the Geophilomorpha are the most common. Lithobiomorpha are relatively short and have 15 pairs of legs. Lithobius forficatus is one of the larger species of this order. Species of the Geophilomorpha, such as Cryptops hortensis and Geophilus flatus, are long and thin and have up to 90 pairs of short, strong legs. The latter species are blind and usually crawl through leaf litter and soil.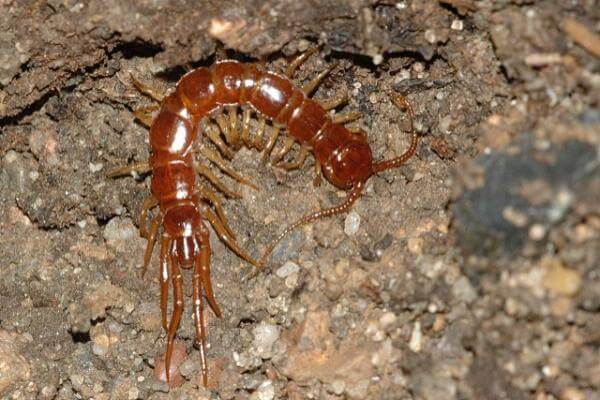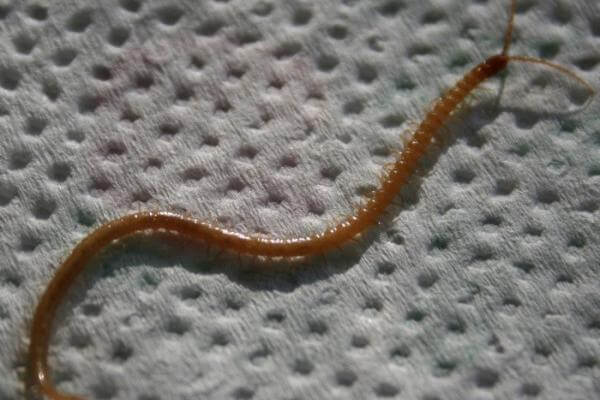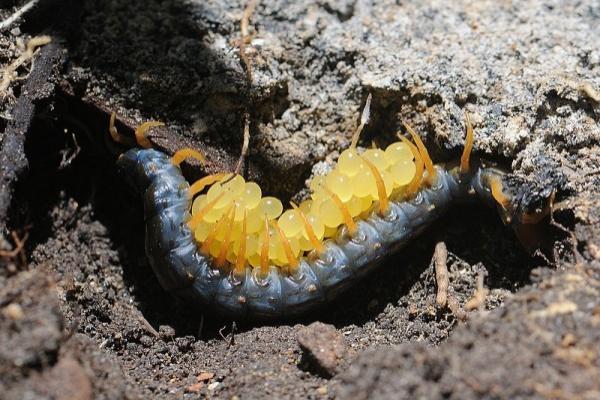 Biology
Males deposit packets of sperm (spermatophores) on a kind of web, which are picked up by females. Eggs are usually laid in the spring or early summer. Females of some species of the Lithobiomorpha lay their eggs one by one, cover them with particles of soil and leave them alone.
Newly hatched centipedes have only seven body segments and therefore also seven pairs of legs, but with each molt, a segment is added and with it a pair of legs. Females of some species of Geophilomorpha guard their eggs and young from enemies by surrounding them. They also lick the eggs to protect them from fungi.
Utility of centipedes
Centipedes are good hunters. They attack many organisms, such as insects, worms and snails, as well as spiders and woodlice. The large, tropical species, the largest of which can reach a length of 12 inches, also occasionally catch small birds, frogs and mice, and even tarantulas.
Natural enemies
Many centipedes are eaten by birds, amphibians, reptiles and large ground beetles.
Keep or attract in the garden
Since they dry out easily and therefore like a moist environment, you will do them a great favor with hiding places in the form of a pile of rotting leaves, or stones or branches that you put on the damp soil.
Millipedes
Appearance
Two common types of millipedes are Tachypodoiulus niger, also called white-legged twirl, and Polydesmus angustus, which does not have a Dutch name. T. niger is cylindrical and can grow up to 5 cm long. P. angustus is more flattened and mainly resides in leaf litter and decaying material and can grow up to 2.5 cm long. Since millipedes are not very fast, they spiral up when in danger. In addition, many types can secrete irritating liquids or toxic gases (hydrocyanic acid) to drive off enemies.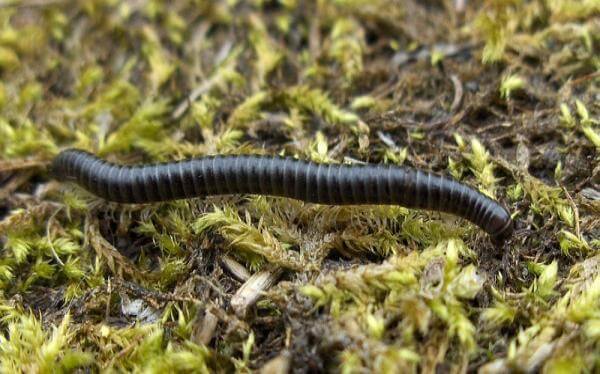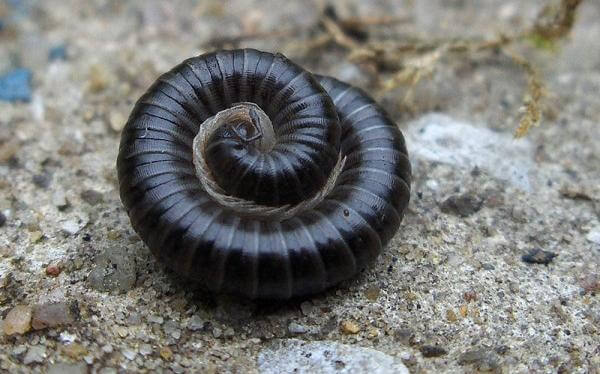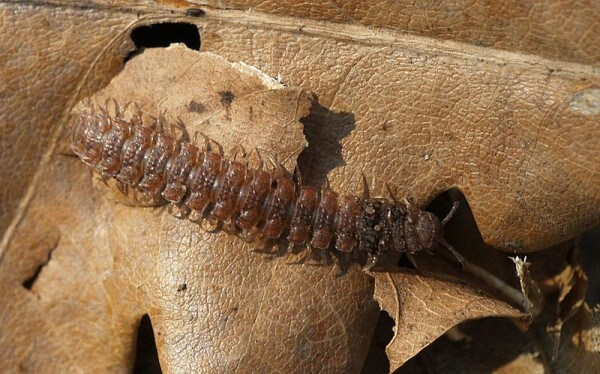 The oldest inhabitant of the land is a millipede
In 2004, the oldest fossil was found in Scotland that breathed air through breathing tubes. It was dated as being 428 million years old and was found to be a millipede, that name Pneumodesmus newmani received.