Chinese batik: fun, easy, fast, cheap and creative
The summer vacation is behind us. New courses are on the horizon. And sometimes you want to try out what you saw on vacation at home, without a course, but on your own. For example, Chinese batik from Africa: It doesn't take much, it is not expensive or complicated, and nothing can actually go wrong. The results are all the more surprising! Also fun to do with children. Messing is allowed!
Simple and inexpensive
In a small coastal town in South Africa, large colorful cloths with African designs flew from the clothesline. They turned out not to be made by a native, but by a German who had gotten stuck in this hamlet because her husband ran the youth hostel there. There, in the open air and in the garage next to the inn, she had plenty of space to paint huge canvases. It turned out to be very easy to do. What you need doesn't have to cost a lot, and if you don't have a lot of space, you can adjust the format accordingly.
Designs
Why the Chinese is called batik, the German did not know. She had picked up the technology elsewhere on the continent. She used designs that she had seen around her all over Africa: giraffes, black women with baskets on their heads, colorful flowers and birds. Of course, the technique says nothing about the designs you choose; that can be anything you like. If you want to stay true to yourself and not use African motifs, choose or create your own design. But first something about the technique.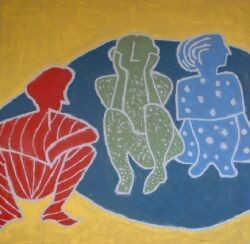 Source: Image of own batik
Chinese batik
Chinese batik is comparable to the much more famous Indonesian batik and yet very different. The last requires a lot of precision and patience while you can do the first with the French battle, as it were. For Indonesian batik you need a pan in which your wax is heated, which you then move with a special pin with a reservoir for the hot wax above a fabric, preferably silk, to create a drawing or motif. With Chinese batik you do not need to heat anything, so you do not need a stove and no special pin, nor do you need to purchase expensive silk.
Necessities
What you do need: one piece of white fabric from the market, for example cotton or linen. A simple stretcher. A staple gun. A few cheap brushes of different thickness (but one brush is also sufficient). Some flour and water and a Bowl stating this with a fork and spoon stirring a paste. A paste of wallpaper glue is also possible, but this is invisible after drying, making the drawing invisible, which is difficult if you want to color the canvas.
Creative
Stretch the fabric around the stretcher and staple it with the staple gun. Make some in advance if necessary sketch which you can then transfer to the fabric. This can be done with a pencil, but it is sometimes difficult to wash out of the fabric. It is therefore better directly on the fabric to paint. You do this with the brush that you dip in the paste of flour and water. Do not make the paste too thin, then the dust will not be covered, the line will flow and all your work will be in vain. You don't have to be too fat, so you should try this out. Let the drawing dry with the paste. Already experimenting you will discover that a thin but firm layer of pasta can cause crazing. This can give a very nice effect because on the crazing, where the fabric is not covered, the paint can penetrate.
http://www.blurb.com/books/822092 /
Source: Image of own batik
Paint
Once the paste is dry you can start painting. Use textile paint, which is unfortunately quite expensive, or acrylic paint. Your choice depends on the destination of your canvas. If you want to hang it on the wall or decorate curtains or cushions with it, it is best to use acrylic paint. However, if you want to make a shawl, or a bed cover or something else that should feel soft and preferably fall smoothly, then it is best to choose fabric paint. Both paints are machine washable, so that makes no difference.
Graphic
You can now paint the paste-treated cloth in one color or in all the colors of the rainbow. One or two colors will give a strong effect if you use primary, bright shades. The white lines will stand out all the more for a nice graphic effect. Or, you choose brown tones, cool or warm tones or black. Except just with lines you can also use dots, drops and smudges work: mess around! This way you can make your batik as complex and colorful as you want.
Easy and fast
After dyeing, let the cloth dry again. This is done within an hour outside against the fence. Then follows the penultimate phase: removing the pasta. Wallpaper glue can be removed very easily with washing, but with flour and water it is more difficult: an old toothbrush offers a solution. If you have painted a large canvas, it is useful if you have one bathtub above which you can scratch away the crusts of dough. After all, it is only a matter of rinse, dry again and iron. And your Chinese batik is ready.
This can seem like a laborious process: the results are surprising and you can do it in an afternoon. Especially if you start small to explore and master the process. A great idea for a rainy weekend or the autumn holiday, on your own or with children!