Choosing a cat: find the cat that is right for you
You've been thinking about it for a while, but now the time has come. You want to bring a cat into your home. How are you going to do that? There are quite a few places where cats can be found, such as the shelter, friends, Marketplace and breeders. This special pet has a wide variety of types. The question arises whether you take one or two cats, a kitten or an adult cat, a purebred cat or an ordinary cat. The cat's character is not unimportant. You will be together for years to come, maybe for as long as 20 years. So it is best to choose your new housemate carefully. Which cat best suits your lifestyle and wallet? How you live, who or what you live with and what your expectations of your new cat or tomcat are are important when choosing a new cat.
Kitten or adult cat?
Raise
Sufficient attention
Character
If you choose to adopt a kitten, do you want one or two?
Do you have children?
Type of house
Lifestyle
Coat
The nature of the cat
Do you have a dog?
Do you have any more cats?
Get used to it slowly
Indoor cat or outdoor cat?
Risks
Purebred cat or not?
Kitten or adult cat?
If you have never been in the pleasant circumstance of having a cat in the house, there are a few things you should know. A kitten may look innocent, but remember that it is a baby that requires a lot of time, energy and attention.
Raise
Cats are playful animals. They like all kinds of games. While any cat of any age will almost immediately find the litter box to defecate themselves, kittens usually need more time and attention to
learn 'house rules'. It is wise to prepare your home for the arrival of a kitten. You don't want your new housemate to hurt or hurt himself and you also want to keep certain precious things intact.
Sufficient attention
For example, if you are not home all day for work or any other reason, this is a good reason to adopt an adult cat instead of a kitten. All cats need daily attention, both in the form of caresses and games, but kittens need it much more than adult cats. If cats don't get enough attention, behavioral problems (such as biting, itching and destructive behavior) can emerge.
Character
In addition, a kitten's character will develop based on what it learns and on its genes. It is possible that the character he will have as an adult cat is not what you envisioned. Maybe you are not set up for that. An adult cat, on the other hand, already has a molded character. You then know in advance whether you will be bringing a 'naughty' cat, a cuddly cat or a cat that is known to get along well with other animals into your home. If you get a cat from the shelter, they know quite well what the character of the cat is and they can advise you on the purchase.
If you choose to adopt a kitten, do you want one or two?
It may sound like a contradiction, but in general, two kittens need less of your energy than one kitten. They play with each other, tire each other and learn from each other. Of course, it should be borne in mind that having two cats in a home entails double costs in terms of upkeep (food, veterinary treatments) and that there can be tension between cats too if you don't raise them properly.
Do you have children?
If you have young children under the age of 12, it is recommended that you avoid 'naughty' cats or cats that are not tolerant to noise and a lot of activity. Cats with a history of aggression are also unsuitable. For families with children under the age of seven, it is better to adopt a relatively adult cat rather than a kitten under six months of age. Kittens are sensitive both physically and emotionally and need gentle, consistent handling. They can develop anxiety, followed by behavioral problems, if not handled consistently and carefully by all members of the household.
Type of house
If you have a small apartment, it is best to get a less active cat (over 5 years old). If you have a large house with many bedrooms, you should avoid taking a cat with an anxious disposition. A very large space can be intimidating to a cat and it will usually hide.
Lifestyle
If you receive a lot of visitors, get a friendly cat who likes the extra attention. A shy cat will be overwhelmed by social gatherings and is likely to hide.
Coat
Also pay attention to the coat your new cat has. The coat of a long-haired cat requires a lot of attention. Some cats need to be combed every day, others twice a week. Short-haired cats require the least maintenance in this area.
The nature of the cat
Think carefully about which character your cat prefers. Are you looking for a cat that likes to play or a cat that likes to sit on your lap? It is of course difficult to know how the new cat will behave at home, but a cat from the shelter can be told how he behaved there. If a cat comes on your lap at the shelter, chances are it will act like a lap cat at home too. The same goes for a cheeky cat. On the other hand, a cat who looks a bit shy may end up becoming less shy (and possibly more active) once adopted. Keep these factors in mind when looking for an adoptive cat.
Do you have a dog?
If you have a dog who loves cats, you should get a kitten, a confident adult cat or an adult cat who has had positive experiences with a dog in the past. Unless your dog is small and very quiet, you should not get a cat that is anxious, hitting nails, or has a disability (blind, three paws, etc.). Keep in mind that time and space is needed for the cat and dog to gradually get used to each other. Be prepared to make any practical changes around the house: keep the dog away from the litter box and cat food.
Do you have any more cats?
Make sure the new cat's temperament matches that of your current cat. Only put together cats that are in the same age group. If you have an active and playful cat, you should adopt another cat who can handle or even enjoy the energy level of the cat present. If you already have an old and calm cat, don't bring a hyperactive kitten home.
Get used to it slowly
There are cats in the shelter that have good relationships with other cats there. It's especially important to understand that it doesn't matter much which cat you choose, as long as you give them the time and space to gradually start living together more and more after an initial divorce. Cats are territorial animals and the already present cat will have to get used to tolerating another cat in its territory. That can take several weeks.
Indoor cat or outdoor cat?
A cat kept indoors is more likely to live longer and safer because the risk of car accidents or contracting fatal illnesses from other cats is lower. However, a cat who is allowed outside can enjoy everything the outside world has to offer: playing with insects, catching rodents, lizards and birds, space to lose its energy, dozing in the sun and so on.
Risks
However, it is not recommended that you let a cat out if the house is close to a busy road, if there are dogs (or people) that are known to be 'problematic' to cats, and if cats cannot return home easily (for example if there is an intercom at the entrance).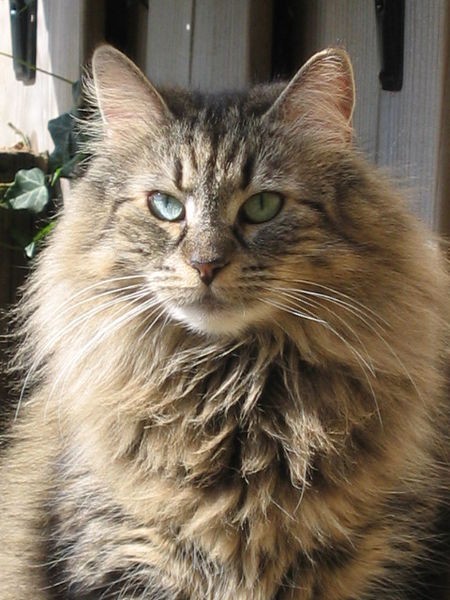 Source: Wieke de Rijk, Wikimedia Commons (CC BY-2.5)
Purebred cat or not?
Each breed has a number of characteristics that are characteristic of the particular breed. A short-haired cat, as we see it most often, often referred to as a European shorthair, is a great cat to have around the house. Still, you may like to have a purebred cat because of its beautiful appearance or character. Then you can do a cat test on the internet to find out which breed suits you best and which breed suits you best. Keep in mind that purebred cats are often bred for specific characteristics, but they often also have defects because they have been bred to obtain those characteristics. Purebred cats are also more likely to be stolen and are often more expensive to maintain (special food, coat care, etc.).