Cupcakes, cake pops and whoopies
Cupcakes are familiar to most of us, but what exactly are cake pops and whoopies? Discover the modern baking trends and read which trend suits you!
In a nutshell:
Do you like to bake cakes, would you like to give an extra touch to a regular cake, but would you like to keep it simple, then be cupcakes something for you. Cupcakes are, in a nutshell, mini cakes.
If you like to bake something original and you are also creative, then be whoopies your thing. Whoopies are, in a nutshell, cookies with a filling in between.
If you really want to be surprising and you have a lot of time, you can fully enjoy yourself with cake Pops. Cake pops are, in a nutshell, little balls of cake on a stick.
What do cupcakes, whoopies and cake pops have in common?
Decoration. You really cannot ignore it because all these delicacies call for sugar paste, marzipan roll, Candymelts ©, icing, edible pearls, shine powder, etc.
The combination of colors and flavors. Mix chocolate, raisins, hazelnuts, and you name it through the dough. In addition, give the dough or filling its own color and you can design the most original sweets.
Children love it. They can spend hours cutting out figures, choosing the colors and decorating. Ideal for children's parties, but allow enough time.
cupcakes
Cupcakes are like mini cakes. You bake them in a mini mold of design paper or not. There are of course hundreds of different types of cupcakes to make. Usually you start with a basic dough to which you add something. This can range from chocolate, almond powder, raisins, fruit, lemon zest, candy sugar, to instant coffee and why not Amaretto or Grand Marnier? After you have experimented with all these different flavors, you can indulge in their decoration. You can go a long way with a sufficient and varied stock of sugar paste or marzipan roll. Let the cupcakes cool down while thinking about which figures you want to make. You take the necessary amount of colored sugar paste and knead it tenderly. With the help of shapes you can then cut out figures. If you don't have any shapes, don't worry: with the help of a kitchen knife, a toothpick and a glass (to cut out round shapes) you can go a long way. If you want to do it professionally, go to a specialty store where you can buy molds, sugar paste, marzipan roll, edible glue, decorative eyelets, coloring, and everything else you need.
Whoopies

Photo: aveve /
Source: Aveve
Whoopies are cookies that consist of a hard outside and a soft filling inside. You first bake the cookies according to a basic recipe, to which you then add flavors of your choice. Chocolate, hazelnuts, fruit flavor, or other. And what about colored cookies? In addition to the flavor, also add a modified colorant and it will be completely crazy: yellow for mango or banana, red for strawberry, etc. You can bake whoopies in a special whoopie baking pan, but you can also just pipe the dough on a baking tray . Once the cookies are baked, you let them cool down and you can apply the filling. You can also let your imagination run wild for the filling: butter cream or buttercream, pastry cream, chocolate mousse, coloring, flavors, you can't imagine it as crazy as it is possible. Whoopies of course like to be decorated: get started with sugar paste, marzipan roll, Candymelts ©, sprinkles, edible speckle pearls, shine powder, etc.
Cake Pops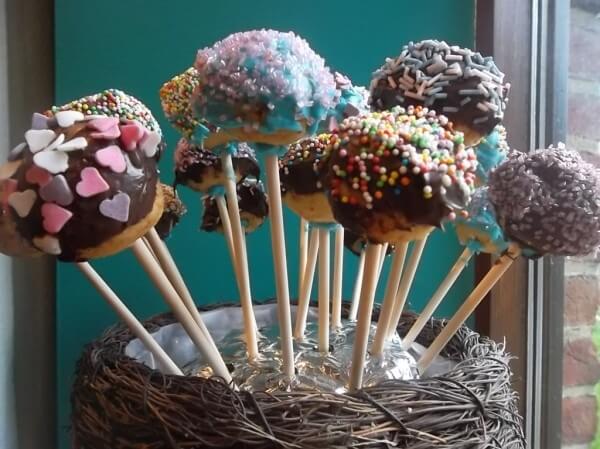 Cake pops are, quite simply, little more than scoops of cake on a stick. Still, it takes a long time to prepare them. Preparing cake pops takes place in several steps, for which it is best to take a full day or spread the work over two days. First you bake a cake that you let cool completely. Then prepare the crème au beurre (butter cream). Crumble the cooled cake and add it to the butter cream. Now roll balls and place them in the fridge for 1 to 2 hours. Then attach the sticks to the balls by means of melted Candymelts ©. Put everything back in the fridge for an hour so that the balls adhere well to the sticks. Then it's time to let your imagination run wild for the decoration. Cake pops are first rolled into an enveloping layer of chocolate or other sweet. It is best to use Candymelts © for this. These are pieces of chocolate or vanilla-flavored coloring, in all possible colors. After applying the layer of coloring agent you can roll them in decorative sugar flakes. Watch out, because the chocolate or vanilla dries quickly. Make sure you have a piece of isomo or floral foam (oasis) for flower decoration ready in advance to secure the cake pops. If you take enough photos of your artworks, you can eat them with confidence.