Deserts: What types are there and how do they arise?
Deserts can be found all over the world. However, there are numerous species, each of which originates in its own unique way. Each desert species requires specific conditions before it can emerge. For example, a salt desert can only develop when there is 'loam' nearby. This soil type cannot be found everywhere and is usually located in the mountains around a salt flat. Man can also be responsible for the creation of a desert. This often has to do directly or indirectly with agriculture.
Deserts
Criteria for a desert and its origin
Rocky desert
Gravel desert
Ice desert
Sandy desert
Salt desert
Criteria for a desert and its origin
There are various types of deserts. The so-called 'Sandy Desert' is the best-known desert species. A desert is an area with less than 250 mm of rainfall per year. This can be a warm or even cold area. A desert often has the ability to expand or form unexpectedly somewhere. Desertification can have both human and natural causes. When this happens naturally, it usually has to do with drought. Plants and trees can prevent a desert from forming. In human causes it is always an interaction between human influences and nature. There are numerous causes of desertification involving humans.
Desertification by humans
Most of the human causes of desertification are related to agriculture. As a result, soil is regularly plowed and even cleared. Sometimes pieces of forest are burned to use the ground. Changing the area can trigger a chain reaction, as the area in the region is also affected. Sometimes slopes are worked in the wrong way, causing desertification. Livestock and people who use the soil compact it, so that fewer plants can grow. Land watering can also cause problems. This can cause natural plants to drown. Farmers who monoculture crops can also cause desertification.
Monoculture
A monoculture of crops means that the farmer regularly grows the same type of crops. This causes the soil to become depleted and to lose specific nutrients used by the crops. The fertilizer that is used can worsen the situation over the longer term.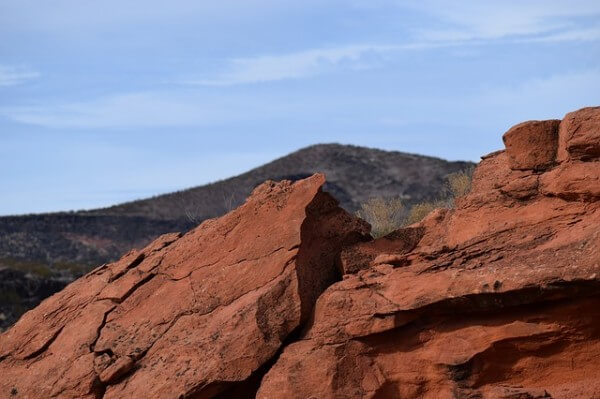 A Rocky Desert in Utah /
Source: Mooreway, Pixabay
Rocky desert
Rocky deserts can only be found in places where there is little 'weathering'. Weathering is the transformation of rocks through natural influences such as the climate and the earth's crust. As a result, the rock retains its large size, so that countless rocks can be found.
Gravel desert
A gravel desert usually arises from the decay of larger rocks. These could be remnants of an earlier river bed, for example. The leftover rock can be a remnant of rock such as conglomerate.
Ice desert
The ice desert is a concept that is less known because it is rarely used. The ice deserts that can be found on Earth are found in the polar regions and are the largest deserts on Earth. During ice ages they are even bigger than usual.
Emergency pool
The Arctic covers a whopping 13,726,937 square kilometers. However, the area that actually consists of ice has shrunk drastically.
Antarctica
This ice desert is 'just' slightly larger than the North Pole, namely 13,829,430 square kilometers (or about 320 square kilometers larger than the North Pole). It is the largest desert on Earth. Despite the cold, all kinds of animal species such as penguins, seals and various bird species live here.
Sandy desert
Despite the fact that everyone knows the sandy desert, the sandy desert is quite rare compared to other desert types. The sandy desert is a desert that arises because of the presence of a very large amount of sand and the correct wind directions. The wind directions must be in balance, otherwise the desert will disappear and the sand will end up elsewhere. One of the most famous sandy deserts is the Sahara.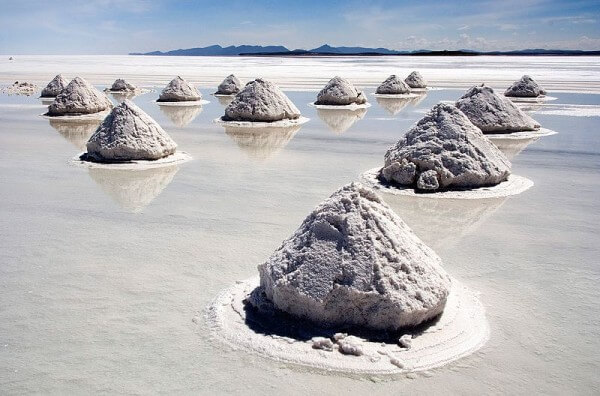 A salt flat in Bolivia, 'Salar de Uyuni' /
Source: Luca Galuzzi (Lucag), edit by Trialsanderrors, Wikimedia Commons (CC BY-SA-2.5)
Salt desert
The salt desert is also called 'loam desert' and can only arise when mountains with loam are present. Loam is a specific type of soil that consists largely of silt (loam). The soil consists of very small grains, namely between 2 and 63 micrometres.
Sedimentation
A salt desert only arises when so-called 'basins' are present in the area. These are areas where sediment builds up and settles. This process is also called sedimentation.