Dog breeds: Bergamasco
This large, somewhat fierce looking dog belongs to the herding species. Because of the thick, long, often felted coat and that slightly rounder head, you would not immediately say that it is a shepherd. It is a sweet, intelligent companion dog. The courage in character is recognizable in all shepherds. What are the typical characteristics of this dog and why should you buy such a dog?
Bergamasco, the base
This dog, which belongs to the shepherds, is an Italian shepherd. Its scientific name is Canis lupus familiaris. This Italian shepherd descends from the Persian sheepdog. In addition, these dogs are also sometimes crossed with the Hungarian shepherd. The Bergamasco is an old breed that is mainly found in the Northern Italian Alps, especially Bergamo, hence the name.
It is pre-eminently a good shepherd (shepherd) and as such is still used in Italy and Switzerland, albeit on a more limited scale compared to the past. The dog is increasingly a house dog.
Characteristics of the Bergamasco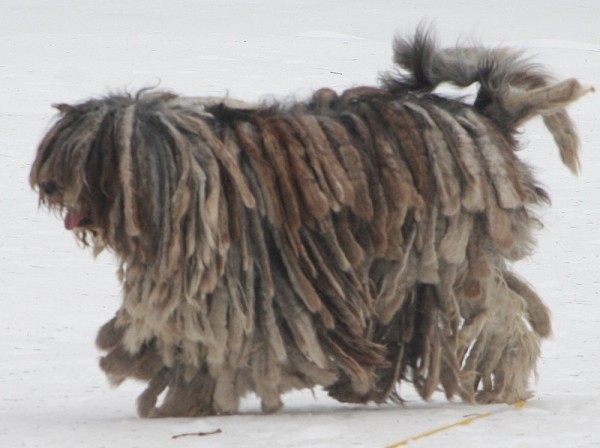 Source: Towncommon, Wikimedia Commons (CC BY-SA-3.0)
Appearance
The external features of this dog are striking, especially when it comes to the coat. This dog has long hair with a blow in it. They are often a kind of dreads, they are strands of hair that felt completely. This is how it should be and makes the dog extremely suitable to continue to function well in the cold Alps. You experience such a coat as beautiful or not at all, there is actually no middle ground. Although it may seem different, the dog does not require much time in terms of grooming. The color shade of the coat can be diverse, namely:
light fawn
silver gray
merle
light brown
medium brown
Black brown
black
The height of the males is usually between 58 and 62 centimeters and the females between 54 and 58 centimeters. When it comes to weight, males are generally between 32 and 38 kilograms and females between 26 and 32 kilograms. The eyes are large and set relatively low in the skull. The tail is sturdy and usually carried low. They can live up to 15 years old.
Character
This dog is intelligent, extremely vigilant and therefore also suitable for guarding companies. It is also an extremely courageous dog. Unlike other herders, this is not a dog that is blindly obedient or even slavish. It has traditionally been an independently functioning dog. The dog therefore prefers to work together with the owner and not just for the owner.
In addition, it can also be a very affectionate dog, with a sweet and cheerful nature. The dog is emphatically focused on people and is kind to children. This makes it easy to keep this dog in the house. It is therefore a great companion dog.
If the dog is not being used as a driver or guard, it is important to realize that the dog needs quite a bit of exercise. Long walks where the dog can lose his / her energy are therefore often on the program.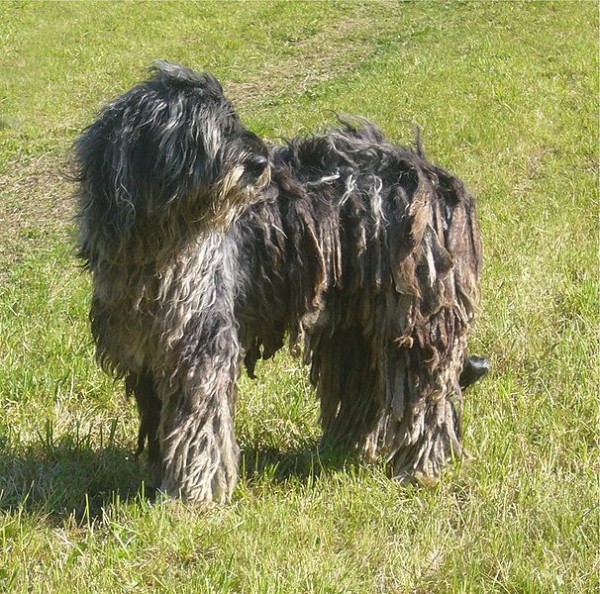 Source: Josephine06, Wikimedia Commons (CC BY-SA-3.0)
Health aspects
It is a shepherd so hip dysplasia is also lurking in these dogs. Furthermore, elbow dysplasia is also more common in these dogs. This can be detected with thorough research, and it can sometimes be tackled, but not always. Pain that can be expected in the long run if the dog has hip or elbow dysplasia can be alleviated. There are also exercises that help slow down the process.
Why this dog?
Little needs to be said about the appearance of the dog, you experience the striking appearance as beautiful or not. Furthermore, it is also just a sweet dog and for a large dog, easy to keep in the house. The care of the coat is actually not much and that is different for many long-haired dogs. If you have or are going to take this dog, going for long walks should be something that you enjoy yourself.
Finally
The Bergamasco is a big tough, watchful dog who also has a sweet and gentle disposition. Courageous if you have to and a sweet companion dog if you can. The dog requires relatively little care and you can go out and about with it extensively. The dog can also get the necessary exercise if you have a large garden or a meadow behind the garden where the dog can play nicely. In that case, let the dog run nicely by playing with him / her. In short, it is a nice dog to have at home and to get enough exercise yourself.