Dog breeds: Dutch schapendoes
The medium long-haired Dutch schapendoes originated from the well-known shepherd. It is a fun, playful, cuddly dog ​​with multiple names such as "shepherd droppings", "siephond". or ?? olde grise ??. No matter how cuddly he is, it is also good for this dog to know how to deal with it or how to educate him. In addition, it is also important to know what kind of care this dog needs.
Dutch schapendoes, the basis
It is an originally Dutch shepherd. One that hardly appeared in the early 20th century. During the Second World War, this dog was re-bred and smaller long-haired sheepdogs were used. The nicknames of the current Dutch schapendoes refer to these breeds, namely:
shepherd's drowsiness
siephond
olde grise
These dogs were real herdsmen and keepers of a flock of sheep. These dogs have boundless energy and like to work hard for the boss. That is also absolutely reflected in the current Dutch schapendoes.
Characteristics of the Dutch schapendoes
Appearance
This dog is characterized by a long mane, a deep chest and a long hairy tail. The head of this dog is broad, the nose has a small stop and the relatively small ears are set high and hang next to the head. The dog has large, round eyes.
The male dogs have a height of 43 to max. 50 centimeters and the females have a height of 40 to max. 47 centimeters. In terms of weight, the males can weigh up to 25 kilograms and the females up to 20 kilograms. The dogs have a double coat (under and top coat) and it is slightly wavy. The undercoat is mainly for isolation. The hair has a thin structure and comes in different color shades, namely:
Black
Gray with white
Black with white
Brown with white
Black, gray and white
Blue grey
This medium-sized dog has powerful legs, the dog can jump well and looks very light and supple with a resilient jump.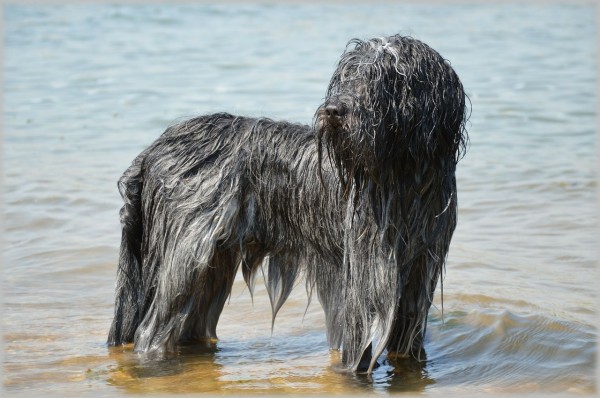 Source: PublicDomainPictures, Pixabay
Character
The Dutch schapendoes is playful, energetic, affectionate, a bit naughty and always eager to participate. The dog loves water and is extremely alert, which is also a must as a (former) sheep driver. It is also an intelligent dog and can function fairly independently. The latter sometimes makes this dog a bit stubborn.
Considering the traits, it means that this dog needs an extremely clear and consistent education. The dog is otherwise able to take a walk with the owner. This is not immediately noticeable, precisely because it is such an engaging dog.
Furthermore, the dog has a social character, can stay alone, but usually gets along fine with other dogs. The dog also does fine in the family situation with small children. Because it is a powerful dog that does set its limits and the long coat invites you to pull it on, it is wise not to leave small children and these dogs alone.
What else do you need to know?
Exercise and care
When you buy a Dutch schapendoes, you have to realize that this dog has to lose its energy every day and that it has to be taken for long walks. Also let the dog walk where it can run and jump freely and where you may be able to play games with it. Since it is an intelligent dog, it is good to make the games more difficult. That way you also challenge the dog mentally.
These long hairs can become tangled or felted. This makes it important to regularly give the dog a good comb with a wide-toothed comb (start as young as possible). This way you prevent tangles in the top coat, but you do not immediately comb the fluffy undercoat. After all, this is important for insulation. You do the undercoat every now and then with a fine comb, layer by layer, otherwise it will hurt. In addition, it is important to check the eyes regularly. Dirt can build up or hair irritate the eye. If you find all this difficult, you can of course also bring the dog to the groomer regularly.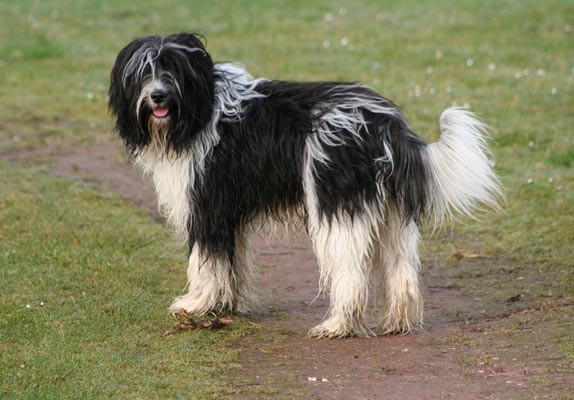 Source: Jennifernl123 Angela van Lieshout, Wikimedia Commons (Public domain)
Diseases
PRA (progressive retinal atrophy) involves destruction of the dog's retina. First, the rods in the eye are affected. This will cause poor visibility at dusk. If the cones are affected at a later stage, the dog can become completely blind. Since the Dutch schapendoes has more than average problems with this, the breed clubs have made a DNA test mandatory. It is only allowed to breed with dogs from which no sufferers can be born.
Eye problems can also arise in other ways, namely due to incorrectly placed hairs. Normally no hairs should grow at the free eyelid margin, but if these hairs are there, they can irritate the cornea. This can eventually lead to cataracts. This is also a hereditary matter and they also want to try to avoid this through testing in the breeding programs.
Finally, there may be problems with the puppy when it comes to the body artery and pulmonary artery. If this connection is not properly closed, hardly any blood will reach the lungs. This should close quickly because if it doesn't, the puppy will lag behind in growth. The puppy may be short of breath and cough a lot. This should become apparent in the first months after birth. A good breeder pays attention to this and coordinates with his / her vet, but it does not hurt to be alert yourself.
Cost
A dog costs money, you have to realize that even before you start with a dog. In addition, depending on the size, a dog can be with you for up to 15 years. You have annual vaccinations, anti flea and ticks etc. and of course good nutrition. Every month you have to total up to such a? 30 to ?? 40 count (a large dog will of course eat more than a small dog). The purchase of the young Dutch schapendoes will be between ?? 800 and ?? 1000 lie.
Finally
The Dutch schapendoes is definitely a fun dog to keep alone or with the family. It is a comrade and one who likes exercise. Since it is not a very large dog, it can also be kept in a smaller home, provided of course that this dog does get the daily exercise outside.