Fill pots for the summer with goodies and beautiful!
Do you still have sterilization jars lying around? A whole box full of yogurt pots or a dozen glasses or pots, gathered together at a flea market? Super! Make tasty salads in layers in it, put in homemade jam or cookies and give it as a present. Make a sand scene, decorate them to hold a candle or a tea light, put flowers or cacti in them, wrap them in wool or make a mini pond. Enjoy the summer!
Jars of all kinds
When you tidy up in the basement, in the garden house, in the garage or in the attic, you often make nice discoveries. A whole box full of sterilizing jars, a cardboard full of glass yogurt jars, a dozen forgotten grandmother's glasses or vases of all sizes and colors. Are you about to throw this all away? Do not! With these jars and glasses you can do all kinds of fun things during the summer. An afternoon of being creative and you still have a lot of fun. You can use these pots not only as decoration, you can also put a lot of tasty things in them! For a nice picnic, for yourself or to give as a present.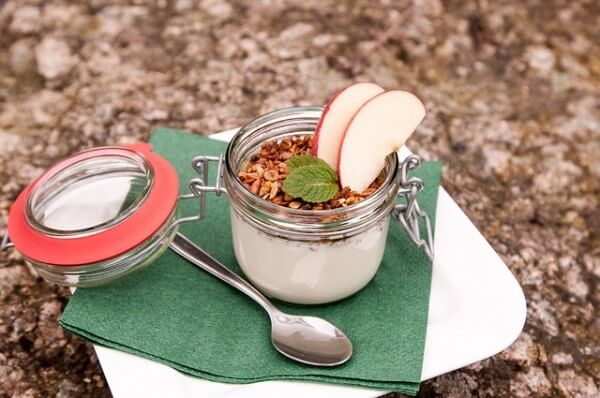 Source: Bzwei, Pixabay
Weck jar with salads in layers
Are you going on a picnic with the family? Then take large sterilizing jars with a tight-fitting lid. Have as many sterilizing jars ready as there are people. You are now going to make layers with all kinds of food in different colors. You can make different types. Some examples:
Salad with spaghetti and vegetables
Start with a layer of boiled and cooled spirelli or butterflies. On this you put a layer of diced tomatoes, followed by a layer of diced cucumber. You put another layer of corn on top of this. Continue like this until the jar is full of what you like. Think of peas, carrots cooked and cut into cubes, beetroot, feta cheese or Gouda cubed. This way you get many colors and your pot looks even better. You can add the vinaigrette or take it separately so that everyone can take as much sauce as they want.
Rice lettuce
Start with a layer of cooked and cooled rice. Then top it with a layer of diced tomatoes, followed by a layer of diced cucumber. Then a layer of diced boiled egg, a layer of tuna cut into pieces and a layer of black olives cut into pieces. Again, the vinaigrette over it or in a bottle to take with you.
Potato salad
To start, put a layer of boiled and cooled potatoes in cubes in the sterilizing jar. Then a green layer of garden herbs. Then you add small pieces of onion, followed by a layer of ham in pieces. For the red touch, tomatoes follow in pieces. Chopped beans provide a green color, asparagus chopped for a layer of white. Then the lettuce is cut into pieces and the boiled and diced carrots provide some orange again. Mayonnaise can be placed directly in the jar or in a separate tube or jar.
Fruit salad
Same system as for the vegetable salad. Layer as many colors of fruit as possible in the pot. Optionally, you can pour it all over with some liqueur.
The advantage of this system is that everyone has their own sterilizing jar. So you don't have to drag around with plates and a lot of cutlery. A fork is sufficient. If someone can't finish their jar, just close it and put it back in the cooler for later.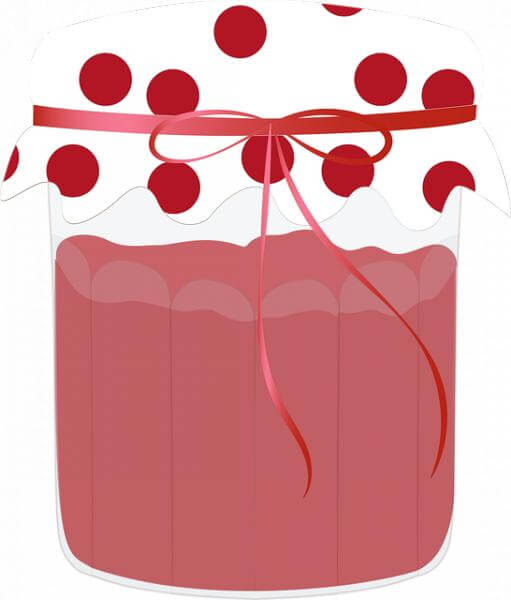 Source: PlumePloume, Pixabay
Summer gift in a jar
Summer fruit
If you have a gift to give, think of summer fruit. Strawberries, raspberries, blueberries, cherries, red berries from our own garden, freshly picked, washed, dried and in a sterilizing jar. Nice round cloth over with a ribbon or a stretcher and you have a great gift for a barbecue or a garden party.
Herb Owl
Cut some garden herbs from your garden or from your planter. Put everything in a jar. Stick a label on it and tie a nice ribbon around it. If necessary, add a few recipes with garden herbs.
Weck jar with homemade jam
If you don't have time to pick everywhere on the day itself, you can make jam in advance. Take as much sugar as fruit. Boil up. Check if the jam stiffens when you drop a drop on a cold plate. If not, you must let it boil for a while. Put the jam in the jar and immediately screw the lid on. If the lid closes properly, turn the jar upside down. This way, no air is added and the jam will last longer. Label on the jar and nice ribbon around the lid. You can get this gift from the basement or pantry whenever you need it.
Packaging for homemade cookies or candies
In the same way you can fill the jar with homemade cookies or candies. Choose cheerful summer colors here too. Hang a ribbon with a candy on the lid for the candy jar and with a cinnamon or vanilla stick for the cookies. Beautiful as decoration in the kitchen or as a gift.
Do-it-yourself pot
You can layer in the jar with certain ingredients. For example, you can layer cocoa powder, milk powder and sugar. To make your own hot chocolate. Or a layer of flour, a layer of sugar, a layer of butter cut into cubes and a layer of chocolate powder. To bake your own cake. The recipient still has to add eggs himself. Do include a recipe.
Jar with wool around
Also beautiful for a windowsill or as a gift: a pot of wool in summer colors. Coat your pot with glue about an inch wide. Take wool and wrap it around the pot. Then coat the next centimeter with glue. Take a different color of wool and make the next band. Continue like this to the top. Beautiful with a flower or plant in it.
Weck jar with sand
Layers in a jar
By putting layers of different colors of sand in a pot, you can make beautiful drawings. For this you take a jar with a lid. A sterilizing jar or a glass jar made of jam, honey, chocolate or vegetables, for example. You can put the layers evenly in the pot, then you get beautiful vertical stripes. But you can also put the sand unevenly in the pot. That way you can create scenes. If you have made vertical stripes, you can add a special effect by going into the pot with a knitting belt and pulling it up along the wall. Screw the lid on the pot so that the sand cannot escape in the wind or rain.
Sand and candle
In a jar without a lid you can put sand in a color and then put a candle in it. If you set the candle high, it will rise above the pot. You can then take a large candle. If you take a small candle, the wick stays in the jar and your candle is protected from the wind.
Summer scene
Also for a jar without a lid: a summer scene. Make layers of colored sand or put a color sand in it. Buy some summer figures now. For example, a beach chair, a bucket, a shovel, flip flops, a piece of cloth as a bath towel, a pool float, a small boat, and so on. Make a picture and add a few more figures. A mom with a child or a dad with a dog.
Yogurt pot for tea light
Small glass yogurt pots can be covered with translucent paper with wallpaper glue. Then you can make figures out of it, stick flowers on it, stick stars on it, fish, beach balls and so on. Or you can wind rope around the jar and glue it. You can also add a charm with a summer theme. A boat, a starfish or a fish for example. A white or colored tea light makes it complete and you can enjoy your pot for a whole summer.

Source: Jinhopark, Pixabay
Sterilizing jar or glass jar with a flower inside
Flower or plant
You can put a flower in every jar or glass. Put water in the pot and put one or more flowers in it. This can be small roses, tulips or a mixed bouquet from the meadow or the forest. For a small plant you take soil. Think of violets, tulips, garden herbs or cacti. If you have a sterilizing jar, you can hang the flower or plant on the edge of your balcony, on your garden wall or on the washing line. You then apply a nice ribbon under the edge. This way, the sterilizing jar does not slip.
Beautiful in a row or together
If you have similar jars or glasses, you can put them in a row on your windowsill, for example. If the jars or glasses are different in size and height, you can place them outside on a round table or in a flat basket.
Source: Tookapic, Pixabay
Flower in sand
Do you have two glasses of the same model in different sizes? Then put them together and fill the outdoor space with (colored) sand. Then you plant a plant in the inner glass. It now looks like your plant is in (colored) sand.
Jar or large pot with a mini pond
Take a large jar or jar. Place large pebbles or colored stones on the bottom. Sand and shells are of course also possible. Fill the jar with water. Put in some small water plants. Complete your mini-pond with figures you buy at a garden center in the aquarium section. A small castle or a shipwreck. If your bowl is large, you can put a real (gold) fish in it. If your bowl is rather tight, you will have to make do with a fake fish. Possibly a little duck on the surface and you have a fantastic mini pond that you will enjoy all summer long!