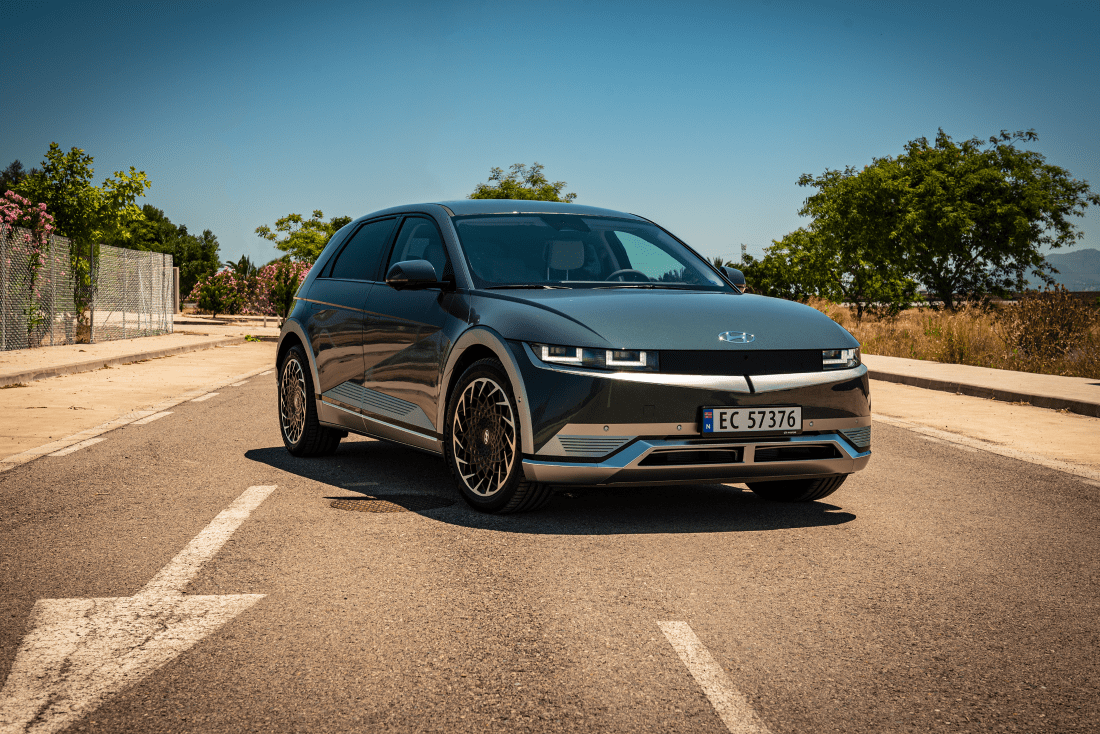 ---
The Hyundai Ioniq 5 at a glance
---
From cheap home to innovation driver
Who was Hyundai 30 years ago? An almost unknown manufacturer in this country with inexpensive products for the undemanding car buyer. You haven't got a vehicle for less than 10,000 euros from the Koreans for a long time, but overall, fair, affordable pricing has remained. After all, the new Ioniq 5 also starts – before any environmental bonuses – at still fair prices from 41,900 euros.
For that money there is, among other things, a progressively drawn mid-range crossover, with standard full-LED headlights including striking pixel graphics at the rear, which is a larger ID.3 or a better ID.4, depending on how you look at it. During the first test laps in Valencia, Spain, we had the opportunity to get to know the provisional top model with 225 kW / 305 PS and electric all-wheel drive (combined power consumption: 19.0-17.7 kWh / 100 km; combined CO2 emissions: 0 g / km²). A permanently excited synchronous motor on the front and rear axles drive the Ioniq 5, providing sporty propulsion, with a chassis that is clearly designed for comfort.
A feel-good atmosphere with sluggish infotainment
The direct, but overall very smooth steering also fits into the picture of the chests of drawers 5, which, including double-glazed side windows, rolls with a very low interior noise level. Stronger wind noises from the area in front of the vehicle are only perceptible on the motorway. Meanwhile, the Ioniq 5's cab scores with its feel-good atmosphere, and the operating world is familiar from other current Hyundai products. The two 12.25-inch displays provide clear information, but the central display only reacts hesitantly to input commands, especially when using a map.
The new Hyundai electric platform E-GMP (Electric Global Modular Platform) enables princely space in the first and second row of seats, with the back seat slidable lengthways and the backrests tiltable as standard – in the top model, which costs 48,900 euros, some are even electrically. Integrated sun protection blinds are also rarely found in this car class, as is the optional function of moving the front passenger seat from behind to create more leg room.
Sustainability as the top priority
Fully electric and air-conditioned "relax seats" can also be ordered, as can an easy-to-read head-up display with augmented reality function. A very well-functioning assistant package, including active lane keeping and lane changing systems, round off the list of options. The general choice of materials, predominantly made from recycled or sustainably produced materials, is particularly eye-catching. Whether you will save the world with an Ioniq 5 is debatable. But at least Hyundai is actively involved in cleaning up the world's oceans and supplies, among other things, floor mats made from old fishing nets.
Otherwise, it is bamboo, wool and gently tanned leather, which put the environmentally friendly idea in the foreground, also in the form of TV documentaries with effective media coverage. When it comes to drive technology, Hyundai is also going its own way and always offers its customers an 800-volt battery system. In this country, this is only known from the Porsche Taycan, the price of which is completely different.
Always with 800 volts, two battery sizes
Two power storage sizes, each with 58 or 72.6 kWh, are available for market launch and, according to Hyundai, should enable ranges between 400 and 485 kilometers according to WLTP. In summery Spain with an outside temperature of over 30 degrees and the 225 kW / 305 PS drive including a large 72.6 kWh battery, the on-board computer showed a consumption of 20 kWh per 100 kilometers at the end of our trip, which is mathematically a range of a good 360 Kilometer speaks.
If the juice runs out, the Hyundai Ioniq 5 can be supplied with electricity from the DC fast charger with 180 kW (58 kWh battery) or up to 220 kW (72.6 kWh battery). In the best case, the battery should be able to be charged from 10 to 80 percent within 18 minutes. Always optional – but advisable – is the efficiency package, including battery heating and heat pump. As a mobile power bank, the 5 Series is also able to supply other devices, such as cell phones, drones or e-bikes, with power via its own adapter plug at the charging port.
The Ioniq 5 has a catch
What else is there worth knowing? For example, that the most powerful Ioniq 5 sprints from standstill to 100 km / h in 5.2 seconds and rattles into the electric limiter at 185 km / h. The recuperation level can be set from freewheeling to real one-pedal driving using the shift paddles on the steering wheel, and the fabric-covered field next to the driver information display is a magnetic surface for attaching photos or notes, for example. The glove compartment can be pulled out and in addition to a 499 to 527 liter trunk, there is a 24 to 57 liter (without all-wheel drive) "cable frunk" and the option of hanging up a trailer weighing up to 1.6 tons.
First conclusion
With the Ioniq 5, Hyundai serves a pretty good electric car menu that is not only fun to drive, but above all scores with its feel-good atmosphere in the interior. The 800 volt technology ensures short charging times, the E-GMP platform for princely space. Clearly perceptible wind noises, a still sluggish operating system and the sometimes very expensive equipment packages are the downside of number five. (Text and image: Thomas Vogelhuber)