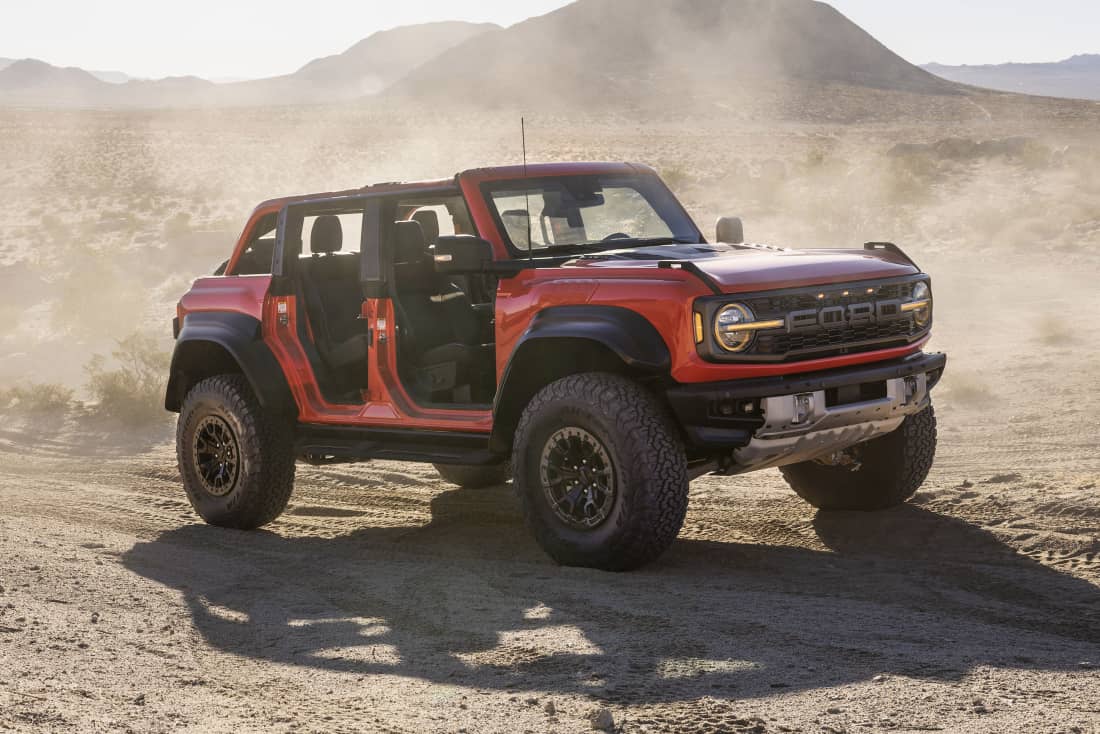 Ford has now presented the performance version of its Bronco, which is currently in high demand in the USA (vehicle not available for sale in Germany, homologation pending²). The future top version of the series is characterized, among other things, by powerful off-road tires, wheel arch extensions, special bumpers and a unique radiator grille design.
In addition, there is an extensively modified substructure, which is characterized by stiffeners and underride protection plates as well as a chassis with long spring deflections and a wider track. A wheel suspension derived from racing vehicles, Dana axles or semi-active shock absorbers from Fox are further special features of the chassis, which has been optimized for desert races and boulder crawling.
3.0 liter displacement, 400 hp, 10 gears
The off-road vehicle is powered by a 3.0-liter V6 petrol engine with over 294 kW/400 hp. Exact homologation data and driving values ​​are not yet mentioned. The unit is combined with a 10-speed automatic transmission, which transmits the power to all four wheels. The Raptor has received a reinforced clutch and a special transfer case.
Interior features include sporty contoured seats with orange stitching and seat belts. There are further color accents in the cockpit area, and the steering wheel with shift paddles is also particularly easy to grip. At the official start of orders in March, Ford will also reveal the prices for the Bronco Raptor, which is likely to cost over 60,000 euros in its home country. It is still unclear whether Ford will officially sell the Bronco in Europe. Some new vehicles are currently being offered by importers in this country. (Text: mh/sp-x, tv | Pictures: manufacturer)