Houseplant Livistona rotundifolia, a real eye-catcher!
Indoor plants, especially palms, have long been considered old-fashioned. Today, in 2020, palms are back in fashion, fortunately! After all, palms are strong houseplants that tolerate the dry air in our living rooms well. The Livistona rotundifolia is a beautiful specimen from the palm family. Place this exotic houseplant in a beautiful decorative pot in a suitable spot and you will create a true eye-catcher in your interior.
Description of the Livistona rotundifolia
The Livistona rotundifolia is a species from the plant genus Livistona. This plant genus belongs to the family of the Arecaceae, also named Palmae or palm family. The palm family has about 4000 species. Most species are native to tropical and subtropical regions. Palms are strong plants, also as a houseplant. They are resistant to the dry air in our living rooms.
The genus Livistona has about 35 species of fan palms. These species are found in Southeast Asia, Australasia, and the Horn of Africa. The name Livistona refers to Patrick Murray, 17th-century baron of Livingstone. He was a noted botanist and founding member of the Edinburgh Botanical Garden in Scotland. All plants of the genus Livistona have a single stem. In the wild, these palms can grow up to 30 m high. In our regions they cannot be planted in the ground because they would not survive our winters. They are suitable as houseplants.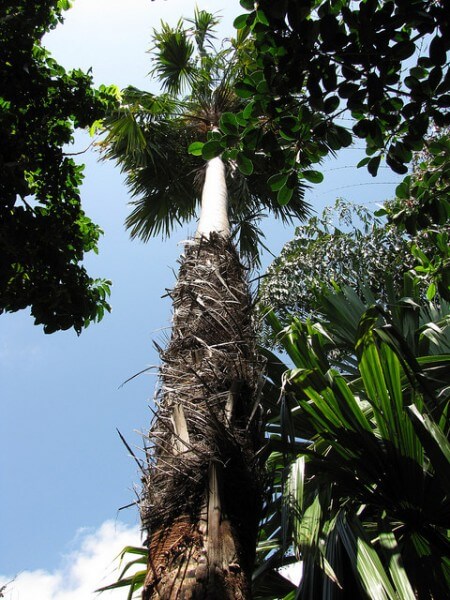 Fan palm in its natural environment /
Source: Starr Environmental, Flickr (CC BY-2.0)
The Livistona rotundifolia, also named Saribus rotundifolius, fan palm or umbrella palm, grows naturally in the tropical rainforests of Malaysia, Indonesia and the Philippines. In these areas of origin, the leaves are used to make thatched roofs and to wrap food in it.
The denomination rotundifolia comes from the Latin words rotundus and folium, some respectively round and sheet means.
The Dutch name fan palm obviously refers to the round fan shape of the leaves. The leaf fingers are shiny green and feathery and they are grown together in a fan shape. They grow from the heart of the plant. In older plants, however, the leaves will split more and more and the plant will lose some of its beauty. The stems are thorny and close together. With its graceful, fan-shaped leaves, the Livistona rotundifolia can rightly be called one of the most graceful and distinctive palms.
This tropical houseplant is not fast growing and can reach a height of 1.5 to 2 meters.
The Livistona rotundifolia fits in just about any interior, from classic to design, trendy or vintage. Place this houseplant in a beautiful glazed decorative pot and you immediately have a real eye-catcher at home or in the office, with a tropical touch!
In addition to its decorative value, the Livistona rotundifolia has another plus: it has an air-purifying effect. For that reason, it was named office plant of the year in 2012. Because it keeps the air clean, it helps against headaches and fatigue.
Location of the Livistona rotundifolia
The fan palm likes light, but a spot in the bright midday sun is too much for it. Too much direct sunlight will burn the leaves. The morning or evening sun can appeal to this plant. So choose a light, preferably draft-free spot, and better not at a south-facing window. Also not too close to the heating, the plant would dry out more quickly and get brown leaf edges.
Like all tropical plants, the Livistona rotundifolia also loves heat. The ideal temperature is between 18 ° and 23 ° C. The plant can go outside in the summer, but again you should avoid too bright sunlight. In winter it can be kept cooler, but the temperature must not drop below 12 ° C.
Source: Fiver, der Hellseher, Wikimedia Commons (CC BY-SA-4.0)
Care of the Livistona rotundifolia
The fan palm is a strong, easy to care for houseplant. Place the plant in airy, well-permeable potting soil, ideal is special potting soil for palms. In spring and summer you can be generous with water. The root ball must always remain slightly moist. It is better to give a good amount of water in one go than a little bit several times. This way you can be sure that all roots absorb water. Make sure that no water remains in the pot, because the fan palm does not like wet feet. Water sparingly in winter. If the lower leaves turn brown, you can simply remove them.
Palms like high humidity. After all, they originate from tropical and subtropical regions. In a warm and dry environment it is advisable to mist the plant, preferably with rainwater or bottled water, otherwise lime traces will remain on the leaves.
In spring and summer, you can mix some liquid plant food into the water every two weeks. In garden centers you will find liquid fertilizers, especially for palms.
Repotting
Palms don't like to be repotted as that will inevitably damage the roots. However, when the roots are growing through the pot's drainage holes, it is time to repot anyway. It is best to do this in April or May. You can possibly remove some of the top layer of potting soil every year and replace it with fresh potting soil.