Lake Baikal, the deepest lake on Earth
Lake Baikal is the deepest and oldest lake on Earth and is located in Russia. The lake is the largest lake on Earth by volume. In some places it is even more than a kilometer deep. The lake consists of fresh water and contains various animal species. Many of these animal species are native and are found nowhere else in the world. In addition, all kinds of plant species grow. How deep is this lake exactly and how much water is there in this lake? Which animal species live in Lake Baikal and how old is it more precisely?
Lake Baikal
Geographical location
Origin
Dimensions
Flora
Fauna
Lake Tanganyika
Geographical location
Lake Baikal is located in Russia, namely in the south of Siberia. This lake is located between 'Irkutsk Oblast' (northwest) and 'Buryat Republic' (southeast). This is a wild area. The West didn't learn about this lake until the 17th century thanks to the Russian explorer Kurbat Ivanov. However, scientists have discovered that several tribes have already lived in this area in the past.
Origin
Lake Baikal is considered the oldest lake in the world. It is no less than 25 million years old and originated from a rift valley. This is a piece of low lying area between different mountains. Such a valley arises because of geological activity at a fault line. Such a fault line is also called a 'rift'. The rift valley that arises here has the shape of a line. The lake therefore has an elongated shape.
Dimensions
This lake is known for its large size and covers approximately 31,500 square kilometers. It contains more (fresh) water than all the lakes in North America put together. At its deepest point it is no less than 1,642 meters deep. It is the largest freshwater lake in the world (by volume). It contains no less than 22% to 23% of all fresh water (surface water) in the world. Namely, it contains 23,615.39 cubic kilometers of fresh water.
Flora
All kinds of plants grow in the area, including the bald junker. This is a purple-colored thistle. In addition, it grows here, among other things, feather herb, a plant that is found in swampy areas, and the fountain herb. Fountain herb is an aquatic plant and resembles the water lily. This water plant can grow both under and above water. In some cases flowers can be seen above water. Submerged macrophytic plants are almost non-existent here. Macrophytic plants are plants found in the ocean.
Green algae
There are all kinds of green algae in the lake. At a depth of less than 20 meters, the lake is overgrown with Tetraspora and Ulothrix algae. The algae Aegagrophila and Cladophora occur here at a depth of more than 30 meters.
Fauna
The lake is home to thousands of different animal species. About 80% of these species occur only in this lake and nowhere else in the world.
Fish species
There are dozens of native fish species in this lake. These cannot be found anywhere else and are therefore very unique. Several species of fish that swim here belong to the family of the so-called 'deepwater bullheads' or 'baikald bobtails'. The Baikalhouting is a fish species that belongs to the salmonids. This fish species is used for consumption in the region.
Golomyanka
In the lake you will find the 'golomyanka'. This is a fish that consists of almost 40% fat. There are two different varieties: the small species can reach a maximum length of 15 centimeters while the large one can grow to 25 centimeters. The fish are largely transparent thanks to their high fat content. The fish is mainly consumed by the inhabitants of Baikal and is rarely exported.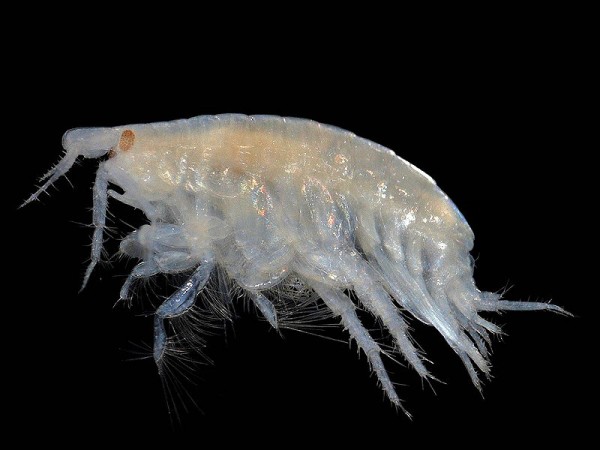 Amphibians have a shrimp-like shape. /
Source: Hans Hillewaert, Wikimedia Commons (CC BY-SA-4.0)
Invertebrates
Countless invertebrate species live here. You can think of bivalves (molluscs that are in a shell), snails and amphipods. Amphibians are an important food source for the fish that live in the lake. They have a very varied length, namely they can reach a length of 1 mm to 25 centimeters.
Freshwater seals
The Baikal seal (also known as the 'Nerpa') is only found in Lake Baikal. This mammal can grow to be anywhere from 100 to 140 centimeters long. They usually reside in places that are very deep. It dives to a depth of 50 to several hundred meters to catch fish and crustaceans. Baikal seals can live up to almost 60 years.
Lake Tanganyika
Lake Tanganyika in Africa was created in the same way as Lake Baikal. It also originated from a rift valley. The Tangaynyika has a smaller size and borders several countries, namely:
Congo-Kinshasa
Burundi
Tanzania
Zambia
Fauna
The lake contains all kinds of fish and reptile species. You can think of crocodiles, turtles, and dozens of different fish species.