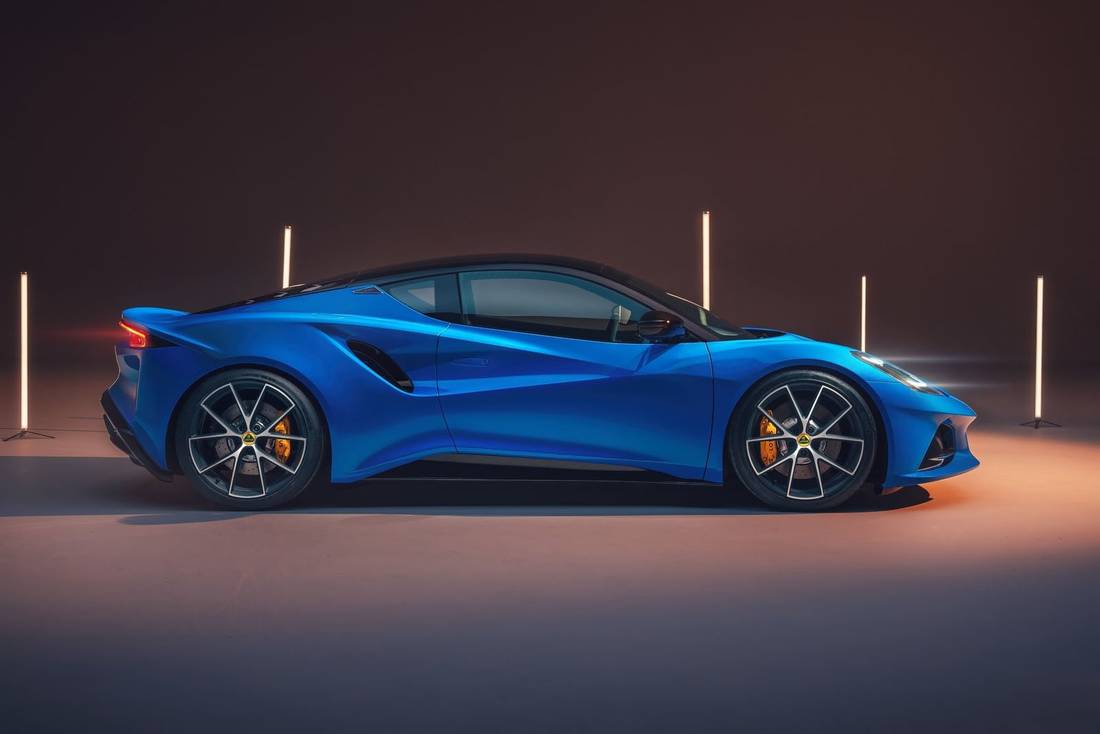 As the successor to Elise and Exige, the British sports car manufacturer Lotus, which is now part of the Chinese Geely Group, will launch the Emira sports car next year at prices starting at around 72,000 euros. The new model is a 4.41 meter long and at least 1.4 tonne two-seater in a mid-engine format, which is characterized by its modern design with large air openings, strong waist and LED lights at the front and rear.
More comfort, fewer compromises
Instead of spartan equipment and low weight, Lotus is focusing much more on comfort than before with the Emira. There are electrically adjustable seats, ambient light, a cruise control system, side airbags and numerous assistance systems. In addition, the cockpit is completely digitized. While the driving-related information is shown on a 12.3-inch display, a 10.25-inch touchscreen in the center console serves as a display and user interface for the infotainment system.
With the Emira, the British carmaker is immediately saying goodbye to the combustion engine. Before 2030, Lotus is set to become a purely electric brand that will then challenge sports car manufacturers like Porsche. In addition, Geely, as the main shareholder, has made a large amount of billions for future investments, which should turn the currently barely 1,400 units sold (2020) into "tens of thousands".
Four-cylinder from AMG, V6 from Toyota
Until then, one of two petrol engines will work in the Lotus Emira (vehicle is not yet for sale, homologation pending²). In the base, a two-liter, 265 kW / 360 hp four-cylinder turbo from cooperation partner Mercedes-AMG, including an eight-speed double clutch, is supplied; the top model has a 3.5-liter V6 supercharger with around 294, contributed by Toyota kW / 400 PS.
The V6 can either be ordered with a six-speed manual transmission or a six-speed automatic transmission. The sprint from zero to 100 km / h should be done in 4.5 seconds, the top speed is 290 km / h. (Text: tv, mh / sp-x | Images: manufacturer)