Lütje Hörn ?? Uninhabited German Wadden Island
In the German Wadden Sea there is a string of Wadden islands that are inhabited. Between these inhabited islands are some uninhabited high sandbanks and islands that are not inhabited. Some are big enough to be called an island. What may not yet be called an island is a sandbank. The tidal flats that run dry with ebb and flood are not included in this context. These are plains, more or less overgrown and with a reasonable height, which are no longer flooded during normal tide.
Lütje Hörn
Uninhabited Wadden Island in the Wadden Sea
Hooghe Hörn
Beacon
Walking island
Storm surges
Birds on Lütje Hörn
Insects on Lütje Hörn
Plants on Lütje Hörn
Uninhabited Wadden Island in the Wadden Sea
Lütje Hörn is located between Greetsiel on the mainland and the Wadden island of Borkum. It lies about 2.5 kilometers southeast of the eastern tip of Borkum and 3.6 km southwest of Memmert. It lies in front of the Ems estuary in the Randzelwatt. The island is community-less. It is part of the Ostfriesische Insel, the East Frisian Islands in Niedersachsen. Geographically it is actually more in Landkreis Aurich, just like Borkum, but it is administratively classified under Landkreis Leer. It does not exceed 0.35 km², 35 hectares.
Hooghe Hörn
Despite its small size, the island has been around for a long time. It is centuries old and was mentioned, for example, in 1576 on a ship's map. It was referred to as Hooghe Hörn. Since 1859 it has been included in the atlas as Lütje Hörn. The special thing about the island is that it is not, like the Wadden Islands, oriented east-west in that part of the Wadden Sea, but north-south. This is due to the river basin of the Ems, which partly determines the shape of the island.
Beacon
There was a beacon on Lütje Hörn, but it was demolished and removed in 1984.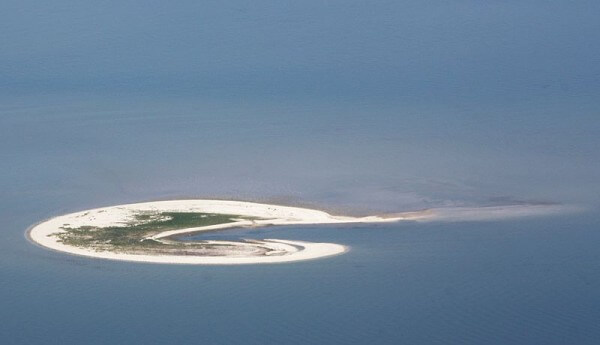 Source: Bin im Garten, Wikimedia Commons (CC BY-SA-3.0)
Walking island
Het Eilandje is without buildings and without residents. It is constantly changing. Lütje Hörn gets bigger and then smaller again and it hikes, especially in an easterly direction. Since the island is mentioned on sea charts, it has already hiked two kilometers to the southeast. In the years between 1961 and 1999 alone, the island was moved 600 meters to the east and 150 meters to the south. That was a speed of 15 meters per year to the east and four meters per year to the south. Besides displacement, erosion does not stop either. It was bigger in previous centuries than it is now.
In 1891 it measured 61 hectares;
in 1937 it measured 54 hectares;
in 2016 it measured 35 hectares.
Storm surges
Storm surges can be disastrous for sandbanks and small islands. Lütje Hörn was badly affected by the storm surge of 1962. Pieces of land were swept away and dunes disappeared into the waves. The winter storm of 1989/1990 also caused major damage. The Landesbetrieb für Wasserwirtschaft, Küsten- und Naturschutz (NLWKN) of Niedersachsen is monitoring the development.
Birds on Lütje Hörn
Lütje Hörn is primarily a bird island. Het Eilandje is a protected nature reserve. It falls under the Nationalparks Niedersächsisches Wattenmeer, the Waddenzee National Park of Lower Saxony. It may only be entered with the approval of the manager. Birds that occur on the island are:
cormorant;
eider;
oystercatcher;
herring gull.
Cormorants
Cormorants and oystercatchers breed here and the island is a high-tide refuge for many birds. It is special that the cormorants breed there, because they usually breed in trees. There is not one tree on Lütje Hörn. Yet they feel comfortable on the island and that is due to the absence of people and dogs.
Insects on Lütje Hörn
Research by the biologist Armin Rose of the University of Oldenburg shows that insects also fly on Lütje Hörn, such as ridge beetles, arachnids and ground beetles.
Plants on Lütje Hörn
Dunes have developed on Lütje Hörn. In 1989 they were 1.5 meters high, but after the storm surge of 1990 little was left of them. There are still some primary dunes left. The vegetation consists of dune plants and saltwater-loving flora.
Uninhabited islands
The German Wad has a few uninhabited islands:
Lütje Hörn
Heater plate
Memmert
Minsener-Oldoog
Alte Mellum
Legend
a. Lütje Hörn
B.. Borkum
C.. Ems
D.. Greetsiel
E. Memmert
F.. Waddenzee
G.. North Sea