review
Marley and Me. With Jennifer Aniston and Owen Wilson
Jennifer Aniston was announced in August 2007 that she would play one of the lead roles in 'Marley and Me'. Owen Wilson followed in February 2007. The recordings started successfully in Miami in August. A year later in August 2008 the recordings were completed. This delightful movie was released in the United States on Christmas 2008. A unique film about the typical house, tree, animal. Especially the animal plays an important role, which makes this film unique.
| CHARACTER | ACTOR / ACTRESS |
| --- | --- |
| John Grogan | Owen Wilson |
| Jenny Grogan | Jennifer Aniston |
| Sebastian Tunney | Eric Dane |
| Arnie Klein | Alan Arkin |
| Mrs. Komblutt | Kathleen Turner |
| | |
| --- | --- |
| Direction: | David Frankel |
| Production: | Karen Rosenfelt, Gil Netter |
| Playing time: | 117 minutes |
| Release: | March 5, 2009 |
In brief: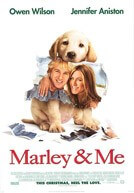 This film shows in a sensational and, in my opinion, very recognizable way, the typical ?? house, tree, beast ?? see symbolism. A young couple is getting married and (especially the woman) makes further plans for the future. After finding a good job and a house, soon comes the big goal ?? in sight: a baby. However, hubby does not feel much for that yet and he decides to start with a puppy as a surprise. This is appreciated, but it soon turns out that Marley, the puppy, is not just any young Labrador dog. He creates a lot of chaos when his very energetic, playful and dominant character comes into the picture. Marley shows the couple that raising an animal is not easy. Still, they decide to go for a baby. After an emotional miscarriage, they manage to give birth to their first child. The film shows how the mother, like the father, begins to see in her own way that being a fresh parent is not nearly as easy as it has always seemed. Especially in combination with the over energetic dog. In the course of the film it becomes clear that it does take time to achieve the goals you once had in mind. Not all goals and plans go as planned, but they eventually get where they should be. House, tree, animal and everything their heart desires: family and Marley.
My opinion:
The movie ?? Marley and me ?? in my opinion shows perfectly what life is often about: the house, tree, animal feeling. I think it's beautifully put together how it all started and how it ended. It started with a marriage, then the rest followed. Jenny had her so-called steps and I find this very recognizable. I think this is true for many women. Sometimes you need to have certain steps in mind, after which you can perform them. Jenny's steps take a detour, however, as the "Baby" step is replaced by a dog. It was not what she had in mind, especially after finding out which dog she chose. Great to see John discover how difficult it is to raise a dog, let alone a baby. Marley as a dog doesn't make it easy for him at all. Many dogs can be saved in the beginning by a puppy course, but Marley beats everything. He is uneducated. When Jenny and John have their first child, it is very nice to see that the new parenthood is not easy as it seemed before. Certainly in combination with the non-educable dog, it is beautifully portrayed how the fresh mother no longer sees fit. Very appropriate and recognizable. I think the situation, as they show, can certainly be compared to real life.
It's not always as easy and predictable as it seems. Life is full of surprises and almost nothing can be tied to it. However, this film shows very well that it all works out in the end, even if things don't go as planned: a baby instead of a dog, an uneducated dog instead of a cute, loyal animal, a job that didn't seem like John , but in the end his future was happy. Three beautiful children followed and the film ends in a beautiful big house. What I find almost unique about this film is that reality goes so far that even the death of Marley is shown. It is a unique film which in my opinion is certainly based on reality. The fact that the film is about a dog makes it certainly unique.
If I had to give stars for this movie, where the maximum is 5 stars, I would definitely give this movie 5!
Among others, these films have been directed by director David Frankel:
| | | |
| --- | --- | --- |
| MOVIE | YEAR | CAST |
| Marley & Me | 2008 | Jennifer Aniston, Owen Wilson, Eric Dane, Kathleen Turner |
| The Devil Wears Prada | 2006 | Meryl Streep, Anne Hathaway, Emily Blunt, Stanley Tucci |
| Miami Rhapsody | 1995 | Sarah Jessica Parker, Gil Bellows, Antonio Banderas, Mia Farrow |