Non-climbing Philodendron species as a houseplant
Of the genus Philodendron we often only know the climbing species, but there are also a number of non-climbing species, of which the Philodendron bipinnatifidum with the characteristic lobed leaves is perhaps best known. All Philodendron species are strong and easy-going plants that are hardly affected by pests. They are large plants that are more suitable for filling empty corners in the room than for placing on a narrow windowsill.
Philodendron, general properties
The genus Philodendron belongs to the family Araceae (arum family) and this can be seen by the flowers that form a kind of chalice. In 2015, 489 species were registered at the Kew Royal Botanic Gardens in London. Philodendron means "to love a tree" just like a rhododendron, a tree with a rose ?? means. The Philodendrons mainly come from Central America, but also from South America or Florida. They are strong plants that are easy to keep at home, the plants mainly appeal to the imagination because of often large strong leaves, sometimes up to 60 cm in size or larger.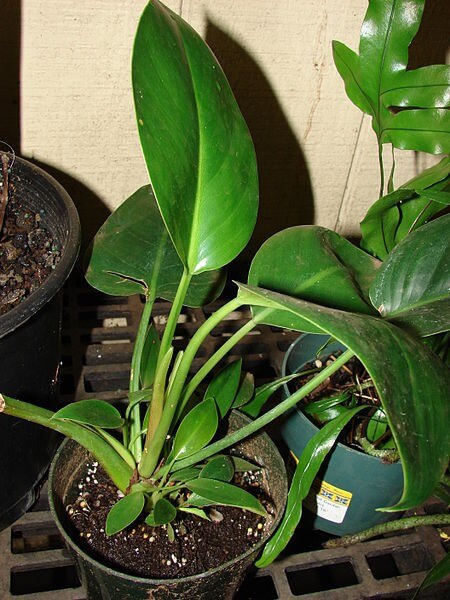 A non-climbing Philodendron /
Source: Forest & Kim Starr, Wikimedia Commons (CC BY-3.0)
Climbing and non-climbing species
The large leaves are often leathery and shiny, often they have an extra color such as purple veins or stems or a red underside. Most species are climbing plants, but there are also some that are not climbing plants. This does not alter the fact that in their natural environment the non-climbing species can also be found high in a tree, because a seed only needs to germinate in a cavity of a high branch and the strong plant knows itself with sufficient nutrients and water with its aerial roots. to provide. The non-climbing Philodendron martianum, for example, is sometimes found in a guest tree at a height of 30 meters.
Shape of the leaves
The leaves generally have a heart-shaped, lanceolate or arrow-shaped appearance, these are roughly the three basic shapes of the Philodendron, where the leaves can also have notches as a variation. Another characteristic is that young leaves often have a different shape from leaves of old mature plants. Often the leaves of young plants of different species resemble each other. As mentioned, the flowers form a calyx, the distinct characteristic of all Araceae, but as a houseplant they will not flower very often. Characteristic of the non-climbing Philodendron is a short stocky trunk with the leaves that are in a rosette shape on the trunk.
A number of non-climbing species
A number of species among the non-climbing Philodendrons that can be kept as a houseplant are the Philodendron bipinnatifidum, Philodendron martianum, Philodendron wendlandii and the Philodendron gloriosum.
The Philodendron bipinnatifidum /
Source: Public domain, Wikimedia Commons (PD)
Philodendron bipinnatifidum or P. selloum
This species from Brazil is well known for its large leaves that are strongly lobed. In its natural environment it occurs both on the ground and high in trees. The plant forms aerial roots, just like so many species of the Araceae family. The lobes and notches do not extend all the way to the midrib, the dark green leaves can measure 60 cm by 40 cm, but at home this size will not be reached as quickly, leaves become about half as big. This beautiful plant can grow up to 120 cm high, the petioles are about 40 cm long. In young plants the leaves are more heart-shaped and not really incised, later they become more arrow-shaped with more notches. The plant was first considered a different species from the Philodendron selloum, but now these two turn out to be different ?? species just to be one and the same species. Philodendron selloum is thus synonymous with bipinnatifidum. The cause for this confusion is the fact that the leaves can take different shapes, scientists soon decided, while discovering apparently new species, to immediately rename a plant with different leaves.
Philodendron martianum
This plant is native to southeastern Brazil and is also called Philodendron cannifolium, but according to the Kew Royal Botanic Gardens in London this name is incorrect and should not be used. The leaves of this plant are lanceolate and somewhat narrow and with a length of up to 50 cm, nevertheless quite large, the stems are remarkably thick. The leaves are in a rosette on the short trunk and in its natural environment it can reach a size of 2 meters wide and 2 meters high. There, this plant grows both high in the trees on branches and on the ground in clearings that have left fallen trees. High up in the trees, this plant behaves like an epiphyte, that is, like a plant that grows on a tree without extracting food from it.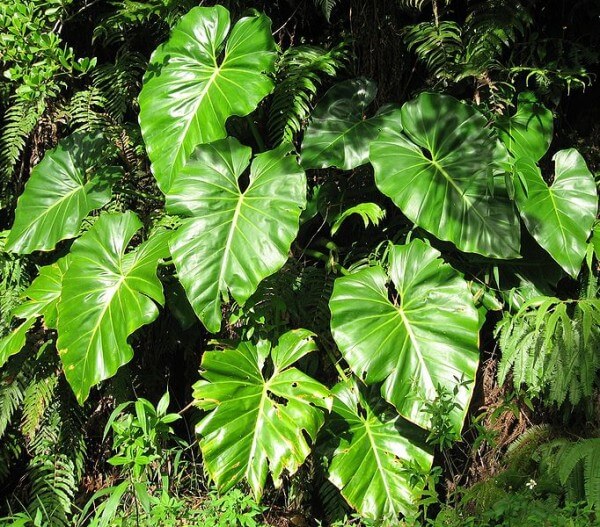 The Philodendron giganteum /
Source: Liné1, Wikimedia Commons (CC BY-2.5)
Philodendron wendlandii
This is a somewhat smaller non-climbing species with still 30 to 45 cm large lanceolate leaves with 15 to 20 cm long stems. The leaves are dark green and have conspicuously visible midribs.
Philodendron gloriosum
This species has very beautiful leaves, the leaves are full and large, but have very striking light almost white veins. This plant is native to Columbia.
Other types
Other species are Philodendron elegans with strongly lobed leaves with notches wider than the leaf parts, the P. giganteum with very large heart-shaped leaves that end in a point, the P. lacerum with large, somewhat wavy and lobed leaves, the P. pedatum with arrow-shaped leaves that are also notched, and the P. pinnatifidum that closely resembles the bipinnatifidum but has somewhat fuller leaves.
Growth
In general, the non-climbing Philodendron species at home in the living room grow to a maximum height of one meter, sometimes a bit higher. Lower dwarf species still grow to a meter in width, so keep that in mind. They are fairly fast growers that form a lot of leaves, especially in spring and summer, with a year twice as many leaves can be present. The plants can last for about four to five years. After that time, the plants become messy and are therefore often replaced. It is then up to the owner to decide whether the plant can last a few more years.
Grooming
Naturally, these plants that grow naturally in tropical rainforests are resistant to little sunlight, so they can also be placed in the shade at home, but a too dark spot will cause the plant to fade and form some small leaves. In any case, do not place the plant in full sun.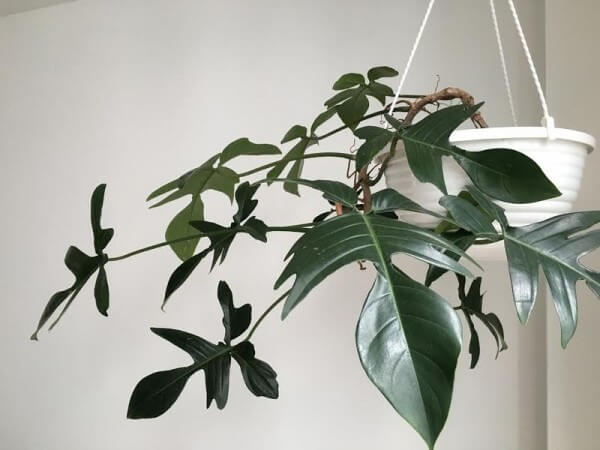 A Philodendron pedatum /
Source: Beatrizvale77, Wikimedia Commons (CC BY-SA-4.0)
Temperature
No high demands are placed on the temperature, a temperature above thirteen degrees is already sufficient for a Philodendron, so the plant will thrive in any Dutch living room. In winter the temperature can be 12 to 18 degrees, in summer the temperature can rise to 24 degrees. Pay attention to the humidity, during the winters the air can become too dry when the central heating is turned on. The humidity can be increased by spraying with water or by placing the plant on a gravel tray with a layer of water in it. The plant can also be planted mixed with other species in a larger planter, the other plants will then provide a higher humidity. For example, a fatshedera, ficus or dieffenbachia are suitable species.
To water
Watering can be done twice a week, at least in the growing season, in winter, water can be given a maximum of once a week. During the growth period in spring and summer, some liquid fertilizer may also be given once every 14 days. Repotting is only necessary when the root ball is completely rooted and preferably in the spring, use pots of no more than 25 to 30 cm. Note that large specimens of non-climbing Philodendron varieties can become top-heavy, a sturdy wooden tub is often more suitable than a lightweight plastic pot. Too large specimens that are difficult to repot ?? may only get a new top layer of soil in the spring. Because leaves of a Philodendron are often large and leathery, they can be easily cleaned with a sponge and water.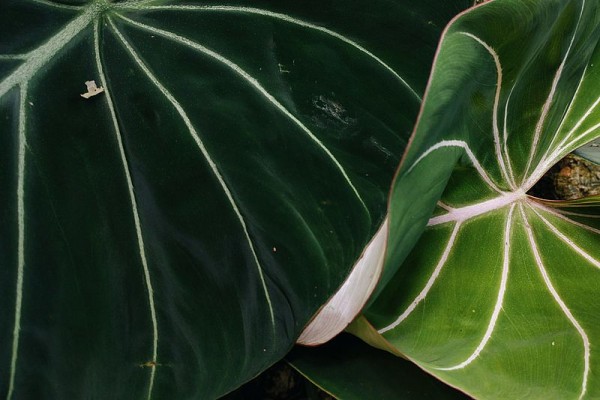 The leaves of the Philodendron gloriosum /
Source: Theoperatingsystem, Wikimedia Commons (CC BY-SA-4.0)
Propagate
Propagation of non-climbing Philodendron varieties is best done through seeds which are sown 12 mm deep in seed soil in the spring. The seed tray must have a temperature of 25 to 27 degrees. The seedlings may be transplanted when they are 5 to 8 cm tall. The plants can sometimes also be taken from cuttings by cutting new side shoots under the stem and then spreading the cutting with growing fluid in a plastic-surrounded pot. After 21 days, the cutting must then be sufficiently rooted and the plastic can be removed.
Diseases and pests
The following phenomena can occur. Hanging leaves are a result of too little water and when the temperature is too low, growth stops and the leaves become somewhat faded. Too much water will always cause yellow leaves to fall off, this is especially a problem in winter. Poorly colored, faded leaves and the absence of new leaves in the spring can be the result of insufficient nutrition and a depleted soil. Brown or black spots can be caused by scorch marks from water droplets on the leaves in the sun. These plants hardly suffer from aphids.