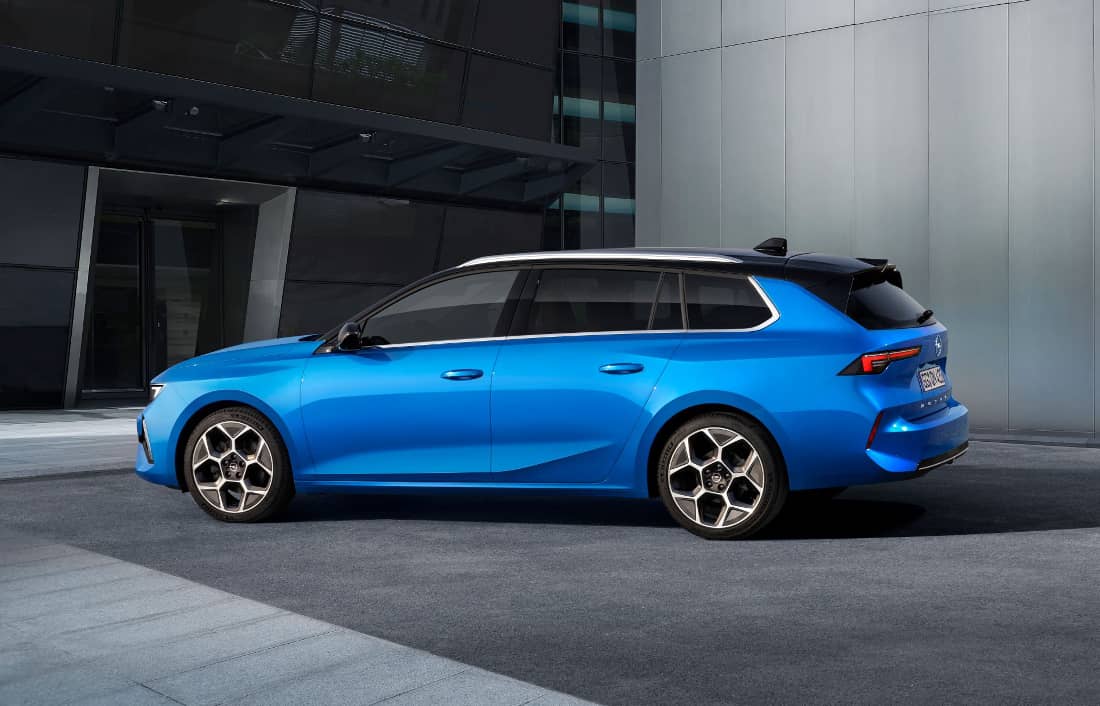 There is now an official price for the station wagon version of the new Opel Astra: the Rüsselsheim-based company is asking 23,565 euros for the Sports Tourer in the nameless basic equipment in combination with the 81 kW/110 hp 1.2-liter petrol engine (combined fuel consumption: 5 .7-5.4 l/100 km; combined CO2 emissions: 129-123 g/km)². Compared to the shorter five-door, this is an increase of exactly 1,100 euros. Standard equipment includes a 40:20:40 easy-fold rear seat, all-round LED lights, a digital instrument cluster, 10-inch touchscreen for the infotainment system, automatic climate control and a fairly comprehensive safety package.
Wide range of engines with automatic and manual transmission
In addition to the basic equipment, the lines Edition, Elegance, GS Line and Ultimate are offered for the Sports Tourer. When it comes to drives, the 1.2-liter three-cylinder in the expansion stages with 81 kW/110 hp and 96 kW/130 hp and a 1.5-liter diesel also with 130 hp are available (combined fuel consumption: 5.8- 4.3 l/100 km; combined CO2 emissions: 130-113 g/km)². The diesel and the more powerful petrol engine can be combined with an 8-speed automatic transmission as an alternative to the manual transmission. The most expensive version with a conventional drive is the diesel with automatic in the Ultimate equipment from 39,780 euros.
The Astra Sports Tourer is even more expensive as a plug-in hybrid with a system output of 133 kW/180 hp and an electric range of 60 kilometers (combined fuel consumption: 1.2-1.1 l/100 km; combined power consumption: 15.3-14 .8 kWh/100 km; combined CO2 emissions: 27-25 g/km)². Here the prices start at eligible 35,800 euros, as Ultimate it is 44,410 euros.
Loading volume at Golf Variant level
The Astra Sports Tourer is 4.64 meters long and is therefore six centimeters shorter than its predecessor; however, the wheelbase has increased by 5.7 centimetres. The trunk volume has also grown. Depending on the seat configuration, it is between 608 and 1,634 liters for the conventionally powered models, and between 548 and 1,574 liters for the PHEV. For comparison: The eighth generation of the favorite opponent, the Golf Variant, swallows 611 to 1,642 liters of luggage, the predecessor Astra K as a Sports Tourer could hold between 540 and 1,630 liters. (Text: tv, mh/sp-x | Pictures: manufacturer)