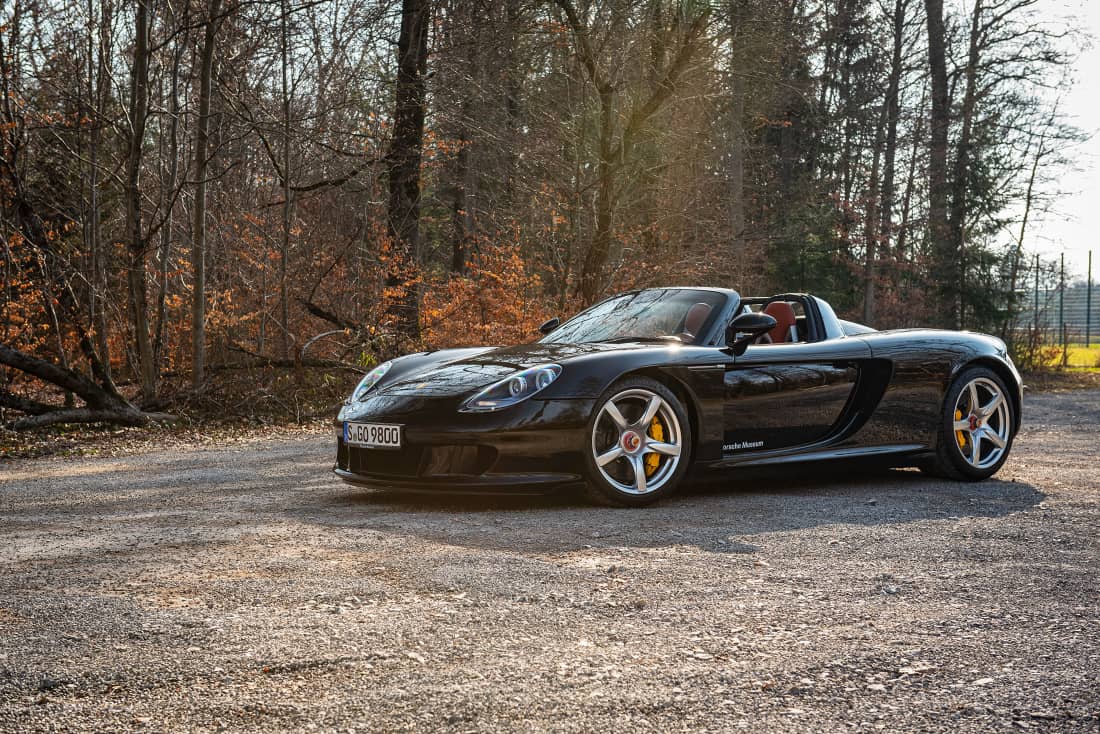 Depending on the mileage and maintenance intensity, used Porsche Carrera GT price tags above 900,000 euros. Almost a million euros for a car – is it worth it? If you ask a designated specialist, the 612 HP bolide built from the beginning of 2003 is one of the best and at the same time most uncompromising sports cars of our time.
I can certainly confirm that Porsche focused primarily on consistent sportiness during development. Because even getting in and out of the car is not only a bit awkward at 1.94 meters tall – or even decidedly sporty. The GRP monocoque used was a world first in automotive engineering in the early 2000s and made it clear that everything on the Carrera GT was designed for lightweight construction and therefore hardly for comfort.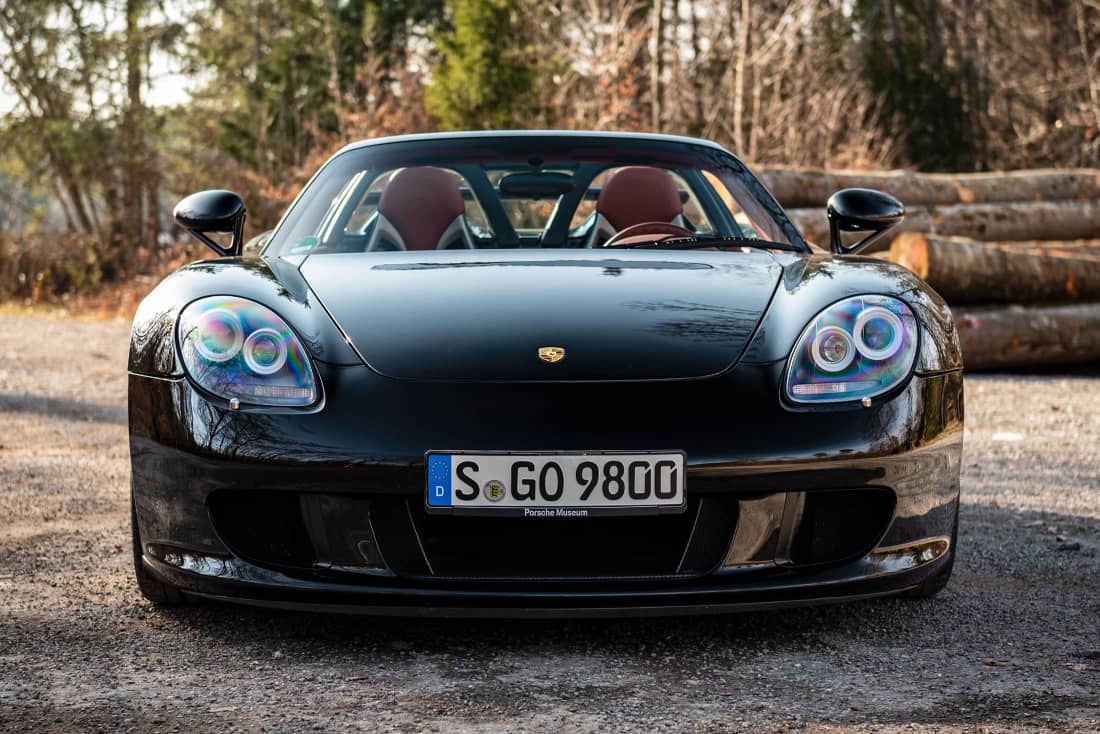 Sports car without love handles
The Porsche Museum now mentions a weight of just 1,380 kilograms for the S-GO 9800, which of course also has an impact on the interior. In the Carrera GT cockpit, luxury is defined by components made of magnesium, composite materials and a touch of smooth leather. The fact that the bucket seats were not just made of carbon fibers but also of aramid fibers (better known as Kevlar) saved extra pounds.
Slipping over the thick CFRP rocker panels into the full shells, tightening the seatbelt and putting the ignition key in position, I remember a well-intentioned piece of advice from the museum workshop: "Always let the clutch come fully before you accelerate". The technician's tip a few lines below should be worth its weight in gold.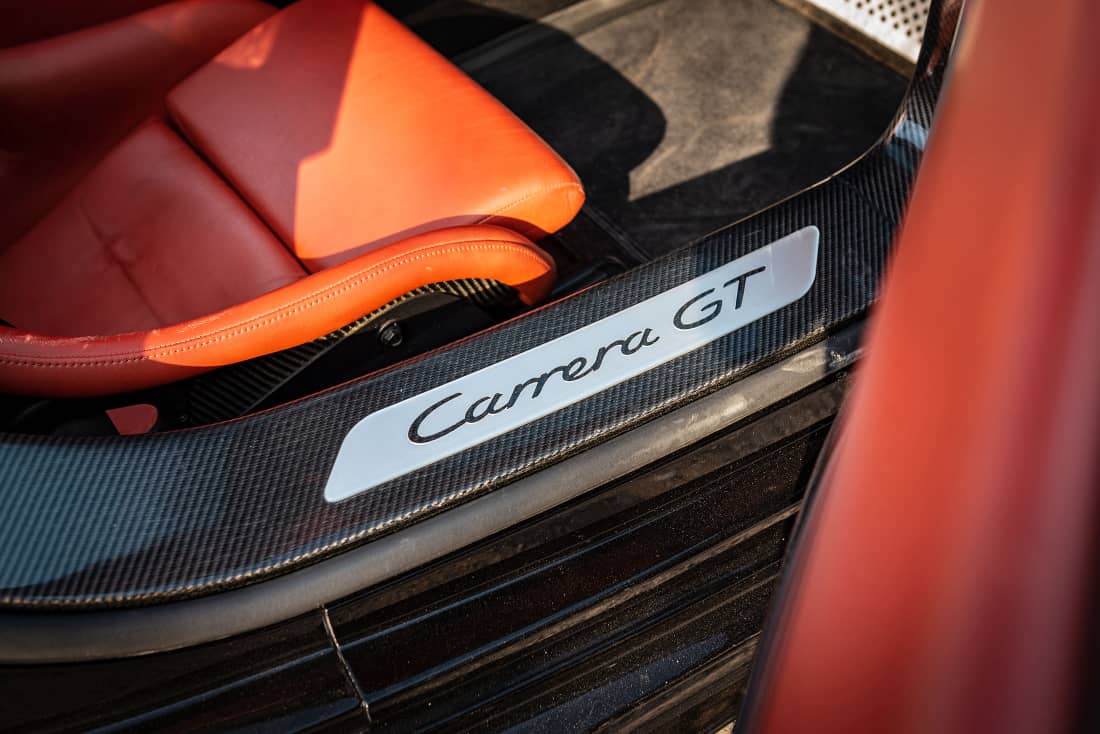 Coupling has to be learned
But first of all it's about waking up the engine. Whereby Trieb-Werk with ten cylinders, 5.7 liters displacement and 612 PS is indeed a fitting description. The V10 announces itself with a loud wake-up call, only to lapse into a sonorous, not exaggeratedly loud, keynote.
As it turned out, the consistent design as a super sports car means that even as an experienced matchmaker you stall the Carrera GT at least once. As a further superlative, Porsche installed a weight and center of gravity optimized 2-disc ceramic clutch with a diameter of just 169 millimeters. Their extremely short pedal travel means, among other things, that starting off mutates into a sensitive test of patience for the inexperienced.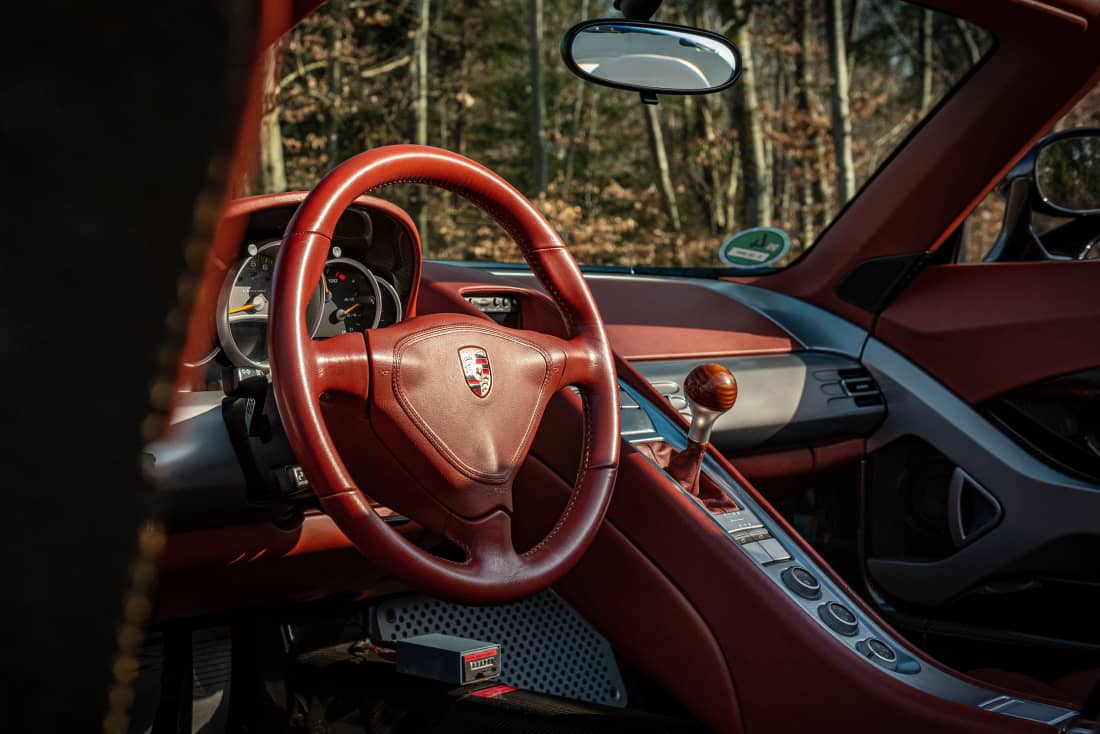 Carrera GT sounds like a Formula 1 racer
If you repeatedly give too much gas when starting off, you can also order a new clutch from your trusted Porsche dealer. Your expense? Definitely five digits. But once the 612 PS bolide is in motion, you will reach a whole new level of driving. Although the carbon flounder was built in 2003, the throttle response, the power delivery and of course the sound are better than many of today's super athletes.
The naturally aspirated V10 engine turns up to 8,000 tours and sounds like you're driving a Formula 1 racer on public roads. Sweaty hands included. Another piece of advice from the Porsche Museum was to keep the traction control activated. It almost goes without saying that the 612 PS in action with 590 Newton meters tug completely mercilessly at the 335 tires on the rear axle.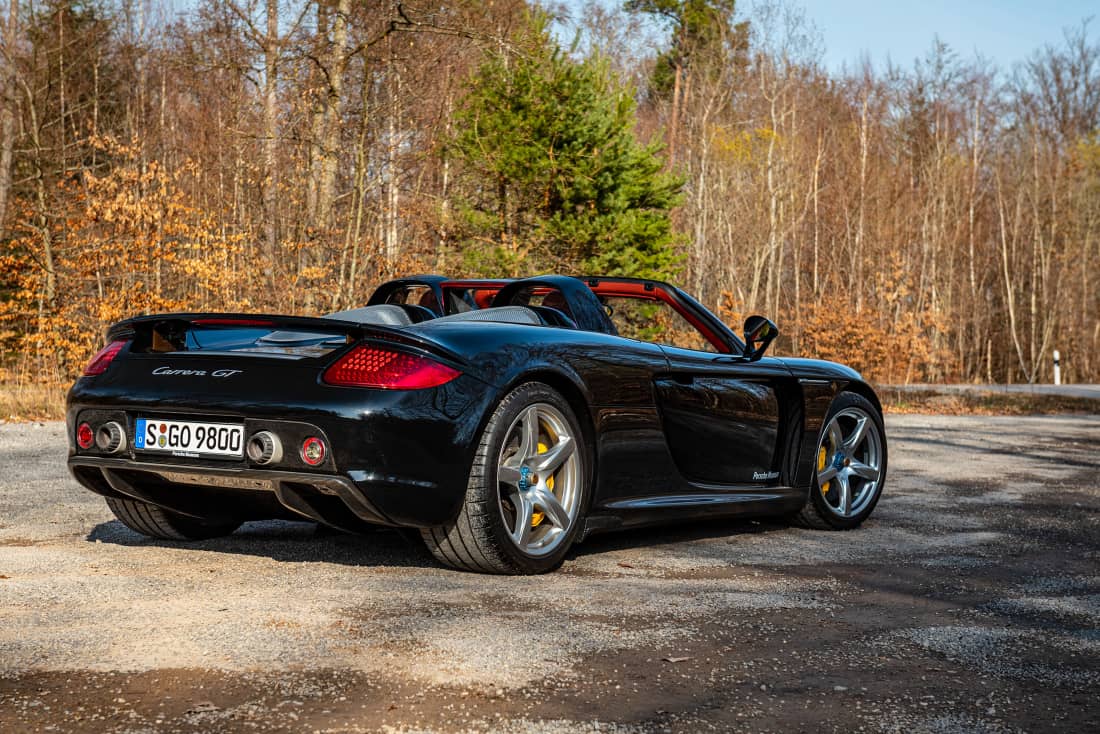 Driving dynamics on top
The next highlight in the Carrera GT is the 6-speed manual transmission installed across the direction of travel. Its gear cables do not consist of coiled steel cores, but of flat stainless steel strips – so-called flexball gear cables. The gears are directed very precisely using the wooden gear knob and also contribute to the very dense driving pleasure.
Meanwhile, the steering works extremely directly and harmonizes perfectly with the spring-damper units. So-called Pushrod suspensions also ensure that pitching and rolling movements are completely avoided. Thanks to the 2,730 millimeter stretched wheelbase, the Carrera GT is very safe on the road at higher speeds. The only disadvantage of this design is that the ride comfort suffers, especially at low speeds.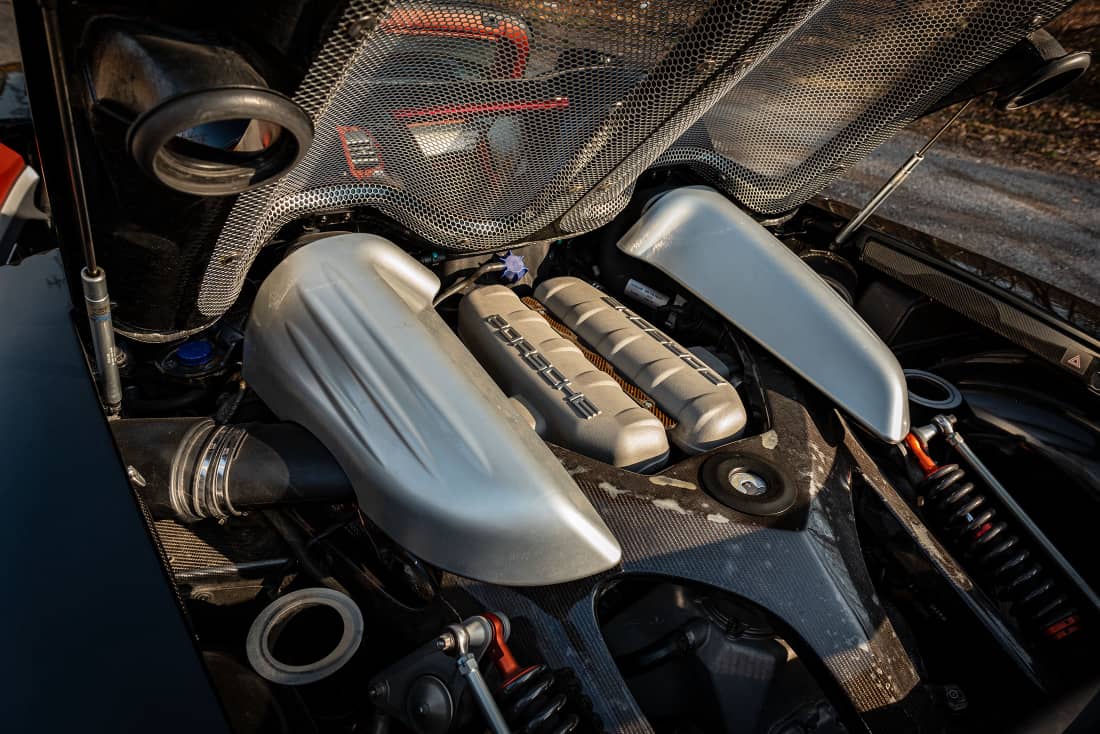 In 9.9 seconds to 200 km / h – top speed 334 km / h
But there are other cars for slow driving. The Porsche Carrera GT prefers to be challenged from morning to night. The factory specification says such a believable 3.9 seconds from zero to 100 km / h and a fabulous 9.9 seconds from standstill to 200 km / h. Since a top speed of 334 km / h can be achieved, it is not surprising at this point that Porsche attached importance not only to lightweight construction, but also to aerodynamics.
The Porsche Carrera GT has a drag coefficient of 0.39, but shows the outside world, above all through the lush rear diffuser, the adjustable wing and the completely closed carbon fiber underbody, that there is more than enough contact pressure available for high-speed driving. Incidentally, the mid-engine sports car is braked as standard with PCCB ceramic brakes. If in doubt, replacing them will also cost more than a properly equipped small car.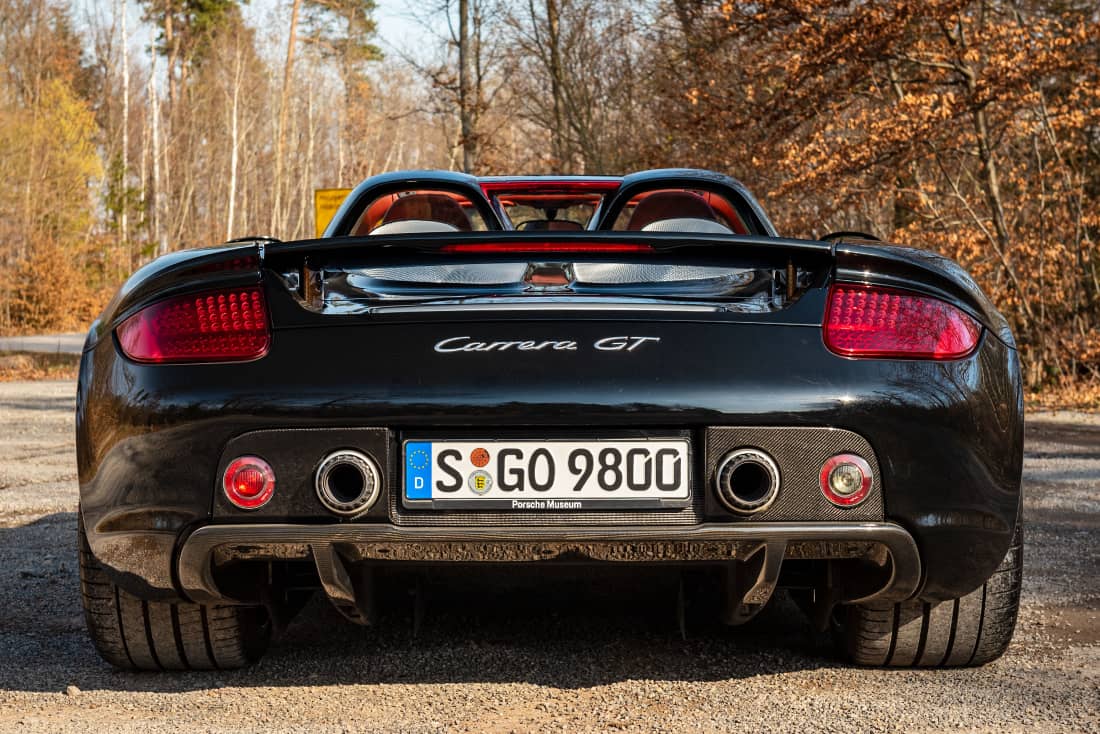 Conclusion
The Porsche Carrera GT was once born as a fascinating icon and has remained an (even more expensive) icon today. His V10 naturally aspirated engine pushes the Stuttgart very high up in the sports car Olympus. The constructive effort put into it is simply breathtaking – just like the sound. It's a shame that you will hardly ever see this heirloom of automotive history on public roads. (Text and image: Thomas Vogelhuber)