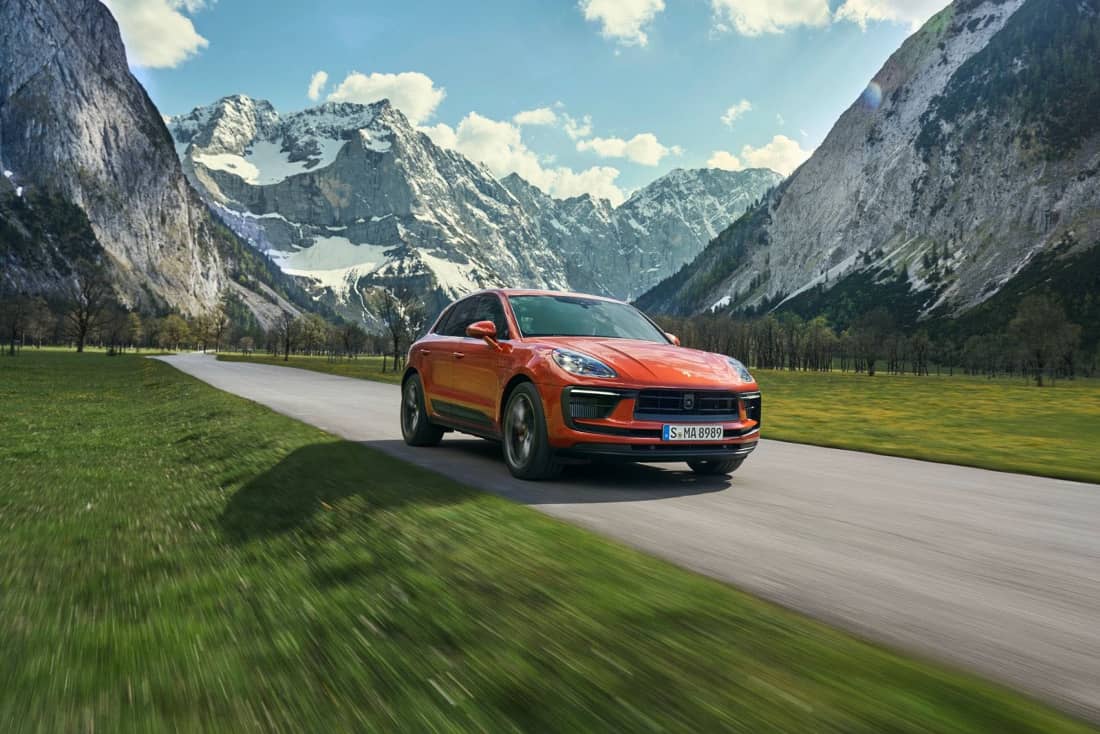 When it comes to public image, Porsche has mainly done detailed work. A new front apron with a black-framed insert in the vehicle color ensures greater emphasis on the width. There is also a new diffuser at the rear, with a 3D structure also available at the front and optionally on the sideblades. In the GTS variant, the front insert is completely black, which gives the impression of a giant throat. The general standard equipment of the series includes LED headlights with the Dynamic Light System and sport-design exterior mirrors. New exterior colors and new rim designs for the at least 19 and up to a maximum of 21 inch wheels round off the optical measures.
Touch surfaces now dominate the interior
Thanks to new touch surfaces instead of haptic buttons, the interior appears tidier. The standard equipment includes a shortened selector lever, an analog clock and the infotainment system with various online functions that can be operated via a 10.9-inch touchscreen. Various leather options are new to the range, and there is also a choice of various multifunctional and GT sports steering wheels from the 911 range.
Reinforced engine range
As before, the entry-level version is powered by a four-cylinder petrol engine with a displacement of two liters, the output of which has increased by 15 kW / 20 PS to 195 kW / 265 PS (combined fuel consumption: 8.8-8.7 l / 100 km; CO2- Combined emissions: 200-198 g / km²). This shortens the sprint time by two tenths of a second to 6.3 seconds, and the top speed increases by 5 to 230 km / h.
In the Macan S with 2.9-liter V6 biturbo, the output increases by 20 kW / 26 PS to 280 kW / 380 PS, which allows a sprint in 4.6 seconds and a maximum of 259 km / h (combined fuel consumption: 9, 9–9.8 l / 100 km, combined CO2 emissions: 225–224 g / km²).
As in the previous Macan Turbo, the V6 in the GTS will in future generate 324 kW / 440 PS and thus 44 kW / 60 PS more than before, which in combination with the Sport Chrono Package means a 100 km / h sprint in 4.3 seconds as well a Vmax of 272 km / h is allowed (combined fuel consumption: 9.9 l / 100 km, combined CO2 emissions: 225 g / km²). The turbo model is no longer available with the new model year. All engines distribute their power to all four wheels via a seven-speed dual clutch transmission.
Even more precise in handling
Porsche also promises a more sensitive and direct driving experience, better steering feedback and a greater spread between comfort and performance. The GTS in particular is fitted with sport air suspension as standard with a stiffer air spring on the front axle.
Prices for the Macan, which can be ordered now and available from October, start at around 63,000 euros. At least 71,700 euros are called for the S, with the GTS the price list starts at around 88,300 euros. (Text: mh / sp-x | Images: manufacturer)