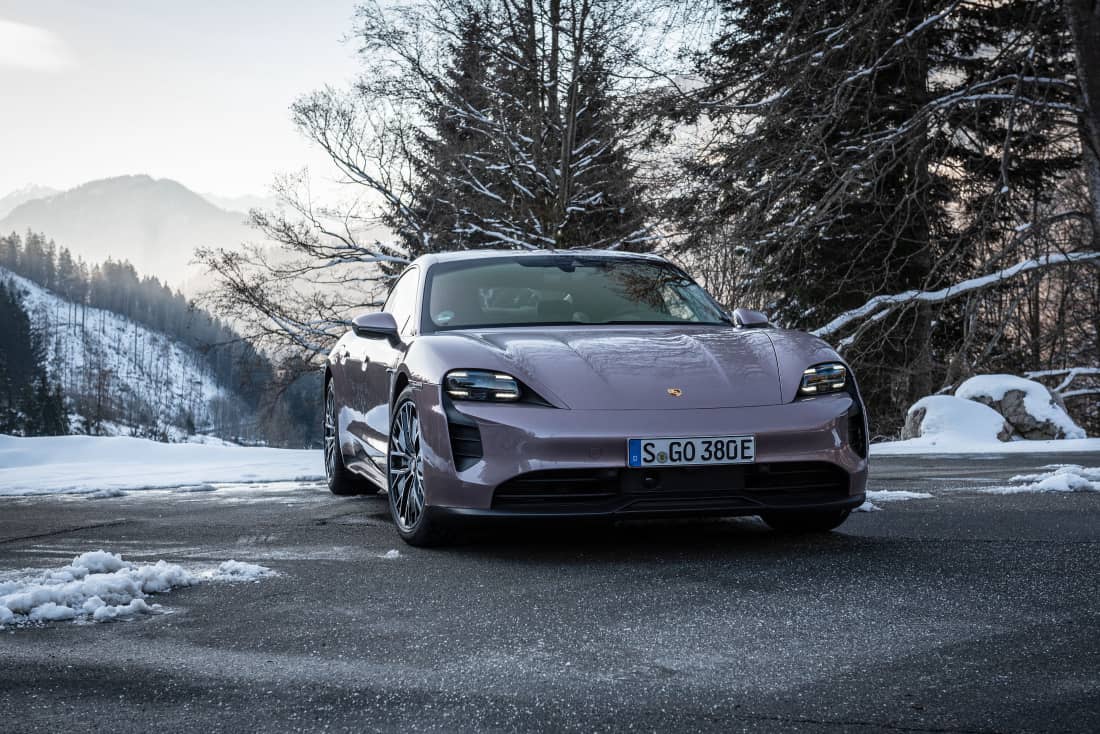 ---
The Porsche Taycan at a glance
---
Confusion about the technical data
Right from the start, Porsche doesn't make it easy for us to keep track of the Taycan variant forest at all. Our test car drives up with the optional Performance Battery Plus (PBP), which in turn means that we do not have 240 kW / 326 PS, but 280 kW / 381 PS available in continuous operation. If we demand the short-term overboost performance, the 2.2-tonner even serves between 300 kW / 408 PS and with the PBP 350 kW / 476 PS (combined power consumption: 28.7-28.0 kWh / 100 km; CO2- Combined emissions: 0 g / km²).
Those data are hardly relevant anyway, because the basic Taycan is not about maximum performance, but above all about a mix of long-distance suitability and sophisticated dynamics. What that means? Compared to the Taycan Turbo S (combined power consumption: 28.5 kWh / 100 km; combined CO2 emissions: 0 g / km²), the basic model clearly lacks bite, especially when overtaking. In return, it encourages a more civilized driving style without the superbike feeling when "powering up" and thus can go a few kilometers further if necessary.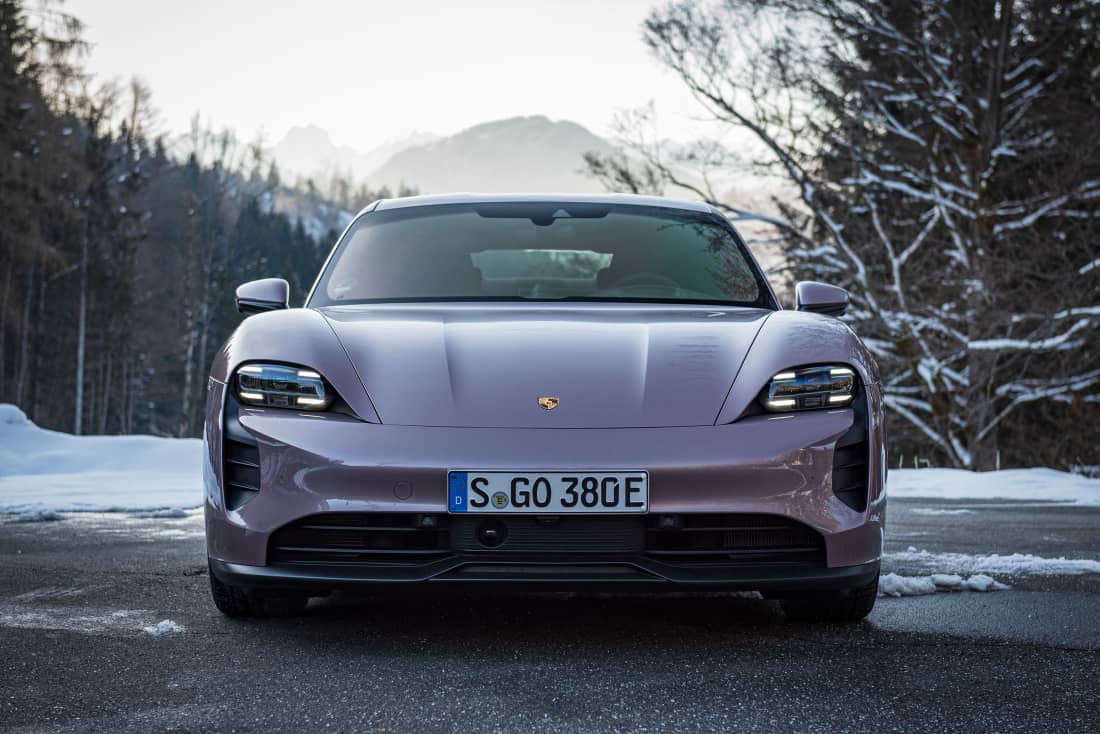 Basic Taycan with less bite
It is true that the most normal of all Taycans is passed as a rational decision – but the ambitious sports driver will still want for nothing on winding country roads. Without all-wheel drive, the rear of the sedan turns even more pronounced, the compact valance fits perfectly in the hand, responds well and has decent feedback. As with the larger models, the smallest Taycan has a 2-speed transmission on the rear axle, whereby the gear change can sometimes be clearly felt.
Adaptive air suspension and torque vectoring are of course extra for the Stuttgart-based company, but they are worthwhile investments. The PASM chassis in particular enables a wide spread between sporty commitment and comfortable flexibility. Equipped in this way, you naturally want to cover longer distances with the whisper-quiet Porsche, which leads us to the battery issue.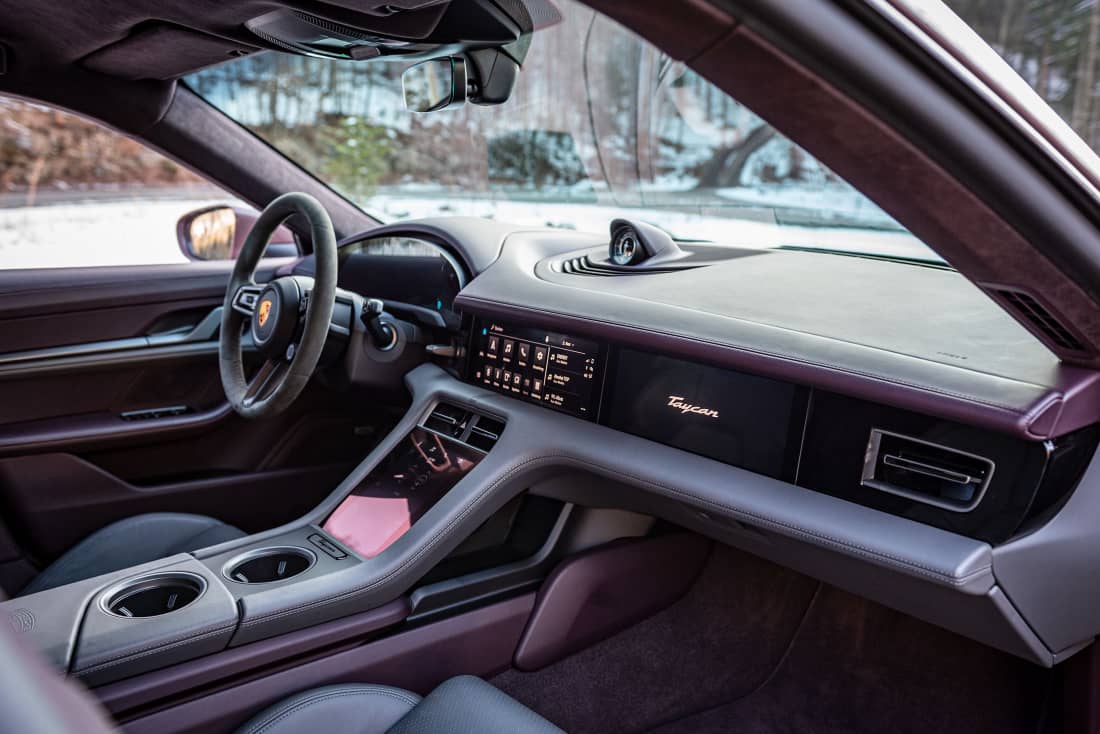 Test consumption by 30 kWh per 100 kilometers
Fully charged, the Porsche Taycan showed a range of between 340 and 360 kilometers with its net performance battery plus 83.7 kWh during our (winter) test. However, these assumptions are to be understood as an optimistic calculation on the part of the on-board computer. In purely mathematical terms, a test consumption of 30 kWh per 100 kilometers results in a maximum range of around 280 kilometers.
Porsche itself states the consumption value according to WLTP meanwhile 28.7 kWh per 100 kilometers for the PBP variant, but at the same time gives ranges of between 385 (long distance) and over 480 kilometers in mixed operation. How meaningful this data is now everyone can figure it out for themselves. They probably have the same evidential value as the numerous videos and texts on the Internet that report on everyday electrical regularity drives.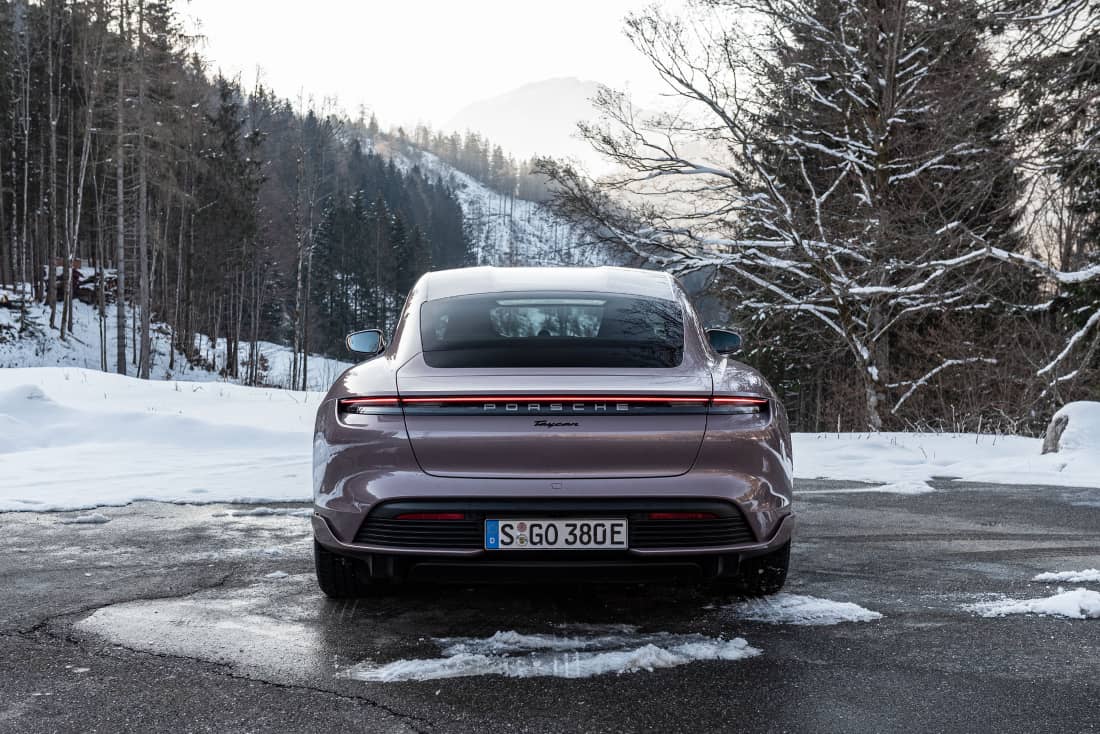 Fast charging with hurdles
Regardless of this, the basic Taycan can be charged with up to 270 kW at the fast charging station, although the CCS connection at the level of the right front fender has not always proven to be ergonomically sensible. Meanwhile, there is an AC charging connection on the opposite side, which can optionally take up to 22 kW alternating current. Depending on the battery conditioning and at maximum charging power, the system with the Performance Battery Plus should be able to recharge electricity for up to 100 kilometers in under five minutes.
In practice, without a battery temperature between 30 and 35 degrees and a state of charge (SoC) above five percent, we managed at least 5.8 kilometers per minute on the Ionity charger or a charged distance of 116 kilometers after 20 minutes.
Read now: First test of the Audi e-tron GT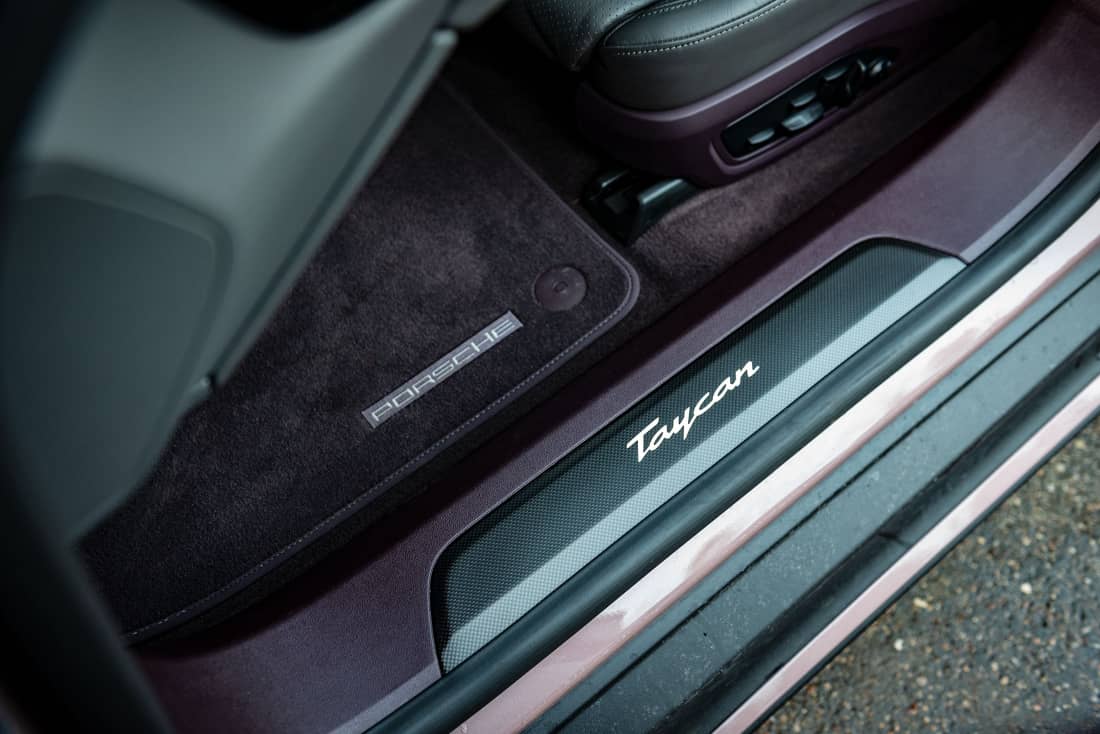 Sister model with better operation
With a look at the interior, we also have to go back to the recently driven Audi e-tron GT (combined power consumption: 21.6–19.9 kWh / 100 km; combined CO2 emissions: 0 g / km²). This shows the technically closely related Porsche Taycan in some places the long nose and can be operated much more intuitively.
In the Stromer from Stuttgart, for example, the cumbersome climate control, the fragmented PCM system and the fact that you would rather charge money for a rather superfluous front passenger screen than integrate a simple title jump button into the steering wheel are annoying. The fact that a favorites button has to be assigned first shows how far some engineering ideas now seem to deviate from everyday needs.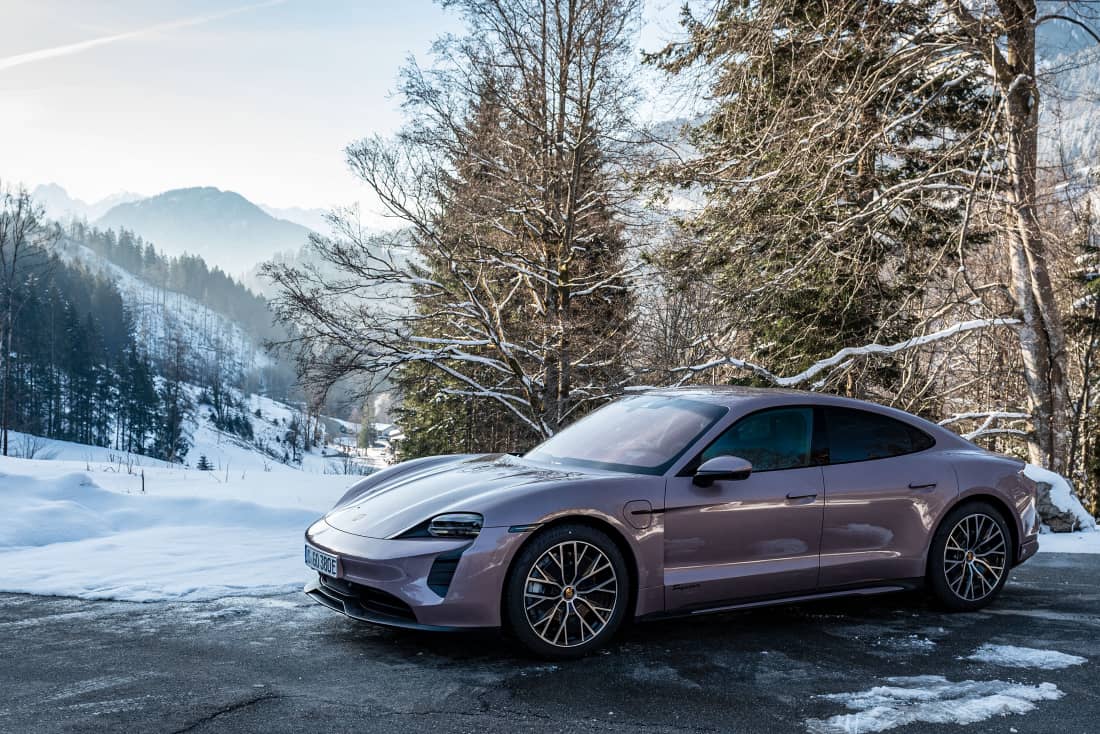 Exemplary workmanship
Otherwise, our test car in the exterior paintwork "frozenberry metallic" and the interior color "blackberry / slate gray" (in this case both can be ordered via the standard program) gives a very good view of what is possible at Porsche in terms of customization. The Porsche Taycan also has exemplary workmanship, high-quality materials and, like the Audi e-tron GT, a small trunk (450 liters) with an equally tiny opening hatch.
That sidekick is allowed at this point if the Taycan is otherwise very generous with its space. The low seating position is reminiscent of that in a nine-eleven, the sports chairs are well cut and offer a lot of comfort even on longer stages. The back is of course not as airy as in the first row – thanks to the "Foot Garage" and the shaped individual seats, even larger ones can find their place.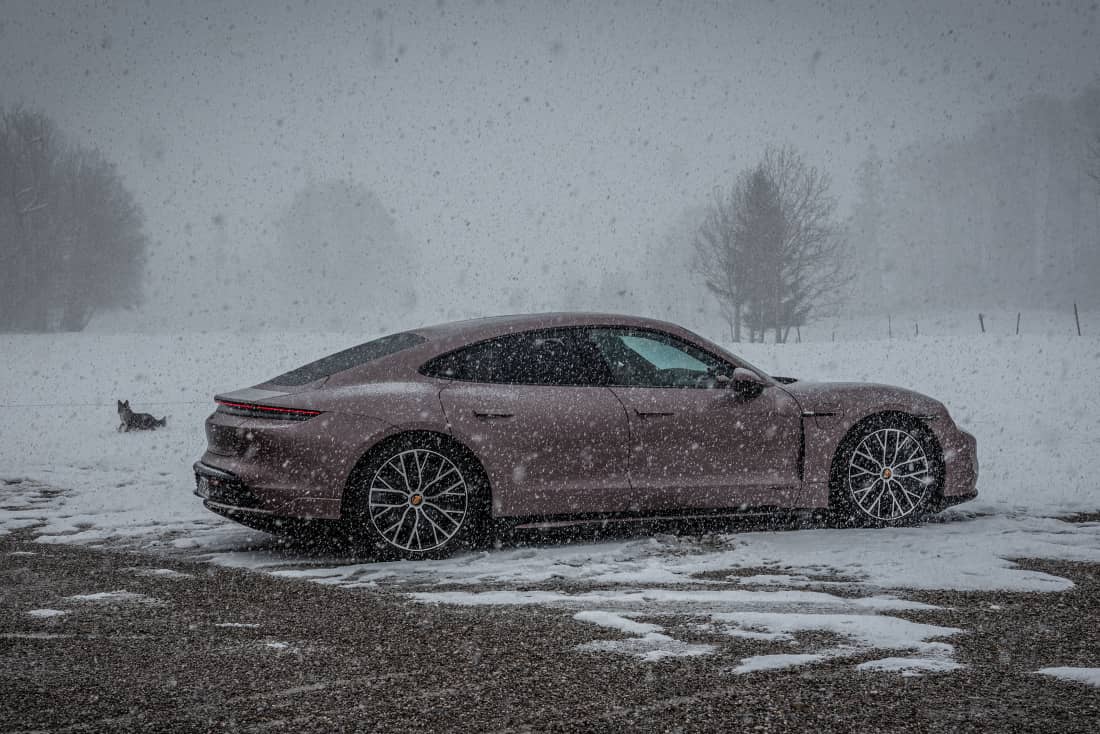 Conclusion
You don't need more Taycan for everyday life. With the Performance Battery Plus in particular, the Porsche delivers an acceptable range, sufficient power and also continues to offer sporty driving behavior. The interior quality is exemplary, which cannot be said of the cumbersome operation. The very long list of surcharges is also worthy of criticism, in which such things as a heat pump or a 22 kWh AC charger can be found. But nobody has ever said that driving a Porsche is cheap – not even in the upcoming era of electric cars. (Text and image: Thomas Vogelhuber)