Purebred cats: Bombay, a domestic leopard
The Bombay cat is a purebred cat that does not have a huge history behind its name. The cat was created in America in the 1960s by a Burmese breeder. It is a sweet and more than average curious cat that likes to be around you. This fun and active cat, especially as a kitten and young adult cat, ensures that you always know where she is. What kind of breed is this exactly, how is this cat best to keep in the house and what are the typical characteristics for this breed?
Bombay, the base
This cat was created in America around 1960 ?? ?? by a Burmese breeder. This lady crossed one of her Burmese with an American Shorthair. By breeding the kittens every time (to get the desired result), a beautiful shiny, lacquer black cat was created that is reminiscent of its great predecessor the Indian black leopard. This leopard was also the source of inspiration for the American breeder and the namesake of this cat. Bombay or Mumbai is India's largest city. The most typical thing about this beautiful glossy black cat is the walk. The cat walks a bit like a leopard.
External characteristics of the bombay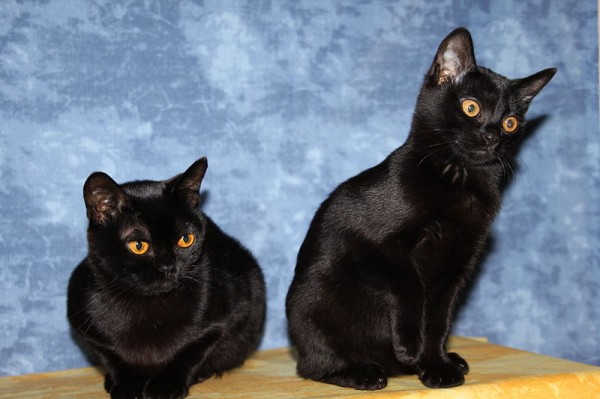 Source: Bombaycats, Wikimedia Commons (CC BY-SA)
Coat
This cat's coat is short and smooth. Deep black in color (without irregularities) and glossy like satin. The cat has no undercoat, these are short hairs that have an insulating effect. The outer coat is full of texture and lies flat against the skin. Furthermore, this cat hardly sheds.
Although there is sometimes also the typical burmese color (beige / brown tones) or blue / lilac in a litter, the breeding program is for the black specimens. This is what the bombay should actually look like. Only the black version has been officially recognized by the NKFV, FNK and NRKV since the late 1970s. The official eye color for these black specimens is copper and otherwise golden yellow.
Physique
These cats have a sturdy build, but are not squat in stature. They are also called the ?? compact ?? called cats. They are of medium size and the body is quite muscular. They have medium legs that also look muscular, the feet are typically round in shape, and the tail is regular with no kink or bend. In terms of weight, females reach between 3 and 5 kilograms and males are quickly on 5 kilograms.
The head is round and the ears have a broad base at the head and rounded tips. The eyes, chin, forehead and cheeks also have a round shape. Partly because of the eyes and the short nose, the head has something kitten-like.
A point of attention is the diet of this cat. This breed, unlike most other cats, tends to be obese if you let her do her thing. It is therefore advisable to stay alert to the food of this cat. If you cannot figure it out yourself, you can always consult with a veterinarian, but a good breeder can also give you tips on how to deal with this.
"A cat doesn't caress herself, she caresses us." Antoine de Rivaro (French writer 1753-1801)
Character
The Bombay cat is without a doubt one of the most curious cats. She is especially active as a kitten and young adult cat and climbs and jumps on or under everything. It can be called an intelligent, sensitive and 'present' cat. The Bombay cat occasionally demands attention and can be extremely affectionate. The cat can then jump extensively on your lap and take a place where it is difficult to get her away.
That lying with you extensively in combination with actively keeping an eye on everything makes it a calm cat with active and sometimes overactive moments. So make sure this cat has plenty of entertainment. With a scratching post and some seating boards at different heights with some toys you can go a long way.
In a domestic environment, not all Bombaby cats get along equally well with their own kind, especially if the ages are considerably different. Strangely enough, dogs in the house usually go well right away.
Remarks of the Bombay
You sometimes hear that in cats, except when it comes to appearance, it is more of the same. But that is certainly not the case. The Bombay cat does have some remarkable features that are worth mentioning, namely:
This cat requires hardly any fur care. You can brush the cat, many cats like a soft brush, but with this breed it is certainly not necessary to keep the coat beautiful.
This breed has more than average good hearing for a cat, so very loud sounds come into the bombay extra loudly.
The Bombay likes to go for a walk and she can walk the streets with you in a harness.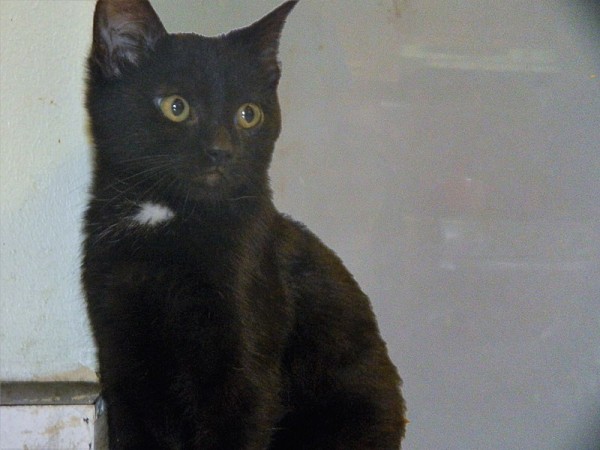 Source: Gaelcoral, Wikimedia Commons (CC BY-SA)
Buy a bombay kit
It is not a very common cat, so it will not be easy if you are looking for such a kitten. Always look through the official associations and if you have found a litter, make sure you have an official certificate. That is the only certainty, as far as possible in a living being, that you are dealing with a Bombay cat.
A good breeder
A good breeder will show you the litter, the environment, the mother, maybe the father (could be from another breeder) and any other cats. Of course it must look neat and tidy, the mother must lie clean with her nest and be in the family circle. So, for example, she's not in a shed or mess house behind the house with her kittens. It is important that the kittens learn to interact with people, hear normal domestic noises such as a vacuum cleaner, washing machine, doorbell or people talking. These sounds should all go without saying and the kitten should not be startled or run away from them. In this way they also come into consideration with all kinds of scents.
Furthermore, you really have to wait about 13 or even 16 weeks from birth before you can pick up your purchased kitten. Then the kitten is socialized, fully vaccinated, microchipped, dewormed and you should get a healthy looking, playful kitten. A kitten that can be with you for up to 20 years. The costs for such a kitten can be up to about 50%. 1000 and a real show model a multiple of that.
Finally
The extremely shiny black coat also makes the Bombay cat a special looking cat. A cat with a sweet character, playful and intelligent. The cat asks for attention every now and then, but certainly not in your way all day. Give her what she needs and you will have a nice and special cat, one that can hugely snuggle in your arms.