Purebred cats: LaPerm
LaPerm is a purebred cat that is not one of the most famous breeds. This United States cat, which comes in a variety of color and coat varieties, is known for being quite outgoing and having an extremely inquisitive nature. That also makes the cat playful. What else characterizes this breed?
LaPerm, the basics
This breed, first called Dalles LaPerm and now LaPerm, originated in the state of Oregon in 1982, where a litter of cats was born on a farm with one naked kitten. She had no fur at all, but within two months she had – surprisingly – suddenly a curly, silky coat.
This cat forms the basis for the new breed, because although this cat was born this way through a spontaneous gene mutation, the continued breeding (which only took place a few years later) has resulted in this gene being now dominantly transferred. It wasn't until 1996 that the TICA officially put the breed on its list of recognized pedigree cats. The cat belongs to the rex cats and this has to do with the ruffled coat of this cat.
Characteristics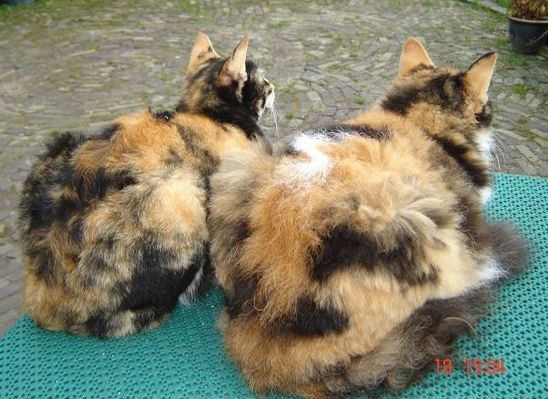 Source: Bebopscrx, Wikimedia Commons (CC BY-SA-3.0)
Appearance
All colors of this coat are allowed. The types of coat that are officially recognized are the short-haired LaPerm and, the best known, the coat with the curls or waves. The latter has a medium to long coat. The coat feels very soft and is full but airy. A kitten can be born bald or during life the cat can become bald, but then the hair grows back as normal. Typically, this will not happen more than once during life.
The fur can be fuller at the neck, it looks like a kind of collar. The hairs on the ears and whiskers may also be curled or wavy on the curly coat. The cat has a long and rather thin tail, with matching fur.
The build of the cat is fairly slim but powerful. The cat has a strong musculature. The head is triangular, but with smooth lines. The cat has medium sized ears, which are rounded. The cat's nose stop is limited, the chin is firm, the cat has pronounced whisker pads and the voice is relatively soft for a cat. The eyes are quite large, set a little apart. In terms of shape they are almond shaped. This cat will weigh on average between 3.5 and 5.5 kilograms.
Character
This extroverted cat is naturally curious and will love to be with everything. Such a cat will often follow the owner, as normal a dog does. The cat will ask for your attention and it can do that very emphatically. For example, the cat taps your leg with the paw or stands against you or climbs on your lap and asks for your attention when you sit. The cat can keep this up longer than the owner ignores. This cat can also cuddle and curl up on your lap, but is also very playful. Provide enough toys in the house. After all, this cat is also an excellent hunter.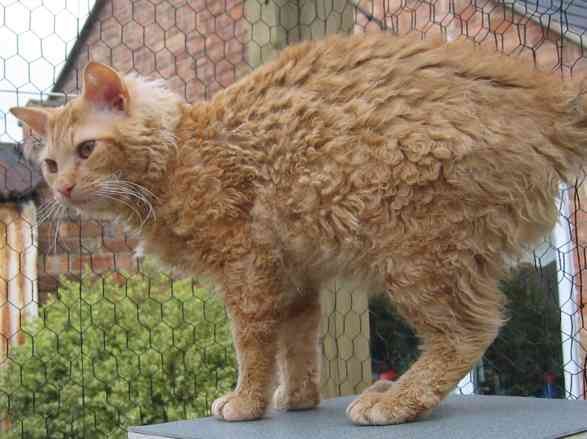 Source: Bebopscrx, Wikimedia Commons (CC BY-SA-3.0)
Grooming
The LaPerm does not require any explicit care. The coat is silky and a good brushing once a week is more than enough. During moulting, the cat will be able to develop a little more tangles. It is advisable to comb a little more often during this period.
The eyes are not deep and the nose stop is not extreme, so the eyes do not require manual cleaning (eye fluid). Teaching the cat from a young age that it takes a bath now and then is recommended with the curly version. This way you can wash the cat in lukewarm water. There is special cat shampoo, but it is not necessary. Pat dry with a towel and the curl or wave will come back in nicely.
Why the LaPerm?
There are so many pedigree cats to choose from. The advantage of a purebred cat is that the character traits are often well described. This can be an advantage if you are looking for a cat with a specific character. In addition, purebred cats also have specific external characteristics.
The LaPerm pedigree cat is a separate cat in appearance. This is especially true for the curly or wavy version, but actually this cat's character is even more specific. This cat is really a buddy and you don't see that with all cats. This cat likes to be with you, will always visit you, demands attention and wants to play with you. That also means that this cat may need more than average attention.
An additional advantage is that it is not a thoroughbred cat in the sense that it also reveals bad characteristics that cannot always be avoided in the breeding programs. In addition, this cat has a medium to long coat that is not laborious at all (which is the case with most long-haired breeds).
Finally
The LaPerm is a relatively young breed, but it has produced a nice cat that cannot be placed just like that. You have to want to give your cat time, because that's what the cat asks for. Furthermore, the cat has a remarkable appearance with the beautiful open head and curly coat.