Southern Dishes: Lasagna with fish, mushrooms and spinach
Everyone knows the well-known and traditional lasagne bolognaise. There are of course many variations of this dish, with many alternative ingredients. One of these is a lasagna without tomatoes and meat, but with fish, mushrooms and spinach. This pasta dish is just as tasty and a lot less heavy than its meat brother. As so often in Italian cuisine, there are as many recipes for this dish as there are Italians. This recipe is a fairly classic approach, which can be spiced up by adding a little garlic or blue cheese, definitely worth a try and taste!
History
Lasagna can refer to a pasta type with a flat, wide shape or to the dish that is usually prepared with this pasta type. The most classic preparation contains meat, in the form of minced meat, tomatoes, wine and cheese, and aromatics in the form of garlic and oregano. This variation is the well-known classic lasagne Bolognaise. With a few extensions and variations in ingredients, numerous variations can be obtained. Pasta dough is traditionally made from semolina, a finely ground dried cereal commonly referred to as "durum wheat" and water. In the absence of this cereal, a combination of eggs and flour was often used in the past or now.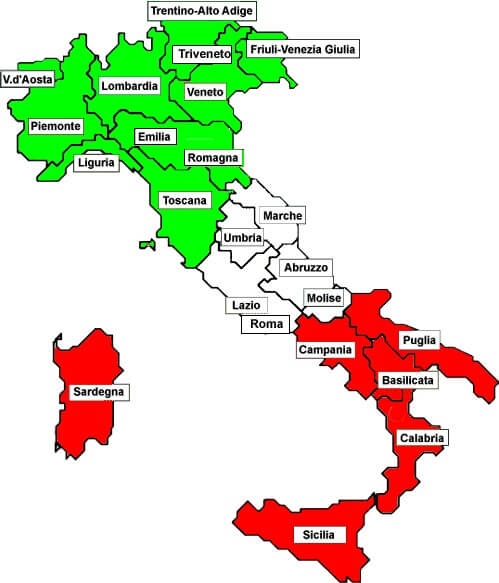 Source: Stega1985, Wikimedia Commons (CC BY-SA-3.0)
Of course it is well known by most that lasagna is of Italian origin and origin. There are a number of theories as to the origin of the word lasagna, the most plausible being that it comes from the Ancient Greek word "λαγάνα" or "Lagana", which refers to a flat sheet of dough cut into strips. The Romans would then have borrowed the word "Lasanum" from the Greeks. The word has the meaning of "cooking pot", which refers to the cooking material in which the dish is prepared. The court owes its final name to this.
It is likely that the original Greek or Roman dish did not contain tomatoes, as tomatoes did not actually arrive in Europe until around the 16th century, after the discovery of America by Columbus. The first cookbook in which the preparation or use of tomatoes is mentioned is a cookbook from Naples from around the end of the 17th century. However, the lasagna recipe often contained spinach, which is the case in this preparation with fish. There are also vegetarian derivations, recipes with other types of meat, with special types of cheese and so on …
Ingredients (serves 2)
For the court bouillon
1 carrot
1/2 leek
1 stalk of celery
1 onion
1 bouquet garni (thyme, bay leaf, parsley stalk)
1 tablespoon of black peppercorn
For the white sauce
1 liter of whole milk
90 grams Butter
100 grams of flour
Nutmeg
2 decilitres of fish stock
125 grams of ground cheese
For the lasagna
200 to 300 grams of fish (salmon and / or white fish such as cod, pollock or pollack)
500 grams of young spinach
Pepper and salt
100 grams of roquefort or blue cheese (optional)
250 grams of brown mushrooms or oyster mushrooms
250 gram lasagne sheets (fresh or dried pre-cooked)
Preparation method
For the fish
Peel the onion and carrot and wash the leek and celery

Cut all vegetables into large pieces

Top the vegetables with the bouquet garni, so that everything is nicely covered in water

Let it boil for about 10 minutes

Reduce the heat of the stock to the lowest setting and place the fish in the stock

Let the fish poach in the stock for about 8 minutes

Remove the fish from the stock and let it drain in a colander or on kitchen paper

(the stock can be clarified if necessary (by boiling with egg white and then pouring it through a muslin cloth into a pointed sieve))
For the vegetables
Put a large frying pan on the fire with plenty of butter and let the butter fizzy well

Then fry the mushrooms nicely brown, season with salt and pepper (and possibly thyme and garlic)

Drain the mushrooms as well

Return the pan to the heat with a pat of butter and fry the spinach briefly and firmly

Season the spinach with salt and pepper and nutmeg (and possibly a little garlic)

Allow to drain as well
For the sauce
Put a deep pot on the fire with the 90 gram butter

Melt the butter without coloring and gently add the flour, stirring constantly with a whisk.

Let the roux (flour / butter) dry for a few minutes (against the flour taste)

Then add the cold milk little by little and stir well so that all lumps dissolve.

Bring the milk to the boil, stirring constantly

Add a little fish stock to taste

Season the sauce with salt, pepper and nutmeg

Finally add the 125 grams of ground cheese
For the lasagna
Oil an ovenproof dish or mold with olive oil

Place a sheet of lasagna at the bottom of the dish

First place a layer of fish on the sheet of lasagna and cover the fish with the white sauce

Place a sheet of lasagna on top of the fish and sauce

Place a layer of mushrooms and spinach on the sheet of lasagne and, if necessary, crumble a little of the blue cheese on the vegetables

Place another sheet of lasagne on top

Repeat both the layer of fish and the layer of vegetables one more time

Finish by coating the top sheet of lasagna with a layer of sauce and sprinkle with crushed cheese

Place the lasagna for 15 to 20 minutes in a preheated oven at 180 degrees