The Airedale Terrier, the king of terriers
With his trustworthy, friendly and open demeanor, the Airedale Terrier makes it easy for people to embrace this breed. This dog loves children and when treated well it is a lively and happy dog ​​that fits very well in a family. However, it is not a beginner dog. His upbringing takes time and effort and one must have knowledge of dogs.
Origin and behavior
The Airedale Terrier is originally from Great Britain. Its name comes from the River Aire in Yorkshire, the breed is one of the largest terrier species. A male reaches a height of 58-60 cm, a female 56-58 cm. The weight is around 20-25 kg, with the males being a bit heavier. The Airedale Terrier is on average 13 years old, with peaks with good care (and a dose of luck). It is an intelligent, loyal and agile dog that does not want to be bored. He likes to learn new things and he will really cooperate. If he is kept well entertained his smart and friendly qualities will show up. If this does not happen, he will become unhappy and it will show in his behavior. In order to get attention from the owner, he will then do exactly what he should not do, as so many dogs do.
Vigilant and dominant
This breed is very muscular, robust, courageous and vigilant, it will guard its family, home and heritage. He also likes to hunt small animals, this is a point of attention. During walks, one must therefore pay attention, partly because this is a breed that does not let itself be upset by other dogs. It is typical of the Airedale, that it has a bit of a dominant character. With a good upbringing, this does not have to cause any problems with other dogs, here, however, the owner must take responsibility. However, he can live with cats and other dogs very well, provided he has received the right socialization.
Education
The keywords in the education of this dog are patience and tranquility. Terriers are known to be stubborn. It is therefore always necessary to keep the peace and if the dog has a stubborn phase, it is important to persist longer than he does. His behavior can be managed if he is well entertained and treated kindly. If too much is asked of him, he can do the opposite of what is asked of him. The Airedale Terrier has a very charming character, so it is not always easy to remain consistent in upbringing. However, it is important that the owner is really in charge, because no matter how sweet the dog is, no one is waiting for ranking problems.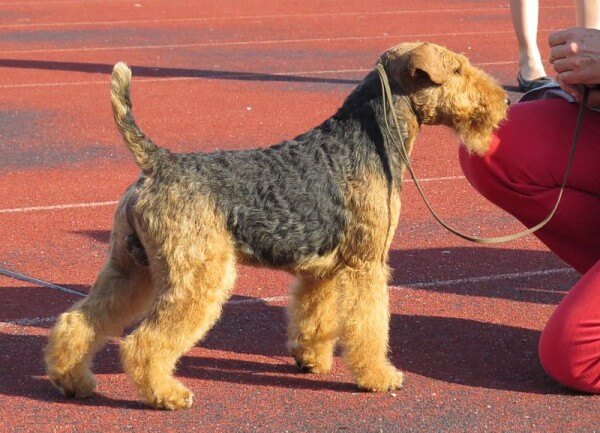 Source: Tomasina, Wikimedia Commons (CC BY-SA-3.0)
Movement
This large family dog ​​needs a lot of space and exercise, both physically and mentally. Running, playing, dog sports are very important to these smart dogs. It is therefore a good idea to see if, for example, one can do a training with the dog (agility, obedience training) so that he is kept busy. Is the dog behaving annoying, that is a warning sign, he is not being stimulated enough.
Coat care
Grooming the Airedale Terrier's coat is not that difficult. He has a rough, harsh and dense coat. It sheds little hair and therefore rarely needs to be brushed. Most Airedales are trimmed two to four times a year, this can be done at the dog grooming salon.