The brown bear's impressive sense of smell
The brown bear has a decent sense of smell. Its sense of smell is even stronger than most other animal species. Thanks to its highly developed muzzle, it has the ability to survive in extensive untouched areas. Despite being far from the civilized world, humans pose the greatest threat to the survival of the animal species. Man has been hunting this huge mammal for centuries. However, the brown bear has evolved a way to reasonably secure itself from humans.
The brown bear's sense of smell
Where does the brown bear occur?
What are the benefits of its excellent sense of smell?
The biggest threat to the brown bear
Where does the brown bear occur?
The brown bear is extinct in Western Europe. The last time the animal occurred in the Netherlands was about a thousand years ago. The so-called grizzly bear also belongs to the brown bear and is only found in America. This species is slightly smaller than its Scandinavian counterpart. Because the animals need a large territory, they often live in areas with a lot of untouched nature.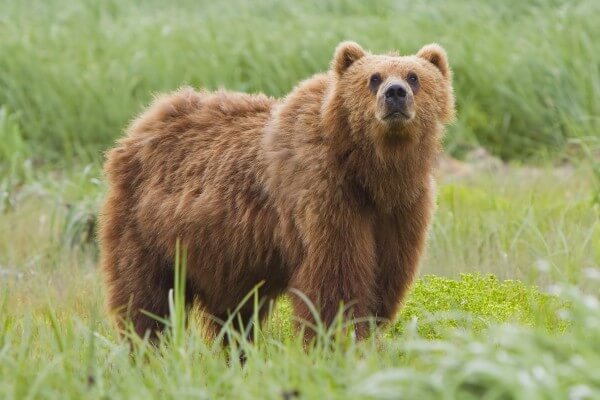 Source: Yathin S Krishnappa, Wikimedia Commons (CC BY-SA-3.0)
What are the benefits of its excellent sense of smell?
The brown bear's sense of smell is highly developed and therefore has increased its chances of survival. He uses his muzzle for various purposes.
Territory
Bears have a huge (fixed) territory where they can be found. However, when a wide variety of food is available, it requires less space. He can detect in time whether there is an intruder because of his muzzle. However, they usually don't defend their territory and are only vigilant during the mating season.
Source: Azov, Wikimedia Commons (CC BY-SA-3.0)
Locating its prey
Due to its excellent sense of smell, it can detect prey from a great distance. In fact, its sense of smell is many times stronger than that of a hunting dog. Compared to humans, the area near the muzzle that is responsible for the sense of smell is a hundred times larger. More than a billion receptor cells are connected here to more than ten million nerve cells. These nerve cells are linked to the brain. This allows him to smell a rotting carcass more than a mile away. In periods when there is little food to be found, its snout ensures that it can survive this period. He does not have to eat any offspring in times of famine.
Looking for a partner
In addition to prey, it can use its sense of smell to search for a mate. Without this sense of smell, the landscape is simply too big for them to meet by chance.
Provide for posterity
Thanks to the sense of smell, bears can easily locate their offspring. The reverse is exactly the same: this allows the boy to find their parents. In addition, the bear can detect the smell of danger at an early stage. Competitive bears can pose a danger to their offspring and themselves. In addition to peers, he has humans as an enemy.
The biggest threat to the brown bear
Man has been his greatest enemy since prehistoric times. The animal has been hunted for its meat and fur since prehistoric times. As a result, the predator has become extinct in large areas of the world. He prefers to avoid contact with people. With the help of his primal instincts, he searches for a safe area in time. When the predator suddenly comes into contact with a human, it can unexpectedly run away. Hunting causes a large number of deaths among young bears, although hunters are not allowed to hunt here. Scientists have determined this from a twenty-one-year study in Sweden that was completed in 2014. When the father dies, the offspring can be attacked by another male bear. The bear that mates with the female does not accept the offspring from the female. Because the mother does not have to give breast milk, she becomes fertile again so that the new male can produce offspring. The survey had been covered in an area totaling twenty-one thousand square kilometers.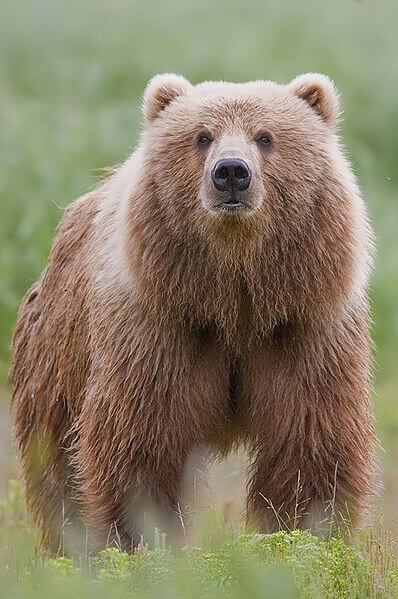 Source: Yathin S Krishnappa, Wikimedia Commons (CC BY-SA-3.0)
Food
However, there are some cases where he does not avoid humans and sees humans as a source of food. This is usually when the predator smells food. Depending on the wind direction and speed, he can smell this food from afar. The brown bear that lives in Scandinavia is more skittish than the grizzly bear. The grizzly bear is used to getting close. Sometimes the animals are even fed, which is strictly prohibited. When the animals get close, they can be a danger to visitors to national parks. This can cause unnecessary victims.