The fastest animals on Earth
The speed of an animal often affects the animal's chances of survival. This makes certain types very flexible or completely streamlined. This ensures that little energy is lost due to the resistance of air or water. Starting a sprint takes a large amount of energy. The birds, fish and land animals have all found their own solution to be smart about the laws of nature. However, when a species is built entirely to run, this can sometimes have disadvantages.
The fastest animals on Earth
Speed ​​and evolution
The fastest bird
The fastest mammal
The fastest fish
Speed ​​and evolution
The speed of certain animal species ensures that they can survive in nature. For both prey and predators, speed has an advantage. This allows them to increase the chance of a meal or avoid falling prey to a predator themselves.
Energy
However, maintaining a high speed requires a lot of energy. This allows some animal species to maintain their speed only for a short time. Fast animals are athletically built in most cases. In addition, it often happens that they are streamlined to prevent as much resistance from the environment as possible. This means that they usually have to burn less energy than other animal species to achieve the same speed.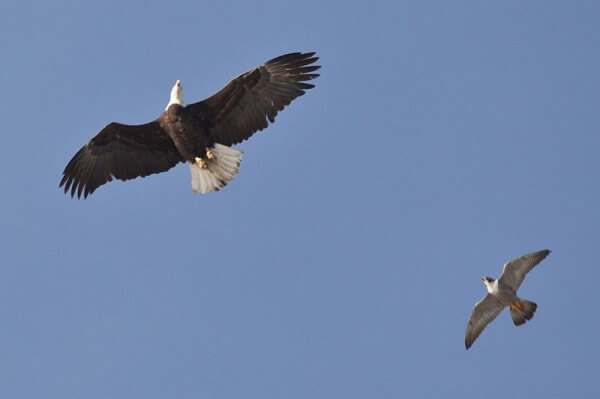 Source: Mike Baird, Wikimedia Commons (CC BY-2.0)
The fastest bird
The peregrine falcon is the fastest bird in the world. Researchers think it can reach a speed of at least two hundred kilometers per hour. He achieves this enormous speed while taking a dive. However, it is difficult to determine the exact speed. This has to do with a number of factors such as the reliability of the measuring method and the wind speed. They need this enormous speed to hunt for other bird species. He catches his prey in the air. Due to its speed, it has the ability to outperform any bird species with its speed.
Habitat
The peregrine falcon is found all over the world except around Antarctica. This bird is even found in urban areas where it uses buildings and other human structures to build a nest here. He usually builds his nest at a safe height. The breeding period is in March and April. When the bird can be found in the city, it usually hunts for pigeons. Pigeons come here in large numbers. Researchers estimate that the total population is over a million copies.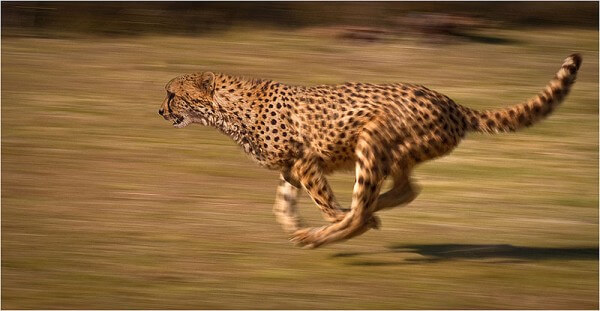 Source: Hein waschefort, Wikimedia Commons (CC BY-SA-3.0)
The fastest mammal
The fastest mammal is the cheetah. The feline is found in several countries in Africa. In addition, this agile predator can be found in Iran. It belongs to the cheetahs and can reach a speed of 104.4 kilometers per hour. However, he cannot maintain this speed for a long period of time. The cheetah has a lighter build than other cheetah species so that it can accelerate at lightning speed. The disadvantage of its low weight is that it usually loses a fight with other predators. A cheetah that cannot achieve its speed simply falls prey to other predators.
Serious threat
The cheetah is known as an endangered species. This is largely due to the fact that its habitat is increasingly disappearing. He regularly comes into contact with farmers. The livestock and farmland is usually protected by means of traps. In addition, it happens that the predator is hunted. This can be done by farmers or poachers who want to sell his hide. Biologists have discovered that the animal was almost extinct before. This has been determined on the basis of its genetic composition. When a species almost dies out in this way, it is called "a bottleneck".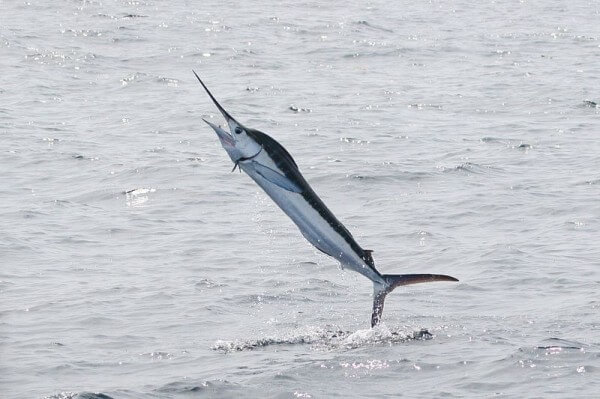 Source: Dominic sherony, Wikimedia Commons (CC BY-SA-2.0)
The fastest fish
The sailfish has a streamlined body that allows it to reach tremendous speeds. He can be recognized by the large sail on his back. The Greek scientific name for this fish is 'Istiophorus platypterus'. 'Istios' means "sail" and "pherein" means "to carry". He also has a sharp long snout with which he shoots through the water like an arrow. The fastest measurements show that it can shoot out of the water at more than 110 kilometers per hour. Despite the fact that it can grow to more than three meters and weigh about 100 kilos, it seems to defy the laws of nature. Sailfish are usually found far out to sea where they hunt for small fish and other marine life near the water surface. He prefers a warm water temperature and can therefore largely be found in the area around the equator.