The history of hops
Hop is a drug that makes people happy, dispels worries and makes people compliant and humble, as people knew in the Middle Ages. Hop has not always been in beer; other herbs were used first. Hops can be eaten normally and even have medicinal properties. In ancient times and in the Middle Ages, hops were regularly smoked to induce intoxication. This intoxication can more easily be fulfilled at the end of the Middle Ages; it is in almost all types of beer.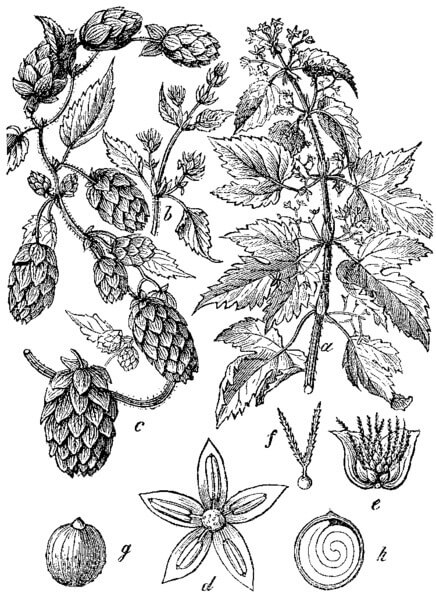 Drawing hops from 1892 /
Source: Martin Cilen ?? ek, Wikimedia Commons (Public domain)
Content:
Hop in Antiquity
Hop as a beer ingredient
King Gambrinus
Use hops Middle Ages
Hop as mind control for the masses
Hop from the Middle Ages to the 17th century
History of hops from the 17th century to the present day
Hop in Antiquity
Hop was widely used in ancient times. Jewish criminals in Babylon drank barley beer with hops in prison to protect themselves from leprosy. Pliny, who lived in the first century C.E., described the ancient Romans eating young hop shoots like asparagus. They were also used in soups. In Germanic countries, hops were given to busy children and against insomnia. In case of earache or nerve pain, a pillow was filled with hop cones. Another method was to put a hop bubble in a cloth for the child to suck on.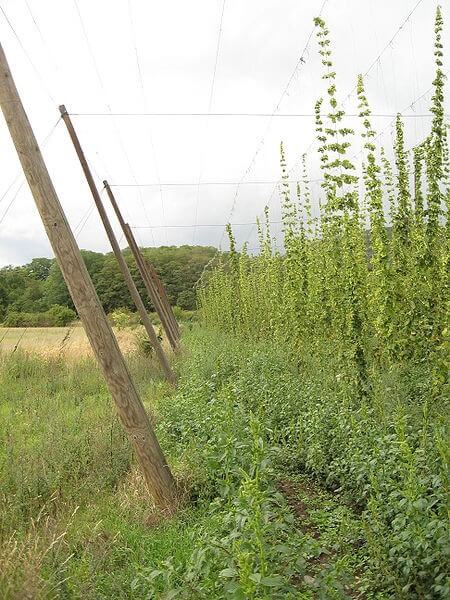 Hop plantation /
Source: Ludek, Wikimedia Commons (CC BY-SA-3.0)
Hop as a beer ingredient
Hop as an ingredient in beer is first mentioned on a charter from 768 signed by Pepijn de Korte, Charlemagne's father. Hop is an herb that not only gives the beer a bitter taste, but also lets the drinker doze off in a hypnotic sleep. Before hops were used, herbs such as lavender, rosemary, sage, hyssop, roses, lilies, bay leaves, melissa, raspberries and many other herbs were used to make the beer tasty.
King Gambrinus
King Gambrinus, the beer king of Brabant, is said to have added hops to the beer for the first time. King Gambrinus never existed, however. It was probably someone's nickname. Beer was brewed in monasteries in the Middle Ages. The places where beer was brewed were called 'cambarii'. Cambrinus or Ganbrinus is said to derive from the word 'cambarii'. Another possible explanation is that King Pepijn's cupbearer, one of whom was called Gambrinus, added hops to the beer for the first time. In the Middle Ages, a pourer was someone at court who prepared and poured the drinks for the king.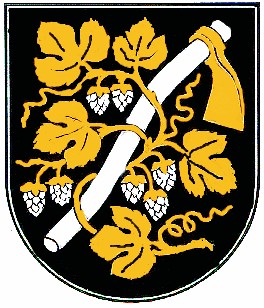 Hop in a Serbian weapon /
Source: Public domain, Wikimedia Commons (PD)
Use hops Middle Ages
In the Middle Ages, hops were a widely used plant. The bubbles were used for smoking. After all, it is a narcotic herb. Young sprouted hop sprouts were eaten like asparagus. Hop cones were increasingly used for brewing beer in the Middle Ages. The leaves of the hop plant served as cattle and sheep food. The stems were flattened and woven into fiber ropes from which bags were made. In addition, hop fibers were used as a binding twine. What was left of the plant was used as fuel and straw. Everything the hop plant produced was used by the Middle Ages.
Hop as mind control for the masses
In the 9th century, monks began cultivating hops for the libido-reducing and calming effect it produces. It was initially a medicinal herb. Children were calmed with it. Not only children were kept nice and calm by hops. Hildegard van Bingen, a female scientist who worked for the Roman Catholic Church, determined that barley beer should be made with hops. The herb gave people a sad and melancholic mood, according to van Bingen. When van Bingen wrote about hops, it had already become a practice to add the hypnotic spice to beer. Offering alcoholic beverages to people was in itself a tool of power to rule a people, and the addition of hops made it a stronger means of controlling the masses. By giving hop drinks to a population, the people became nice and quiet and swooned away in melancholic fantasies so that they accepted and complied with the power of the church as insurmountable. The same is still going on today, even though some power shifts have taken place: how often do you hear alcohol drinkers say the world is full of misery but there's nothing you can do about it?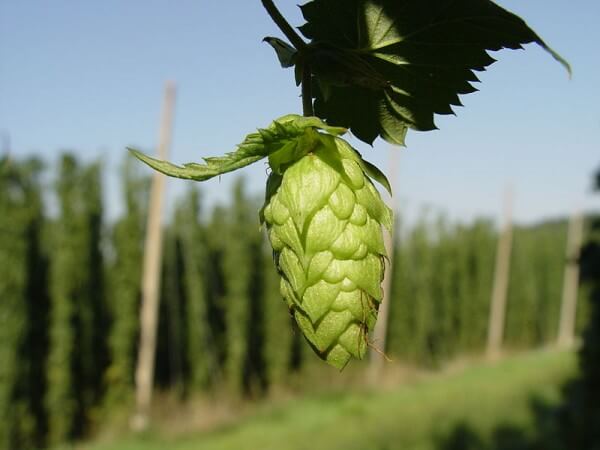 Hopbel /
Source: LuckyStarr, Wikimedia Commons (CC BY-2.5)
Hop from the Middle Ages to the 17th century
Not only the Germans used hops as a calming agent. The Indians in North America did exactly the same. They also used it as a sleeping aid, pain reliever and gynecological remedy for breast and uterine pains. In the 14th century, hops were added to beers brewed in Flanders and the Netherlands. In England this has been delayed until the 16th century, when the Church of England finally became a part Roman Catholic church. Before that, Henry VI and Henry VII had argued against the use of hops because it is bad for the people. Paracelsus, who lived in the early 16th century, also pointed to the calming and hypnotic effects of hops. Paracelsus has given an important impulse to signature theory. According to this medical view, the yellow color of the glandular hairs indicates that it is digestive. In modern phytotherapy it is a scientifically proven digestive agent. In traditional folk medicine hops were used as a stomach-strengthening agent. William Turner, a 16th century English herbalist, felt that the medicinal properties of hops were underestimated. John Gerard, another English herbalist and contemporary of Turner for 20 years, saw beer with hops as a healing drink and not as a thirst-quenching liquid. Nicholas Culpeper, an English herbalist and botanist from the 17th century recommended hops for liver infection or hepatitis, stomach and intestinal infections, headaches, skin infections and to purify the blood. In addition to hepatitis, the healing power of hops in all these conditions has been scientifically confirmed by modern day.
History of hop use from the 17th century to the present day
Hop picking people fell asleep more quickly. It is believed that the essential oil was inhaled or stuck to the hands so that it was either absorbed through the skin or entered through food at a later date. A combination of these three options cannot be ruled out. Female hop pickers had irregular periods. Or menstruated too early or too late. In addition, the plant is libido-enhancing in women, in contrast to men, for which hops are libido-reducing. Male hop pickers even got bigger breasts, it was found. This effect was seen but the background was not known; nowadays the libido modulating effect is attributed to the phytoestrogens in hops; these are bio-identical hormones that change the sexual experience. Today estrogens from hop are used in HRT, Hormone Replacement Therapy, which is used for menopausal women and transsexuals. Alfred Vogel, the famous 20th century herbalist, recommended hop tea for exaggerated sexual stimuli and insomnia. Throughout the centuries, hop has maintained a relationship with people's becoming calm and a changing sexual experience.