The Japanese spider crab, the largest crab in the world
The Japanese spider crab is the largest crab species on earth. This crab species can grow older than all other crab species. It has huge tentacles with strong claws. Despite its enormous size, this crustacean has natural enemies. However, he has found a special way to camouflage himself. How old can the Japanese spider crab get? Could this crab species with its large claws be dangerous to humans?
The Japanese spider crab
Living environment
Body size
Diet
Reproduction
Natural enemies
Legs
Living environment
The Japanese spider crab is also known as the 'Japanese giant crab' or 'Japanese spider crab'. It mainly occurs in the depths of the ocean. During the mating season they can be found at a depth of 'only' 50 meters. where eventually the larvae are hatched. They occur largely near the Japanese islands of Konshu and Kyushu, here they are located on the Pacific side (on the side of the Pacific Ocean). The larger variants are usually found in deeper places than smaller ones.
Body size
The Japanese spider crab is a crustacean with enormous legs. It can grow (including legs) more than 3.50 meters long, making it the largest crab species in the world. These specimens have a weight of approximately 20 kilograms. In comparison, however, they have a very small torso. Their torso can reach a length of only 45 centimeters. The species caught by fishermen are usually smaller in size.
The Japanese spider crab is getting bigger and bigger
They grow throughout their life and can live to be over 100 years old. This is many times older than most crab species. During their life they lose their scale several times and a scale grows back that is just a little larger.
Diet
The crabs eat seaweed, algae, invertebrates (which move slowly) and mollusks. In addition, they are scavengers and mainly eat the bodies of dead sea animals that they accidentally encounter on their path. These animals prefer not to hunt.
Reproduction
The mating season is between January and March. This invertebrate species has a special way of reproduction. The males place the sperm cells in the female's abdomen by means of their first two legs. The females can lay a total of 1.5 million eggs. These eggs have a diameter of less than 1 millimeter.
Larvae
When the eggs hatch after 10 days, the larvae are left to fend for themselves. These larvae float on water and have a low survival rate. They are very small and at this stage look even more like larvae than crabs. The sea creatures are only fully adult after a few months and only then slowly start to take on the shape of a crab.
Natural enemies
Despite being gigantic, the spider crab has to watch out for any predators. They can be attacked by octopuses, among other things. Despite its large size, the spider crab has the ability to camouflage itself. For this, material is used that is located on the seabed. They use seaweed and various sponges that they collect on their backs. Their shell has a coarse structure and several spots, which is conducive to camouflage. When this crab is in a hole on the sea floor, it appears to be part of the sea floor.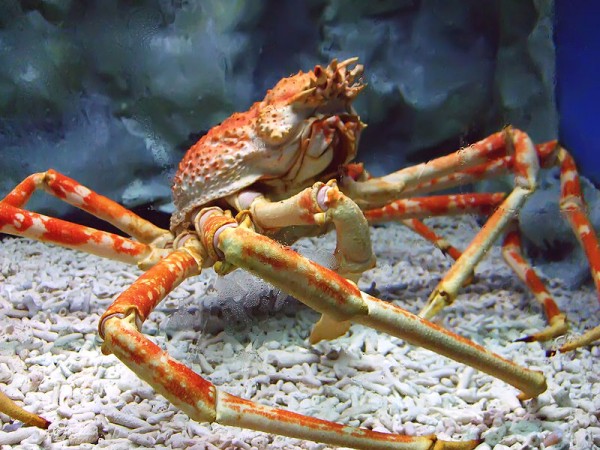 The Japanese spider crab has ten legs. /
Source: Tsarli (Charles Laigo) at en.wikipedia, Wikimedia Commons (CC BY-SA-3.0)
Legs
Its thin (but muscular) legs can do a lot of damage. Japanese spider crabs can use their legs very quickly and effectively, although they are usually not actively hunting. They use their scissors to open mussels, among other things. Divers should be very careful with these crustaceans as these crabs can fatally injure people. Investigators who first captured the creature were injured when the first spider crab was captured. These sea creatures are very tenacious and can survive even if they lose three (out of ten) legs. Over time, a new leg will grow where it lost one.