The pink water of Lake Hillier in Australia
Just below Northampton in the Australian Middle Island you can find a lake, with a bright pink color instead of the blue we are used to. The sea nearby shows how great the contrast is. It is very difficult to get close to this lake, because of the free nature and the poor accessibility. This lake is best admired from the air. Nature has many surprises for us haze colored lakes to be a part of, but what is the mystery behind this color?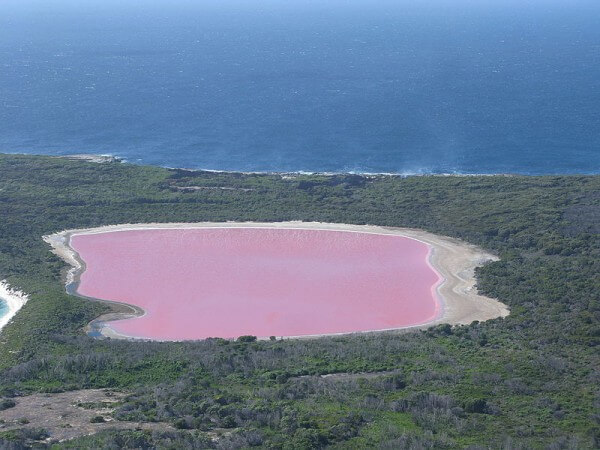 Source: Aussie Oc, Wikimedia Commons (CC BY-SA-4.0)
Lake Hillier in Australia
Located in a nature reserve, Lake Hillier is a lake about six hundred meters long and two hundred and fifty meters wide, nestled among the eucalyptus trees and sandstrips in Australia. The lake was first discovered by Matthew Flinder in 1802. Matthew Flinder was a captain, lived from March 16, 1774 to July 19, 1814, and was known as a navigator of great talent.
Protected nature area
Since 2012 Lake Hillier is officially part of a protected nature reserve, called 'Recherche Archipelago Nature Reserve'. A striking feature of this lake is the bright pink color that is retained when bottled, while other colored salt lakes then lose the color. There is a lot of salt in this lake that accumulates at the edges, creating crusts of salt mixed with sand.
Middle Island
This pink lake is located on Middle Island in Australia. In the west of Australia this is part of a number of islands together, namely the 'Recherche Archipelago'. It is full of coral reefs here, making it a popular spot for recreational divers. Middle Island is the largest of this group, but the island itself is less than seven kilometers long and uninhabited. Together with two more groups of islands it is called the Houtman Albrolhos, this is a collection of one hundred and twenty-two islands that lie in the west coast of Australia. The highest point on Middle island is called Flinders peak. Just like Lake Hillier, the island is not easily accessible to the public, but it is easy to view from the air.
Causes of the pink color
The reason for the striking color of this lake is purely natural and has several causes. It concerns a perfect cooperation of several organisms, but algae and bacteria also play a role in this. Partly because of this, it is important that people do not intervene too much, as this could disrupt the process.
salt
In the past, salt was extracted from this lake, in about 1889 Edward Andrews started to investigate the commercial possibilities of salt extraction. He lived here for a few years with his two sons. Probably due to the rugged wilderness and poor accessibility, salt extraction has not been given a long future here. The advantage of this is that it can be protected as a nature reserve and can continue to exist for a long time. The salt in the water plays a major role in color formation, but that only works in conjunction with certain algae and bacteria.
Algae and bacteria
One of the causes of the pink color is probably due to the organism named; Dunaliella Salina. This algae in combination with the Halobacterium can result in the perfect color pink. Halobacteria are halophilic microorganisms, which means that they only occur in saltwater with a concentration of salt at least five times greater than in the ocean.
The pink color of Lake Hillier
Halobacteria can give a red or pink color to water because they produce carotene, this substance can also be found in roots. The exact color pink therefore depends on the combination of bacteria, algae and of course the high salt content, whereby the Halobacterium is mainly responsible for the pink color. This requires perfect cooperation, which makes it difficult to imitate.