Tsunamis: how do tsunamis arise?
Tsunamis are gigantic waves that can cause enormous damage. There are several factors that can trigger a tsunami. A seaquake is one of these and usually occurs in certain areas of the ocean where there is a lot of geological activity. These are the so-called border areas of the plates. By means of a tsunami warning system these natural phenomena can be detected before they have reached the coast. Countless lives are saved thanks to this system. In some cases it is also possible to know in advance when a tsunami is imminent. The sea usually retreats temporarily.
Tsunamis
What is a tsunami?
Causes
Where are tsunamis most common?
Withdrawing from the sea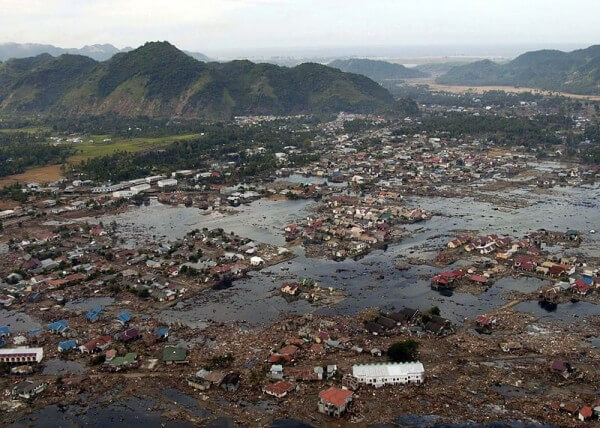 A village near the coast of Sumatra that was badly hit by a tsunami. /
Source: Philip A. McDaniel, Wikimedia Commons (Public domain)
What is a tsunami?
A tsunami is known as a very powerful tidal wave. In reality, a tsunami is a series of several powerful waves. Some of these waves can reach a height of about 30 meters and a speed of no less than 805 kilometers per hour (the speed of an airplane). As a result of these extreme waves, it often leaves an enormous destruction and can destroy trees, houses and other structures.
Causes
Most tsunamis are caused by a strong earthquake (seaquake) that is near a bifurcation of the plates. Other possible causes include shifts in the sea floor, meteorites and volcanic eruptions. However, volcanic eruptions also have positive consequences; they ensure, among other things, that new islands can arise.
Tsunamis because of a seaquake
A seaquake is a term used for earthquakes that occur underwater. When a tectonic plate makes an upward movement, it means that the water above is moving. This flow of water eventually forms the tsunami.
Tsunamis due to volcanic eruptions
A tsunami that arises because of a volcanic eruption has a completely different origin than a seaquake. These waves arise because of landslides or the crumbling of large rocks from the outside of a volcano. The enormous rocks that end up in the sea in this way immediately create gigantic waves. Because of the enormous weight that ends up in the sea as a result, the creation of a powerful tsunami is very possible.
Tsunamis due to a meteorite impact
The largest tsunami known to have occurred tens of millions of years ago. It is the tsunami that arose because of a meteorite impact during prehistoric times. The many consequences of this impact eventually led to the extinction of the dinosaurs. The crater created by this is called the 'Chicxulub crater'. The size and speed with which the meteorite landed on Earth caused an unimaginably large tsunami.
Where are tsunamis most common?
Most tsunamis originate in the Pacific Ocean (also known as the Pacific Ocean or Pacific Ocean). The coastal areas that are in a region with a lot of geological activity are most at risk of being affected. This can be seaquakes as well as volcanic eruptions that cause a tsunami.
Withdrawing from the sea
Before the tsunami reaches land, the sea usually withdraws for a while. It seems that there is a low tide. However, the water often retreats further than normal. The amount of water that is withdrawn will reach shore after five minutes or more. People who know these signals then have the time to go inland as much as possible and reach higher areas. Because a tsunami consists of a series of waves, it means that there is still danger after the first wave. It is therefore important to wait until the tsunami alarm has officially ended.
The Pacific Tsunami Warning System
The 'Pacific Tsunami Warning System' was set up because of the importance of a timely tsunami warning. The headquarters is located in Hawaii and consists of a collaboration of 26 different countries. The tsunamis are detected and predicted by means of water level meters and seismological equipment located at sea.