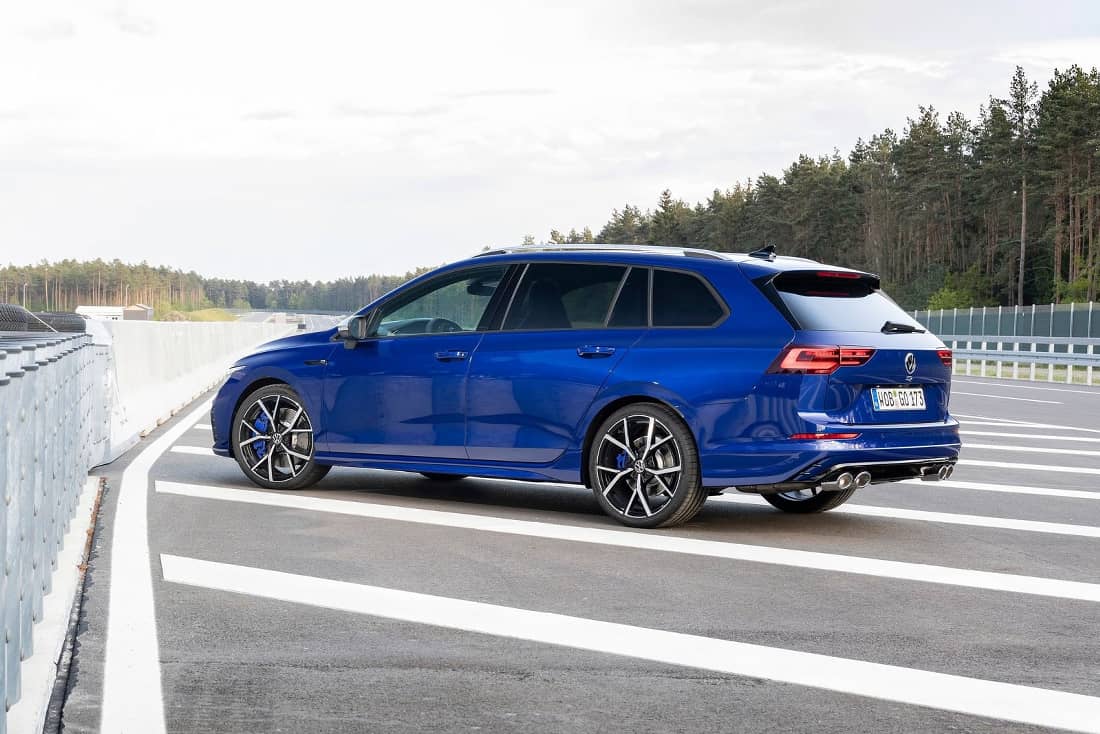 Despite the well-known diversity of talents, the Golf Variant has surrendered a large part of its popularity to the Tiguan over the past few years. Now, however, a secret weapon is being rolled out in Wolfsburg that the long-legged SUV cannot keep up with. Because the new VW Golf R Variant is not only the most powerful Golf station wagon ever built, but also the most active to drive.
He copied the technical recipe from the in-house opponent, the Tiguan, of all places. Because the VW Golf R Kombi also builds on the power of the current EA888 two-liter four-cylinder in the fourth evolutionary stage (evo4). In the station wagon, too, 235 kW / 320 PS and 420 Nm are now on the hunt for the best time on the home route (combined fuel consumption: 7.3-7.2 l / 100 km; combined CO2 emissions: 166-164 g / km² ).
Performance all-wheel drive for the VW Golf R Variant
Shifting takes place exclusively via the well-known 7-speed dual clutch transmission, a manual variant is no longer provided. The rest of the drive train is also a mechatronic masterpiece, because the VW Golf R Variant now also has a real torque-vectoring all-wheel drive. The days of the Haldex drive, which only promoted traction but did not promote driving pleasure and only switched on when there was a loss of grip, is over.
Instead, there is an open differential with two clutch packs in the rear that can distribute torque to each rear wheel according to the situation. If necessary, the entire power can be directed to just one wheel. If you book the optional R Performance package, you can fully enjoy the new advantages of all-wheel drive thanks to a special "drift" driving mode.
The station wagon remains a loadmaster
A nice side effect of the sports package is an increase in the electronically limited top speed to 270 km / h instead of the previously usual 250 km / h. The sprint time remains the same for both versions at 4.9 seconds to 100 km / h.
But the VW Golf R Variant can not only sprint and drift, it can also load properly. A trunk volume of 611 to 1,642 liters makes it one of the largest station wagons in its class, and even the larger SUVs can rarely offer more space here. In addition, there is a maximum trailer load of 1,900 kilograms – so nothing stands in the way of a quick camping holiday.
Of course, the Variant takes over the rest of the equipment from its brothers, and the list of options reads in the classic VW manner. If you have a hard time here, you can push the base price of 51,585 euros up again significantly. (Text: fm | Pictures: Manufacturer)