The front design of the new bus borrows from the Golf 8, with which it will in future also share the technical platform – the modular transverse matrix (MQB). In terms of silhouette and proportions, however, it remains largely true to the Bulli tradition. At 4.97 meters in length, it is almost seven centimeters longer than its predecessor. Since the car substructure is not infinitely scalable, the long version offered as an alternative is, at 5.17, a clear 13 centimeters shorter than the last one.
The wheelbase grows in both variants by 12 centimeters to 3.12 meters, which not only benefits the interior, but should also ensure smoother driving behavior. Depending on the seating and body length, the load compartment volume is between 469 and 4,053 liters if the Bulli's charging potential is used to the full.
Read now: Test report Multivan T6.1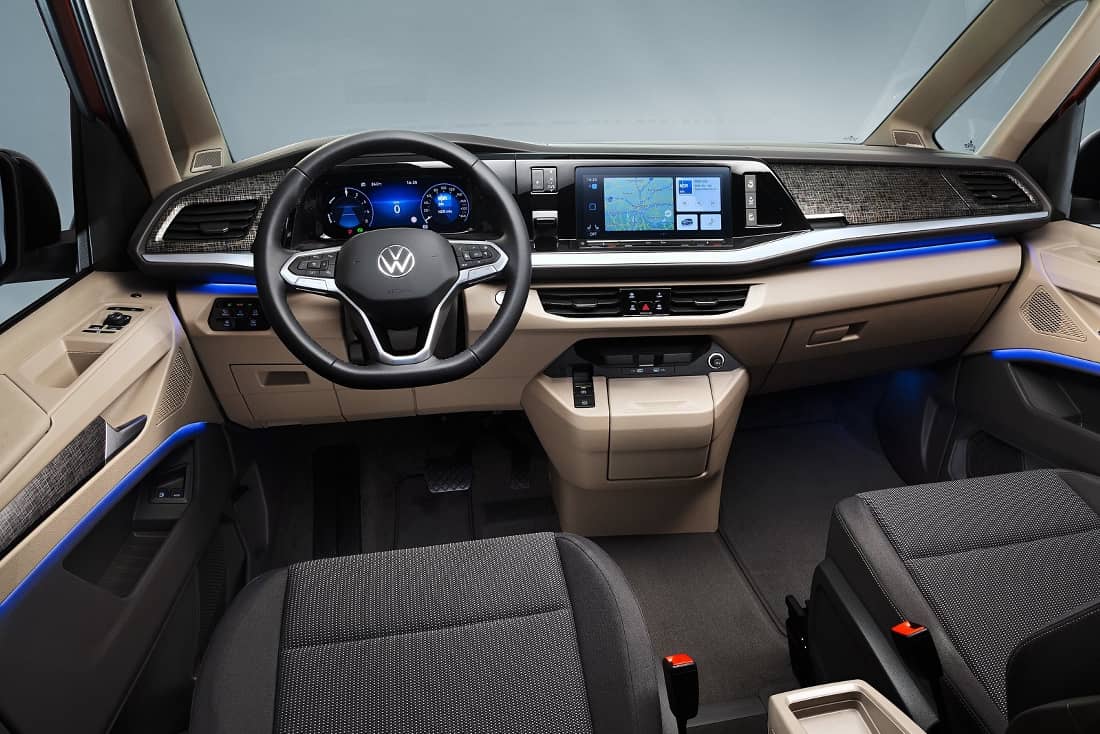 The motors
The engine program initially consists of two petrol, a diesel and a plug-in hybrid (vehicle is not yet for sale, homologation pending²). The latter provides a system output of 160 kW / 218 PS and is familiar from the Passat and Golf hybrid models. The basic drive, on the other hand, is a 1.5-liter petrol engine with 100 kW / 136 PS, or a 2.0-liter petrol engine with 150 kW / 204 PS. The only diesel on offer, a 2.0-liter four-cylinder with 110 kW / 150 PS, will not be submitted until 2022.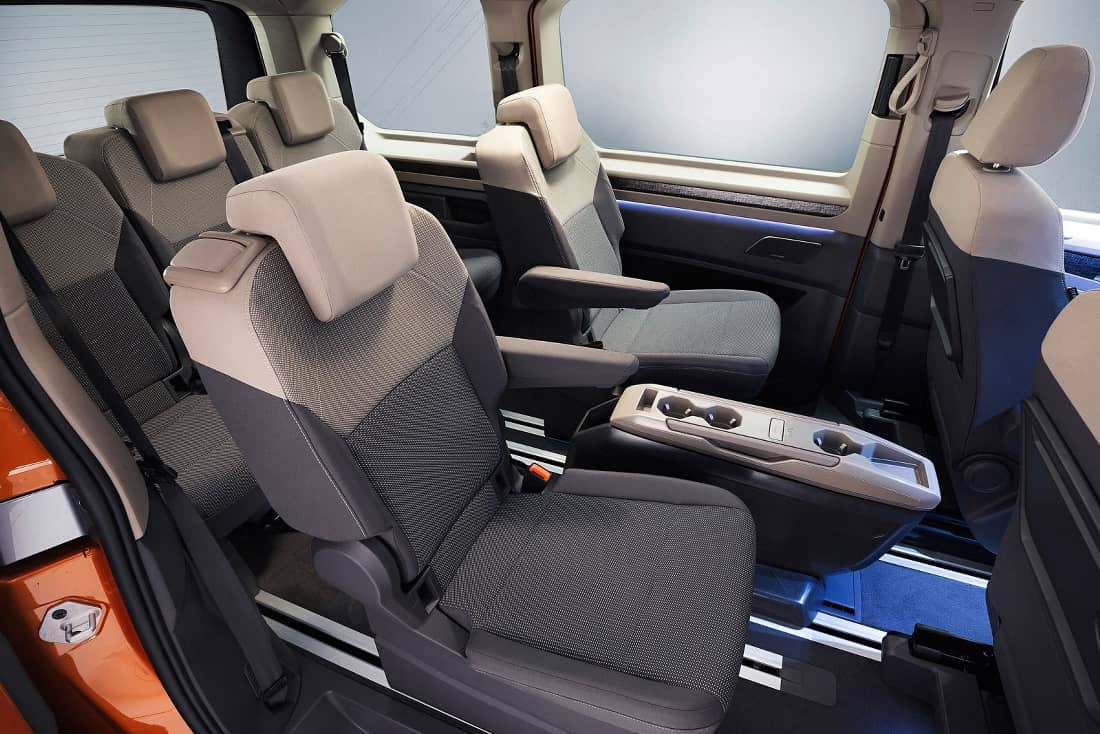 VW T6.1 remains in the program
A purely electric version of the multivan is to follow even later, based on the ID.Buzz study from 2017. The competition has now continued here, including the Mercedes V-Class without a combustion engine.
Anyone who rightly complains about a lack of information about a camping and / or all-wheel drive variant should be aware that Volkswagen will continue to build the T6.1 for a few years in parallel. Both the California and the 4Motion models and of course the pure commercial vehicles will not be based on the MQB modular system for the time being. Volkswagen has announced a replacement here at the earliest from 2024. The barren Caravelle will then share the base with a similar Ford model.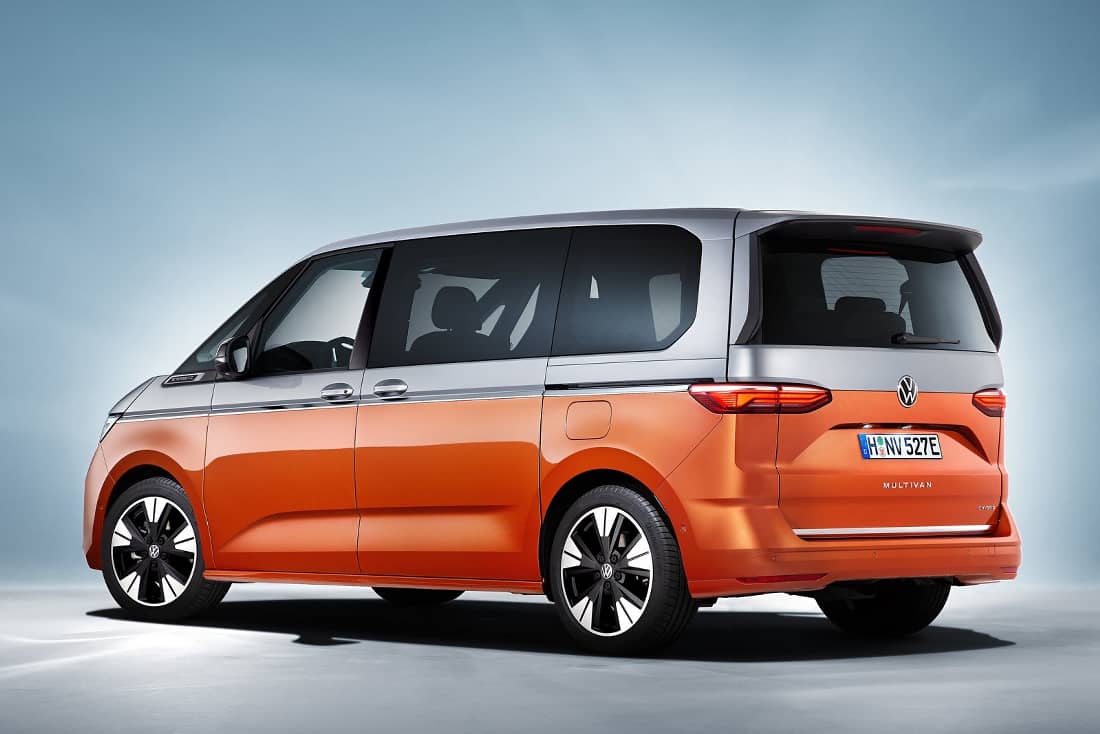 Market launch and prices
The prices for the new Multivan are not yet known. However, given the new base and better equipment, they are likely to rise towards the 40,000 euro limit. The current Multivan starts at around 35,000 euros. As is well known, there are hardly any upper limits even with a VW bus and so the top model of the new Bulli should clearly tend towards 70,000 euros. The market launch for the T7 Multivan is this autumn. (Text: tv, hh / sp-x | Images: manufacturer)