What are the differences between the various gasoline types?
Petrol can be produced by oil refineries. There are many different types of gasoline, each with their own unique properties. The properties of a gasoline type depend on the substances it consists of and the ratio of the mixture. By means of the 'octane number' one knows what the exact proportions are within the mixture. An engine can be seriously damaged if the wrong type of gasoline is used. For example, there may be a so-called self-ignition or even damage to the catalytic converter.
Gasoline types
Gasoline
What types of gasoline are there?
Eurosuper and Superplus
Eurosuper 95
Eurosuper 98
E10
Blue One 95
E85
Diesel
Gasoline
Gasoline consists of several hydrocarbons. A hydrocarbon consists of only two types of atoms, namely carbon (C) and hydrogen (H). The amount of atoms that are interconnected determines which molecule it is. For example, propane contains three carbon atoms and eight hydrogen atoms, while methane contains only one carbon atom with four hydrogen atoms. The hydrocarbons are obtained from oil refineries using natural gas and petroleum processing. In addition to petrol, vehicles can also be powered by autogas (also known as LPG), electricity or diesel. A diesel engine works by means of self-ignition instead of a spark plug like gasoline engines. This makes these engines look different.
What types of gasoline are there?
A catalytic converter (for a car). /
Source: Stahlkocher, Wikimedia Commons (CC BY-SA-2.0)
It is not possible to choose from all types of gasoline. This depends, among other things, on the catalyst. Cars with a catalytic converter can only be refueled with unleaded petrol, otherwise the catalytic converter will be damaged. The catalytic converter is a specific part of an engine that converts harmful substances into safer ones. If your car has a catalytic converter, it is important to know which octane number the gasoline should contain. The higher the octane number, the less heptane the gasoline contains. Heptane is a substance that is more unstable than octane and can cause an explosion reaction more quickly. The stability is also called knock resistance. The knock resistance determines how much a fuel can be compressed by means of air without it self-igniting. When a gasoline type has a high octane number, there is a high knock resistance. The mixture then contains more branched hydrocarbons, which means that self-ignition is less likely to occur.
Eurosuper and Superplus
The names 'Eurosuper', 'Super unleaded' and 'Superplus' stand for unleaded petrol. Cars that are more modern and have a catalytic converter can often use Eurosuper 95 or Eurosuper 98, for example. These unleaded petrol types are more environmentally friendly than the variants where no 'super' stands for. This has to do with the fact that it does not contain lead. The substance 'tetraethyl lead' has been replaced with the substance 'methyl tert-butylerher'. Very old cars such as certain oldtimers often cannot use Eurosuper because these cars need leaded petrol to function. Without leaded gasoline, the exhaust valves on these cars can burn and be damaged.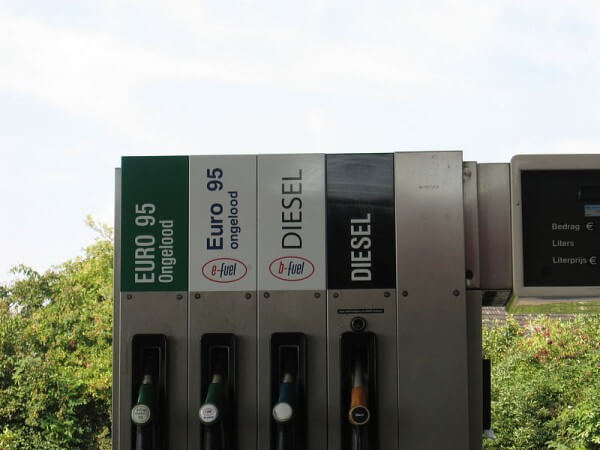 Eurosuper 95 and Diesel /
Source: Michiel1972, Wikimedia Commons (CC BY-SA-3.0)
Eurosuper 95
Eurosuper 95 has an octane number of 95 and contains 5 heptane. It is mostly used on engines that are a bit slower due to the higher heptane number than Eurosuper 98.
Eurosuper 98
With an octane number of 98 and 2 heptane, Eurosuper 98 is suitable for fast engines. It is strongly advised not to refuel with an octane number that is too low (e.g. Eurosuper 95) when an engine needs Eurosuper 98. This is because the petrol vapors coming from the engine can self-ignite (because the higher heptane number makes the petrol more unstable) and damage the engine. The lead-based variant of Super 98 petrol is generally no longer available. Leaded petrol has become scarce since the end of the 20th century. Instead, one can choose to buy petrol with lead substitute. It is also possible to add lead substitute to the petrol yourself.
E10
E10 is a type of gasoline that uses a smaller amount of fossil fuels than, for example, 'normal Eurosuper 95' and therefore appears more environmentally friendly than other types of gasoline. However, the amount of CO2 it generates in total is debatable and has to do with what the mixture consists of.
The mix
The number 10 in the designation of E10 represents the percentage of ethanol present in the mixture. The remaining percentage of 90 percent represents the amount of fossil fuels contained in the mixture. For example, you can designate E10 as 'Eurosuper95 E10'. The original Eurosuper 95 consists of only 5% ethanol. A certain amount of CO2 is released during the production of ethanol, which is negative for the climate.
Eligibility
With the help of this list of brands you can see at a glance whether your car is suitable for driving on E10. In total, about 90% of the car brands are suitable for the use of E10. Some well-known brands that are suitable for E10 include Toyota (since 1998), Suzuki (all current models), Kia (all current models), BMW (all current models, however, the octane number 95 or 98 must be taken into account. ), Hyundai (since 1995), Audi (since 1992, it includes most models) and Mercedes-Benz (most models).
Blue One 95
The Blue One 95 fuel is comparable to E10. It contains approximately the same mixture and is suitable for engines that can operate on E10. In the past, it contained 15% ethanol, but this petrol did not meet the EN228 European standards for fuel until 2015. Because a large amount of CO2 is released during the production of ethanol, the ethanol percentage in the mixture has been reduced.
E85
This fuel consists of 85% bioethanol and 15% petrol. The mixture is very knock resistant, which means that the risk of spontaneous combustion is low. In addition, it is an environmentally friendly solution. This is because bioethanol is produced by growing crops. Some cars that have an engine suitable for E85 include Ford (since 1999), Audi (since 2013), Bentley (since 2011), Jaguar (since 2015), Nissan (since 2005), Saab (since 2011), Volkswagen (since 2012), Mazda (since 1999) and Mercedes-Benz (since 2003).
Diesel
Although diesel is not petrol, it also contains oil. In the past, diesel was mixed with gasoline so that vehicles were less affected by the winter when it was freezing. Nowadays, mixing is not recommended and can even damage parts of the engine because it already contains gasoline. In addition to 'regular diesel', there are also products such as 'Monster diesel' that contain their own mixture. The various manufacturers claim to strive for an environmentally friendly and efficient solution. Diesel is cheaper than petrol. This is because less excise duty has to be paid on this fuel. Diesel emits less CO2 and is therefore more environmentally friendly.