What is an amphibian and how do I recognize an amphibian?
Amphibians are cold-blooded animals that undergo a so-called "metamorphosis" during their lifetime. With this they prepare for a different lifestyle. Eventually, the animals can move on land and hunt here. The most famous species are frogs and salamanders. Amphibians offer multiple benefits to our environment. This even makes the animals indispensable. In total there are thousands of different types. However, a large number of these animal species are endangered. How do I recognize an amphibian? Where do they occur and what are the different steps of the metamorphosis they undergo?
What is an amphibian?
The origin of the first amphibians
Living environment
Appearance
Metamorphosis
What kind of foods do these animals eat?
The origin of the first amphibians
The name "amphibian" has a Greek origin. The name comes from the word "amphíbios". "Amphí" stands for "both sides". "Bios" stands for "life" or "way of life". The first amphibians arose about 340 million years ago. They were the first animal species to eventually land on land. Amphibians are cold-blooded. This means they are unable to regulate their own body temperature. Instead, they rely heavily on the sun's heat. In total there are more than six thousand different types. They occur in every continent in the world except Antarctica. Despite this, a large number of these animal species are critically endangered. No less than half of all amphibian species are in the danger zone. The most famous amphibians are frogs, salamanders and toads. These are also the only amphibians that develop legs to propel themselves.
Living environment
A large number of amphibians prefer areas where both land and water can be found. The eggs they lay are usually placed in the water. After a complete transformation, the animals can move in water and on land. However, there are some exceptions. Some amphibians only live on land or in water. For example, salamanders belonging to the "elmids" always need water. The land salamanders, on the other hand, only occur on land. There are also species that can be found both on land and in water. The so-called water salamander is an example of this. The need for water differs per species. With the help of the green rods in their retina, they can observe their environment and possibly look for water.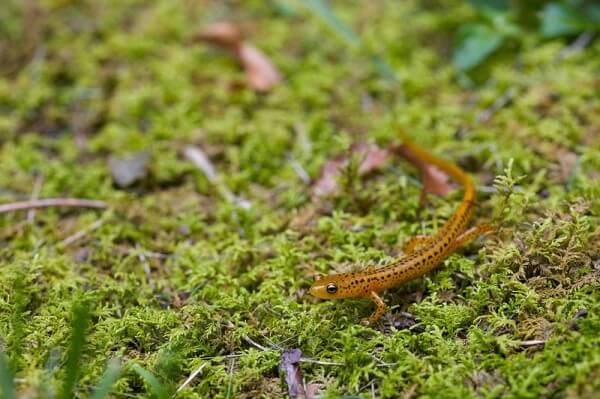 Source: Ryan Hagerty, Wikimedia Commons (Public domain)
Appearance
Most amphibians are small. There are, however, some exceptions. For example, the Chinese giant salamander can reach a length of six inches. Amphibians generally have smooth and slimy skin. This can make their skin glow. In addition, the skin ensures that the animal is protected against all kinds of parasites and microbes. Researchers have discovered that the skin of some animal species has a healing effect. Various medicines are developed with the help of the skin of these animal species.
Metamorphosis
Amphibians undergo a metamorphosis at the beginning of their life. This means that they change shape within a certain period of time. Ultimately, they have changed beyond recognition because of this. This transformation therefore resembles a rapid evolution. During the transformation they get body parts that have a practical function. This increases their mobility and thus their chances of survival.
Stage One: The amphibian is in a larval stage.
Stage Two: The animal begins to develop gills.
Stage Three: The animal begins to have lungs.
During the larval stage, the animals can move in the water. This gives them the opportunity to look for food completely independently. During stage two they are in an intermediate phase. Ultimately, the animals have the opportunity to crawl on land. They have fully developed legs at this stage so they can move on land. On land they can hunt for other types of prey.
What kind of foods do these animals eat?
The fully grown land-dwelling specimens are carnivores. They eat flies, worms and snails, among other things. Sometimes they even eat small mice. Amphibians prefer prey that is slow. Usually the animals hunt when it is night. In doing so, they make use of their excellent senses. Their perception (sight, hearing and smell) are in fact very well developed. This allows them to effectively hunt small animal species. Some species have a quick tongue that allows them to grab their victim. As a result, the risk of insect pests is reduced. In addition, they ensure that the number of malaria mosquitoes is minimized.
The diet of tadpoles
Tadpoles, however, are herbivores. This means that they only eat plant foods. Like adults, they depend on their environment. Because they are in the water, they cannot search for food that can be found above water. This forces them to eat moss and algae that grow on rocks. With their small teeth, they scrape food off nearby stones. This lifestyle changes when they are eventually able to land.