A guide dog is also a house dog
When a guide dog is at work, he wears a harness and is almost always focused: he looks for obstacles, avoids them, follows orders from the boss, and selectively disobeys commands that could be dangerous. The dog is controlled during work; he ignores other people and dogs, does not run after a thrown ball, does not walk in a ditch or pond, does not chase away ducks, etc. Obviously, this requires a great deal of effort and concentration from the guide dog. In order for the guide dog to be able to continue working for its owner with a visual disability, it is necessary to allow the dog to relax sufficiently. This can happen at home, but also when running free.
In the house: tack out and also a normal house dog
Guide dog and run free
Great urge to explore
No sinecure
The brakes are released
Contractual obligation for a person with a visual impairment
In the house: tack out and also a normal house dog
When the work is done, the tack is often literally hung on the coat rack. There the dog is an ordinary, admittedly well-trained house dog. For example, the guide dog has learned with his puppy foster family and in training not to steal food, not to beg, not to demolish, to lie down neatly in the basket when the bell rings and people come in, or when people eat? Admittedly, there are always guide dog house dogs that know fairly quickly that the blind owner does not notice them or notices them too late and dare to take advantage of this. During the instruction period, which can last an average of 2 to 5 weeks, the owner will learn more about the character and playing behavior of his or her dog. Some instructors also go to a pet store with the blind or partially sighted owner during this time; it explains which toys are safe and what the dog loves. In the house the dog may also be petted by others, play with the owner and other family members as well as with other dogs, ?? Some bosses may not allow rough play in the house; they prefer the garden or some other place nearby.
Guide dog and run free
Great urge to explore
The batteries of a guide dog can be fully recharged if it is allowed to run loose, and preferably at as many different places and times as possible, so that it is always interesting for the dog to sniff and the dog is also more alert to the owner, who sometimes also suddenly can choose a different route. The dog has already learned to run free in his foster family and during training. The user usually already practices loosening during the instruction period. Do appeal exercises, whistle the dog back, get the dog's attention when there are many stimuli for the dog, reward the dog in time, ?? are all covered. After the school training, the instructor, together with the guide dog user, looks at loose run places in the home situation. Sometimes there is only an instruction period in the home situation; then the free-walking training takes place immediately in the environment of the user.
No sinecure
However, it is sometimes difficult to let the guide dog run free. A guide dog user can only go to an off-leash spot on foot or by public transport, unless they can drive the car with a sighted person. Also some places are not safe, there is too much food or waste that can make the dog sick, there are too many unreliable people or dogs walking around, ?? In Belgium, free-running by the dog is not legally permitted, unless in a fenced-in area or a free-running meadow, which are only present in a limited number of areas, usually in (sub) cities. If the guide dog user is alone with the guide dog and wants to let the dog run free, he must also be able to walk properly with a white stick. Good orientation is also indispensable. Because a blind or visually impaired owner usually cannot see (well) the dog while running free, he has to let go of some control and trust the dog. This requires a big step for the user. A bell that the dog wears while walking off-leash can help with this so that the visually impaired person has an idea of ​​where the dog is.
The brakes are released
When a guide dog is finally allowed to run free, the brakes are released. Many Labrador and Golden Retrievers, shepherds, king poodles and crossbreeds like to dive into the water. A smelly ditch or a dirty mud puddle is a favorite for many dogs. Once released, they can also play with other dogs, interact with other people, sniff and just be "dogs".
There is often a big difference between a controlled, focused guide dog that is at work and a free dog that has a lot of fun.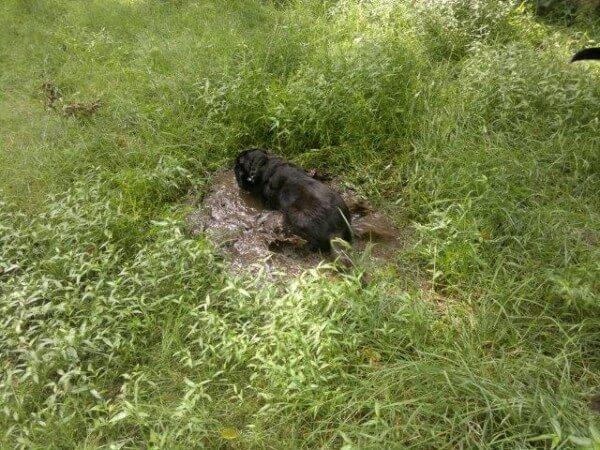 Source: Kim Bols, http://www.visuelehandicap.be
Contractual obligation for a person with a visual impairment
In the Netherlands, the guide dog centers advise to let a guide dog run free for at least half an hour a day. At a number of guide dog schools, this is even contractually established and must be signed by the guide dog user. This advice is not always possible for everyone, for example for people who regularly have to make long journeys by public transport for work, study or hobby. However, the guide dog still gets enough relaxation because the owner takes a long and long walk with the dog as a free dog on other days.
A guide dog is absolutely not pathetic; Just like a normal house dog, he also gets plenty of free time in the forest, in the park or at a swimming pond, as well as enough time to play with it. A guide dog is +/- 90% a house dog that is free and allowed to play, and only about 10% a guide dog that works.