Actimel, Activia and Yakult: does it really work?
Actimel, Activia and Yakult have been working on the road for a while. In advertising we always hear about good bacteria such as Lactobacillus (L.) Casei Defensis and Bifidus Actiregularis. Sounds very scientifically sound, but does it work? The different yogurts and yogurt drinks make many claims of which it is doubtful whether they can live up to.
Yogurt and our intestines
What's in a name?
Actimel
Activia
Lawsuit against Danone
Yakult
Conclusion
Yogurt and our intestines
Yogurt is made by adding beneficial bacteria to milk that convert natural sugars into lactic acids. In general, these bacteria are related to the family Streptococcus and Lactobacillus, but usually several types of bacteria are used. If the yogurt is not heated after production, even more bacteria are present.
Our intestines also contain many good bacteria such as Lactobacillus and Bifidobacterium. Good intestinal flora helps our immune system and digestion. At the irritable bowel syndrome The slightest disturbance disturbs the digestive balance, leading to constipation (constipation) or diarrhea. A yogurt with extra good bacteria therefore seems a very good idea, especially for people with this syndrome.
Probiotics
Probiotics literally means "for life". They are supplements, such as yogurts and drinks, that can replenish a shortage of good bacteria after stress, illness or other things that disrupt the intestinal flora. A temporary boost of these bacteria helps with digestion and supports the natural intestinal flora.
Temporary – that's an important word. If the illness or stress continues, the supplement will only help for a short time. For that reason, the advertisements recommend daily use.
So I have to take probiotics?
A number of things are important in answer to this question.
1. Is your intestinal flora or bowel movements disturbed?
If you don't have any problems, why take a supplement every day? It is never a good idea to eat / drink a tasty, healthy yogurt or drink, but that is not necessary daily and that can also be a regular yogurt or drink without added bacteria.
2. Am I getting enough bacteria in my daily food?
Probiotics are naturally contained in oats, wheat, artichokes and praise. Fiber-rich products and dairy promote bowel movements. Regular yoghurt or drinks contain the same bacteria as in the special products, but much less.
3. Will it work for me?
You can probably try a new product, but realize that the yogurt and drinks only contain one type of bacteria while there are millions of types in your intestines. Adding that one species does not have to have any effect for you. And regular yogurt is also very healthy.
What's in a name?
Shakespeare's Julia was already wondering and we do too. What do those bacteria names mean?
If we look at them with a simple look, they sound very good:
Lactobacillus Casei Defensis: something with defense. It defends our body against intruders and increases resistance.
Lactobacillus Casei Imunitass: something with immune. It makes us immune to disease.
Bifidus Regularis: something to arrange. It regulates bowel movements.
Bifidus Actiregularis: something with active regulation. It takes action for a good bowel movement.
Bifidus Digestivum: something with digestion. It aids digestion.
Bifidobacterium Lactis: something with bacteria and with milk. It's a milk bacteria.
It is a well-tested marketing strategy to impress the public with (semi-) scientific terms. For the most part, these terms were simply coined to generate the above ideas. In reality, all these bacteria come from the same strain: the gut bacteria Bifidobacterium animalis. Except in humans, we find this bacterium in most mammals.
"Scientific"
The additions "defensis", "regularis", "actiregularis", "lactis" all end with "is" which evokes the idea of ​​science, but that does not automatically mean that of course. The same is true for "um" in "digestivum". Also "tass" in "imunitass" gives it a scientific tone. The terms further suggest an active role in defending or regulating health. Suggest, because they are made up words.
The same bacteria, a different name
As mentioned, all these bacteria refer to the same species. Then why are they sometimes called differently? Marketing!
In Canada they speak of Bifidobacterium Lactis, in the Netherlands and England about Bifidus Actiregularis, in America about Bifidus Regularis and in Germany and Austria "Essensis" is added to Bifidus Digestivum to make it appear that it is an essential bacterium. The name Bifidus Actiregularis in England is relatively new, because the bacterium was previously called Bifidus Digestivum. A perfect example that shows that we are not dealing with scientifically founded names, but a sales technique. After all, if it was a scientific name, the researchers who discovered or cultivated it could have given it a name. That name would have been the same all over the world.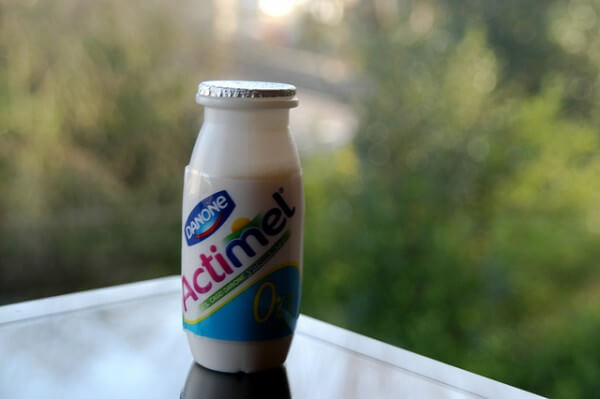 Source: HealthGauge, Flickr (CC BY-2.0)
Actimel
Actimel is a yogurt drink of Danone with the L. Casei Defensis bacteria also L. Casei Imunitass mentioned. According to the advertising Actimel helps in your stomach, where 70% of your resistance is determined. Is that right?
On the website of Actimel a number of claims are made:
For a good resistance you have to eat a varied diet, exercise enough, relax and get enough fluids.

Lactobacillus caseï Defensis is exclusively present in Actimel. The bacteria has been isolated from milk by Danone scientists.

Drinking Actimel daily increases the resistance. This has been proven in thirty scientific studies.

Actimel stimulates the intestines by (1) contributing to a balanced intestinal flora, (2) stimulating the production of intestinal mucosa and (3) stimulating specific immune cells in the intestinal wall.

Lactobacillus caseï Defensis survives stomach acid and is active in the intestines.
The first claim seems like a general rule that we can all see logic in. The second claim is less credible because, as we saw above, these good bacteria are not that unique at all. And if the Danone scientists "discovered" the bacterium, why is its name different in other parts of the world?
The third claim states that there are 30 studies showing that Actimel helps. Summaries of these studies are not available, so we don't know how much it helps, if it helps everyone, who the subjects were, etc. The fourth and fifth claims sound like results from these studies, but we see no evidence of that. .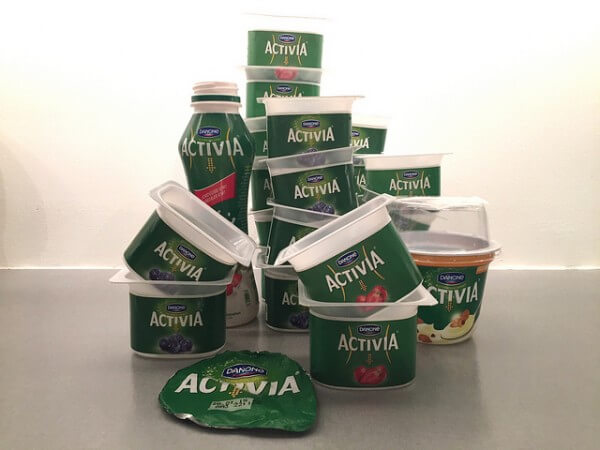 Source: Danonenordics, Flickr (CC BY-2.0)
Activia
Activia from Danone is the brand name for a range of yoghurt products and some yoghurt drinks with the Bifidus Actiregularis or Bifidus Essensis bacteria. The website makes similar claims to the Actimel site. The main deviation is the following quote:
"Activia has successfully completed the Dutch" Code of Conduct for Scientific Substantiation on Health Effects for Health Claims for Food and Drink. "In concrete terms, this means that a panel of independent experts has expressed a positive opinion about Activia's scientific file. This code of conduct is partly endorsed by the Nutrition Center. " (website Actimel: http://www.verstandvanweerstand.nl)
This sounds very good, but the problem is as follows: the independent panel decides on the scientific substantiation of a claim as found by the producer. This means that no new tests are done, but that existing studies are evaluated. The fact that researchers of the producer found a positive effect and substantiated this does not mean that a 100% independent study cannot make other findings. In addition, we still don't know about the subjects tested and why the product worked for them.
Lawsuit against Danone
In January 2008, Coughlin, Stoia, Geller, Rudman & Robbins filed a "class action suit" against Danone (Dannon in America). Danone's claims about scientifically proven improved bowel movements and gut flora are not supported. There is even research by Danone itself which found no evidence for a positive effect of the Danone products. The chairman of the Danone group admitted: the launch and marketing of the product has led to success rather than the operation. The group of lawyers wants to file a claim on behalf of duped consumers who bought expensive yogurt that eventually turned out not to do what it promised.
Yakult
Yakult is a drink from the Japanese company Yakult containing the bacteria Lactobacillus casei Shirota. This bacterium is named after its discoverer and founder of Yakult Dr. Minoru Shirota. In 1930 Dr. Cultivate Shirota lactobacilli that were strong enough to withstand the stomach acid and to produce sufficient numbers for a sufficient effect. The drink Yakult was developed in 1935 to provide patients with the bacteria in an easy way.
Unlike Actimel and Activia, Yakult does not make so many loosely grounded claims. Yakult adheres to the "Code of Conduct for Scientific Evidence", but as described above, this does not necessarily mean that the claim is true. The positive thing about Yakult is that the website offers a lot more information about the product. The strain of bacteria has been named by a scientist and does not change with marketing needs in other countries. Yakult also carries the FOSHU (Food for Specified Health Uses) quality mark in Japan. The quality mark is only awarded to foods that have been proven to be effective, safe and of high quality. Contrary to the Dutch Code of Conduct, the award of this quality mark is preceded by independent scientific research.
Conclusion
Activia, Actimel and Yakult are comparable products on the dairy market; they all claim to improve resistance and intestinal flora. Only Yakult provides sufficient rationale to believe that claim, because Activia and Actimel offer less information on their websites and play with the "scientific" name of their product. The question of whether the products work is difficult to answer, because it depends so much on the personal situation and lifestyle, but Yakult seems to stand strongest in its claims.