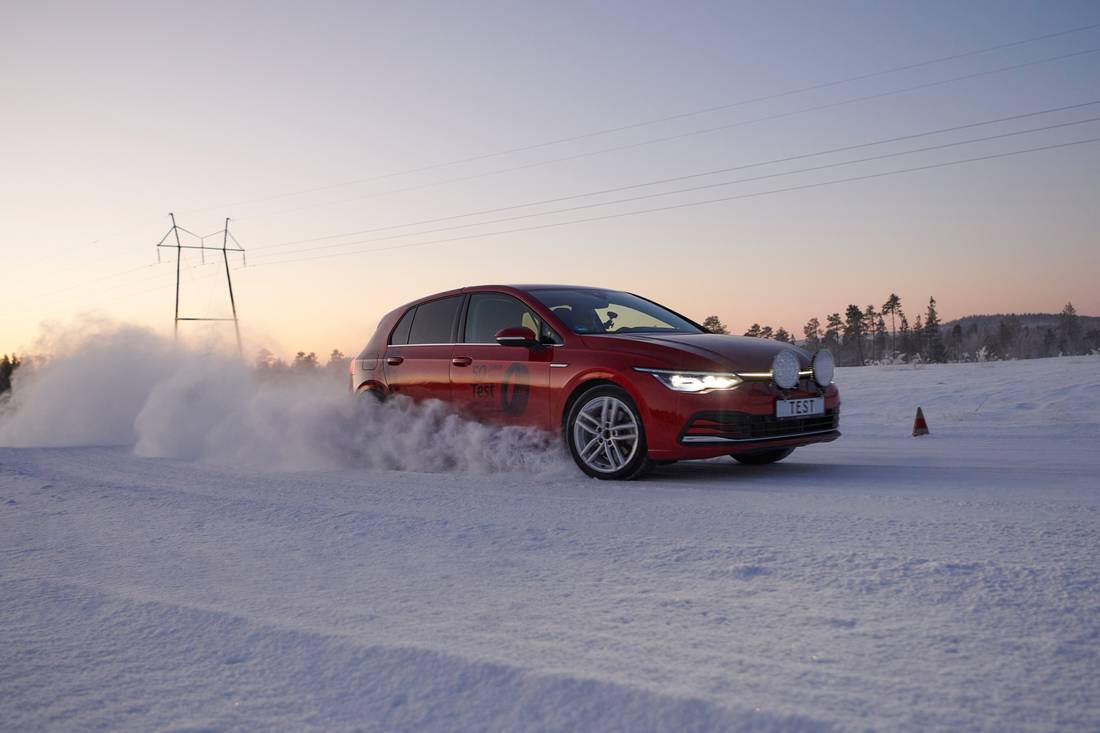 Like every year, the ADAC publishes its winter tire test shortly before the tire change season. In 2023 there were a total of 32 makes in the 205/60 R16 and 225/45 R17 dimensions, which are popular for mid-range SUVs and are often used in the compact class. According to the new test methodology, which is based on the two pillars of "driving safety" (70%) and "environmental balance" (30%), the established manufacturers Goodyear, Michelin, Dunlop and Continental are particularly strong.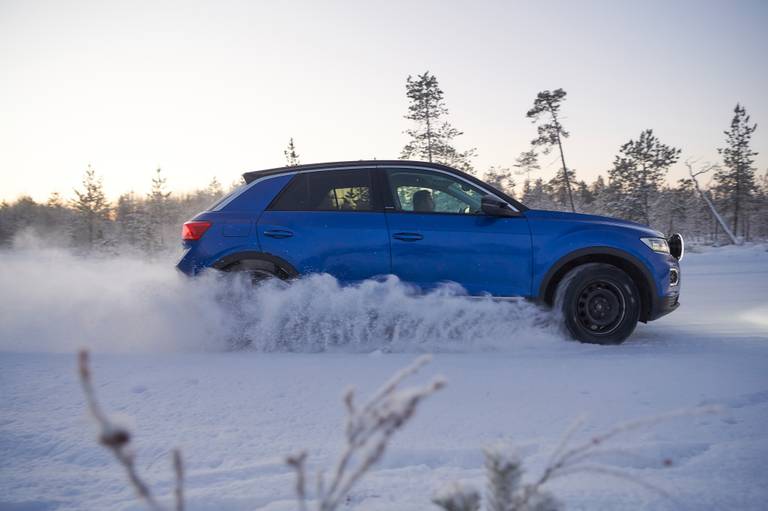 Like every year, the ADAC puts common winter tires through their paces in the far north of Europe. © ADAC/Marc Wittkowski
Continental WinterContact TS870 wins in the compact class tires
The automobile club awarded the compact class winter tires the rating "good" four times, eleven tires were rated "satisfactory" and only one winter tire had to be declared "poor". The Continental WinterContact TS 870 emerged as the winner in its tire class, excelling in terms of both driving safety and environmental performance. The Michelin Alpin 6 was also strong, achieving top marks for environmental performance, mileage and low abrasion. The Goodyear UltraGrip Performance+ was particularly fuel-efficient and weight-optimized. With slight weaknesses in wet road conditions, the Dunlop Winter Sport 5 still received a good overall rating.
The majority of winter tires tested showed weaknesses in dry, wet and/or winter road conditions. However, most of the 11 tires rated "satisfactory" still had a good environmental balance. The red lantern with the rating "poor" among SUV tires only went to the Kormoran Snow, which shone on snow thanks to its studded profile, but did not cut a good figure on dry and wet slopes.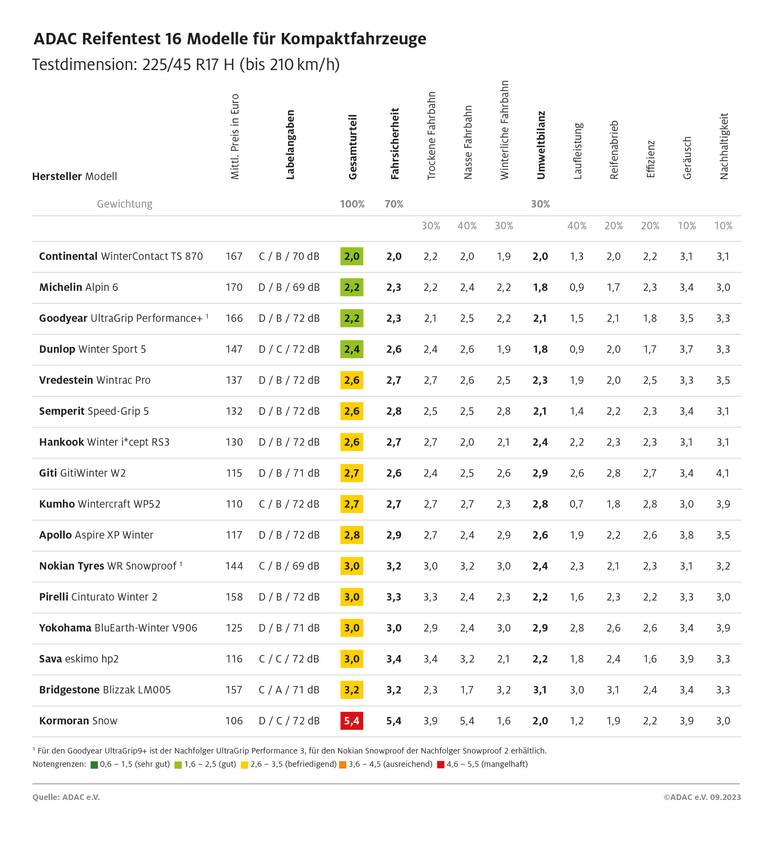 © ADAC
The best winter tire for the lower mid-range SUV comes from Dunlop
Of the winter tires tested for the lower middle class SUV (205/60 R16), seven of the 16 tires tested were able to leave the test field with the rating "good", seven with "satisfactory" and only two with "poor". The best list is topped by the Dunlop Winter Sport 5, followed by the Michelin Alpin 6, the Goodyear UltraGrip9+ and the Continental WinterContact TS870 P. The tires in question were balanced in all weather and road conditions and were also able to convince the ADAC testers when it came to environmental protection.
In addition to the seven winter tires rated "satisfactory," Germany's largest automobile club rated two tires "unsatisfactory," the Lassa Snoways 4 and the Austone Athena SP 901. The Lassa tire showed significant weaknesses, especially in snow, whereas the Austone tire did not achieve good results in the aquaplaning test.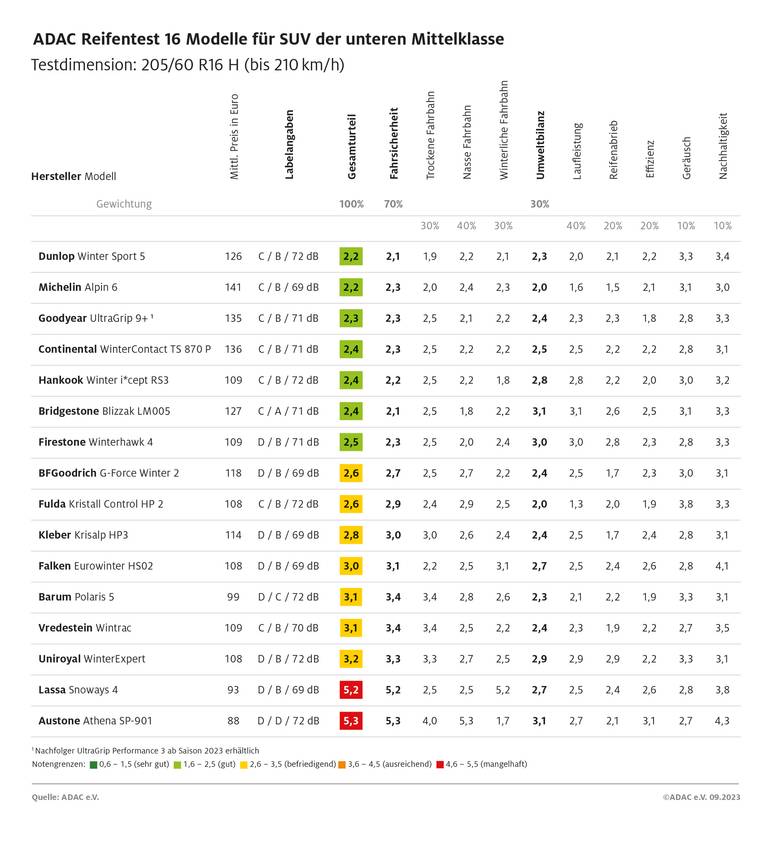 © ADAC
ADAC relies on new rating system
For the first time in a winter tire test, the ADAC carried out the evaluation using a new system that was introduced in the 2023 summer tire test. The overall result is achieved through two pillars, with driving safety being weighted at 70% and the environmental balance at 30%. The tires are tested on winter, wet and dry roads, and the testers also evaluate tire efficiency, noise, wear and weight, among other things, for the environmental balance. (Text: tv | Source/Images: ADAC/Marc Wittkowski)