Aglaonema, genus of multi-colored indoor plants
The colorful genus Aglaonema contains numerous types of indoor plants that, thanks to beautifully drawn leaves, always look good in many living rooms. The plants, which come from East Asia, have somewhat higher requirements with regard to light, fertilization and temperature. Aglaonema plants can easily be cutted by carefully pulling several shoots apart and planting them in new pots. When the plants start to flower, the well-known calyx is created which is so characteristic of the Araceae family, or the arum family.
Origin and taxonomic classification
Aglaonema is a genus of monocotyledonous plants that usually form shrubby vegetation in its natural habitat. These plants have striking characteristic drawn leaves with beautiful spots and patterns, which makes them popular as a houseplant. The genus contains about 50 species that mainly come from East Asia, including Indonesia, Thailand, the Philippines and Sri Lanka. Aglaonema species thrive in dusky dark spots in tropical rainforests, and this characteristic makes them very suitable as houseplants, as these plants do not need much sun. The genus Aglaonema is on a NASA list of highly air-filtering houseplants. Aglaonema belongs to the family Araceae (arum family), a well-known family that also includes the dieffenbachia, the hole plant and the philodendron. This also explains why Aglaonema plants look a bit like a dieffenbachia.
As a houseplant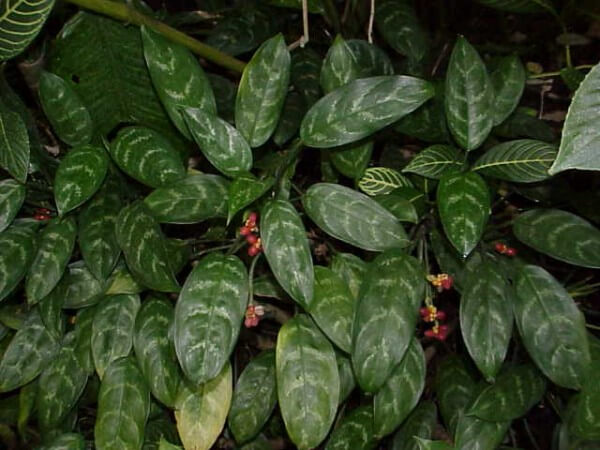 The beautiful Aglaonema commutatum /
Source: Kurt Stüber [1], Wikimedia Commons (CC BY-SA-3.0)
As a houseplant, an Aglaonema does not need much sun, stronger, direct sunlight can be harmful to the plant. The best spot is therefore a shady one for species with dark green leaves, but species with strongly marked leaves may also be in partial shade, as the leaves contain less leaf green. The plants do well in hydroponics *, so these plants can be very suitable for offices. In addition, the plant looks beautiful when combined with other plants, such as philodendrons or ficuses. Species from the genus Aglaonema do not grow taller than a meter as a houseplant, most even stay smaller. The habit is clearly upright and the leaves are usually lanceolate and contain a long stem. The flowers are quite small and are collected on a spike in a white or yellow sheath, a characteristic of all plants of the arum family. The flowering period is in summer or in autumn, the flowers may start to form orange or red berries.
* A hydroponics usually concerns a large planter in which the required nutrients and water can easily be regulated with a layer of water and a layer of clay granules, this saves a lot of time to care for plants, a hydroponics is therefore often used in offices or other large buildings.
Species and cultivars
The best-known species of Aglaonema is the small Aglaonema commutatum, of which there are many cultivars such as 'robustum Treubii'. The leaves of this cultivar become 20 cm long and 4 to 6 cm wide, and have beautiful gray-green patterns against a dark green background. The A. commutatum pseudobracteatum is the only cultivar to have golden yellow patterns against a green background. Other well-known species are A. costatum with 20 cm long and 10 cm wide dark leaves with a white midrib. The A. crispum has thick large leaves of 30 cm long and 15 wide. A. modestum has wavy green leaves again and the A. pictum has blue-green leaves with light green to gray patterns. Finally, the A. roebelenii has beautiful silver-colored leaf markings.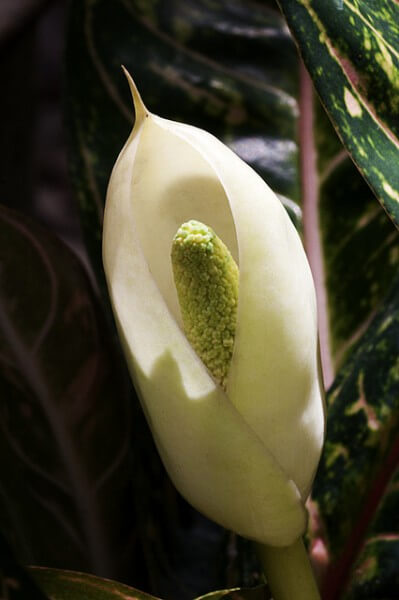 Inflorescence of the Aglaonema /
Source: Tukang Kebun, Flickr (CC BY-ND-2.0)
Grooming
Overall, there are three things to look out for. These are too much sunlight, too low a temperature and too many nutrients. Since Aglaonema plants grow in shady layers of tropical forests, they do not like sun, so never put these plants in full sunlight but in full or partial shade, direct sunlight can damage the foliage.
These plants are very fond of heat, 25 degrees is a good temperature, but this will not be achieved in the average living room. It should also be warm at night, about 15 to 20 degrees with 15 degrees being the lower limit. A little liquid fertilizer can be given once a month, this can be skipped in the winter and rest period. Always make sure not to give too much fertilizer, as these plants are not resistant to over-fertilization. Cleaning of the plant can be done with a damp cloth and some water to remove dust from the leaves. By placing the plants on a tray with water and gravel, a sufficiently high humidity is achieved and dehydration is prevented.
Repotting
The best time to repot plants is usually spring, young Aglaonema plants can therefore be put in a larger pot every spring, older plants once every few years. Pots of about 12 cm are usually ideal for an adult plant. During repotting, remove the old soil by carefully loosening it with a stick and if available add some clay granules to the soil, the plant will then grow better.
Source: Pebi Yudha, Flickr (CC BY-SA-2.0)
Cuttings and propagation
Aglaonema plants can be propagated by loosening side shoots from the plant and simply putting them in a new pot, but an adult plant with several shoots can also be easily divided into, for example, two halves. Stem cuttings can also be taken from the main stem and the plant can be tarnished. Marcottering means that a piece of bark around the trunk is removed, then some growth fluid is put on that spot and a plastic bag is tied around the stem where some soil is put in. After some time, roots will develop in this place and after some time the trunk can be cut under the new roots and the new plant put in a pot.
Top cuttings
Top cuttings can also be taken by cutting a healthy stem just above the ground. Dip the cutting in some growing powder and then put it in a small pot with potting compost. Place clear plastic over the cutting and place the cutting above the radiator so that a warm temperature is reached. However, prevent it from drying out by keeping the cutting sufficiently moist and allow the cutting to air for a few minutes every day. The cutting will have new roots after a few weeks and it can then be planted in a larger pot. If you do not have growing powder, you can of course always try to take a cutting without growing powder, who knows, it might work.
Pests and what to watch out for
With too much water or too cold temperatures the leaves can turn yellow, too dry air can cause the leaves to dry out and also make them yellow. Drafts can cause leaves to droop. The plant needs nutrients, with too little the leaves can remain small, but as mentioned, the plant is even more sensitive to an excess of fertilizers. White fluffy spots are often the result of mealy bugs, yellow spots and brown tips can be scale insects. Both pests can be treated with some methylated spirits and a cotton ball. The plant is also not resistant to smoke, which will cause brown spots. Finally, it goes without saying that when purchasing a new specimen, care must always be taken to ensure that the plant looks healthy.