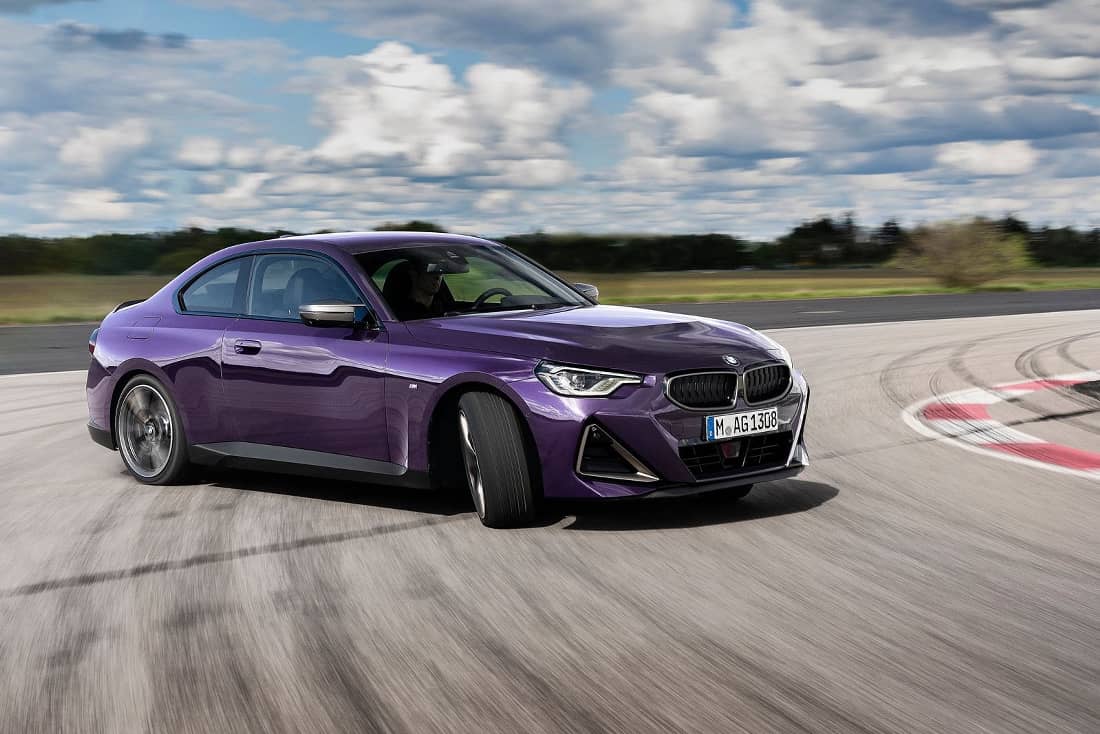 No front-wheel drive, but a long-serving rear-wheel drive! BMW refrained from putting the 2 Series Coupé on the 1 Series (and 2 Series Gran Coupé) platform. Rather, the new edition shares the CLAR basis with 3, 5 and 7 series. So the sporty attributes are clearly in the foreground, which the Munich-based company has also visually proven. The two-door is expected to hit the streets in early 2022.
2 Series Coupé grows vigorously in length
Although the 2 Series continues to poach in the compact class, it has grown by almost eleven centimeters compared to its direct predecessor. The total length increases to 4.54 meters, which should definitely benefit the driving comfort.
The short notchback, the exhibited fenders and the long bonnet with the power dome fitted as standard are also striking. The pair of kidneys is much more delicate than on other models from the Munich-based company and is intended to be reminiscent of the 02 series from the 1960s, also thanks to the specially designed LED lights. The cockpit design is based on the 1-series layout, but offers, among other things, sports seats and a sports steering wheel as standard. In addition, higher-quality materials and special decorative parts, for example in the door panels, are used.
Top model still with in-line six-cylinder
The most important difference to the front-wheel drive ones, the two-coupé should have in the driving dynamics. An almost 50 to 50 balanced weight distribution, numerous lightweight construction measures and increased torsional rigidity should make the 2 series more active. If the normal 2 series models use rear-wheel drive as standard, the provisional top model M240i gets an xDrive all-wheel drive without an alternative (combined fuel consumption: 8.8-8.1 l / 100 km; combined CO2 emissions: 200-185 g / km² ).
Thanks to the CLAR platform, there is a 275 kW / 374 PS and 500 Nm strong 3.0-liter in-line six-cylinder with turbocharging under the hood, the power is sorted via a standard eight-speed sports automatic. Also on board the M240i xDrive is a specially tuned adaptive suspension and a sport differential. The prices for the top model start from 56,000 euros.
Three engines at the market launch, self-confident price level
As an alternative, a 2.0-liter four-cylinder petrol engine with 125 kW / 184 PS is available for market launch, while the diesel of the same size with 48-volt mild hybrid technology has 140 kW / 190 PS (combined fuel consumption: 6, 8-4.7 l / 100 km; combined CO2 emissions: 155-122 g / km²). An eight-speed automatic is standard on all models, a manual gearbox is no longer offered. The prices of the normal 2 series models start at 39,700 euros for the 220i and from 42,800 euros for the 220d. (Text: tv, hh / sp-x | Images: manufacturer)