Contents
What do day permits and short-term license plates mean?
How much do the permits cost?
What can I do with the approval types?
Where can I get a short-term license plate?
Applying for short-term license plates: Requirements and documents
Can I also register my vehicle without a TÜV?
Am I allowed to drive a car with temporary license plates abroad?
What happens after the approval expires?
Conclusion: Short-term license plate and daily registration
What do day permits and short-term license plates mean?
Both approval variants are similar, differ mainly in the duration of their validity.
day admission
The day admission is, as the name suggests, only valid for one day. A car dealer or manufacturer registers the approval for a new car to be sold. However, it only applies on paper, which means that the car must not be moved. One-day registrations are only granted for new storage vehicles that have a maximum mileage of 10 kilometers.
The daily registrations allow dealers to sell a vehicle cheaper without lowering the manufacturer's list price. In this way, they can generate higher sales and premiums.
In addition, car dealers are usually obliged to accept a certain number of new cars. Price reduction through daily registrations can attract more customers and lead to more sales. As a result, more vehicles are registered, which is important for the manufacturer's registration statistics. And good stats make for a good reputation.
Private customers also benefit: on the one hand from the lower sales prices, on the other hand they can take the car home with them more quickly. In contrast to annual or demonstration vehicles, vehicles with daily registration are already on site. This eliminates waiting times, but the cars cannot be configured according to personal preferences.
short-term license plate
A short-term license plate can be used, for example, for a test drive before buying a car or for transfer trips. It is forbidden to undertake other journeys (e.g. shopping or short trips). This license plate is valid for a maximum of five days after it has been allocated and can be applied for at an admissions office. Because of the period of validity, this license plate is also known as the 5-day license plate.

How much do the permits cost?
Since the daily registration is much more a small trick of the car dealer, there are no costs for the buyer.
How much does a short-term license plate cost?
The cost of a short-term license plate can vary, as dependent on various factors are. Once everything has been paid for, it doesn't matter whether the number plate is only used for two days or the maximum permitted five days. The most important aspects are:
license plates: Between 20 and 30 euros will be charged for embossing the number plates.
Administration fee: The administration fee is an additional EUR 13.10. Of this, 0.30 euros are charged for the inspection sticker and the rest are payments to the insurance company and the Federal Motor Transport Authority.
Scope of insurance or eVB number (Liability, partially comprehensive, fully comprehensive): If you want to register your car, you need insurance confirmation regardless of the period. An eVB number (electronic confirmation of insurance) is required for this, which in turn results in costs of around 30 euros. In addition, the scope of insurance also determines the final price of the license plates. Partial and fully comprehensive insurance costs significantly more compared to normal liability insurance.
Expect to spend between 60 and 110 euros in total.
What can I do with the approval types?
For the day admission, this question has already been answered at the beginning: If a car only has a one-day registration, it may not be moved. Daily registrations only apply to new vehicles with a mileage close to zero. A car is considered new if: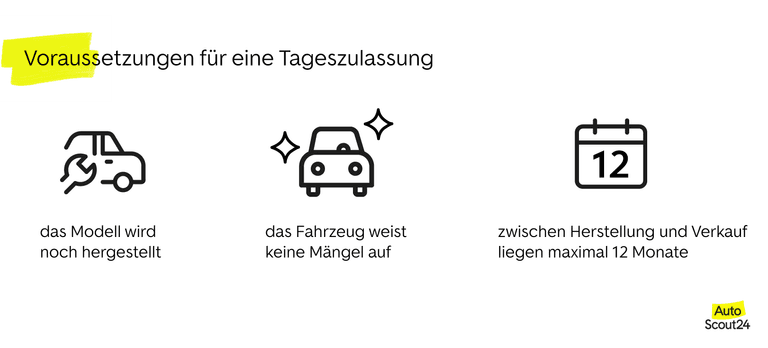 The use of the car with a short-term license plate is also restricted. General there is only two options in which a wagon with temporary number plates may be moved: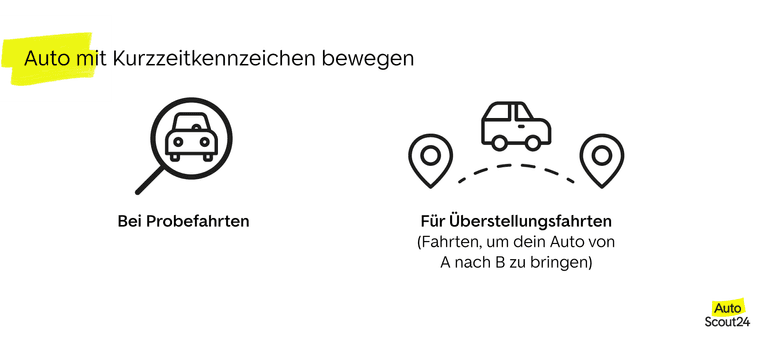 All other journeys, such as short trips or shopping trips, are prohibited.
Disregarding this rule, for example by going to the gym, is a punishable offence. In the event of an accident during a trip that is not covered by the regulation, the insurance cover also lapses.
Where can I get a short-term license plate?
A short-term mark can be applied for at any German registration authority. So there is a choice between:
an authority at the main residence,
the last place of registration of the car,
the place of vehicle purchase,
or wherever the vehicle is currently parked
It is important that the short-term license plate is only ever valid for one car. A license plate that has been applied for cannot simply be attached to another car.
Applying for short-term license plates: Requirements and documents
In some European countries, such as Austria or Switzerland, it is only possible for traders to apply for a corresponding short-term license. Only they are then allowed to carry out the corresponding journeys. In Germany, however, this is regulated differently. Everyone can apply for a short-term license plate here – even minors. However, these require the signature of both parents.
In general, similar documents are required as with a conventional approval:
Valid identity card or passport with registration certificate
Electronic confirmation of insurance (eVB number) for up to five days
Proof of the last valid main inspection (HU/TÜV)

Registration certificate part 1 (vehicle registration) or registration certificate part 2 (vehicle registration)

If necessary, CoC papers (Certificate of Conformity, EC certificate of conformity), foreign vehicle documents, manufacturer certificates and expert opinions in the original
Authorization of the vehicle owner if the short-term license plate is requested for another person (representative)
for minors: Written authorization from the legal guardians and their identity cards
for legal entities, companies or associations: excerpt from the commercial or association register (maximum three years old, valid from the date of issue) and business registration
If you apply for the short-term license plate in person at the registration office, you can take the finished license plate with you immediately. Many institutions now also offer an online application. A few days for shipping must be planned here.
What do I need to transfer my car?
As soon as the short-term license plate is attached to the car, it can be transferred – with the driver's license – in accordance with the legal requirements. However, if the car is bought with a one-day registration, it still needs to be registered. In this case, however, it does not have to be a short-term license plate, but the vehicle can be registered with a registration authority.
Can I also register my vehicle without a TÜV?
It can always happen that a car that is due for a TÜV inspection has to be transferred. If, for example, a used car is bought without a valid general inspection and it needs to be refreshed in your own trusted workshop, the car first has to get there somehow. In this case it can Short-term license plate applied for without a valid main inspection become. However, the registration is then limited to the respective registration district and the adjoining one. The corresponding restrictions are noted in the vehicle registration document for the license plate.
For a one-day registration, there is no need for an extra main inspection, since new cars usually have a three-year TÜV. Please note: If the car dealer has approved the car as a rental car for one day when applying for approval, the TÜV is only valid for one year, since Rental cars in Germany have to go to the HU every year. It is best to pay attention to the relevant information in the purchase contract or ask the seller directly.
Am I allowed to drive a car with temporary license plates abroad?
A short-term license plate is a national identification for test and transfer drives. That's it in principle only valid in Germany.
However, there are corresponding agreements with Switzerland, Austria, Italy and Denmark, through which our short-term license plate is also recognized there. In other neighboring countries, the German short-term license plate is not recognized, but is tolerated.
Nevertheless, caution is advised. In France and Luxembourg, for example, there have already been cases where entry with a temporary license plate was refused. Hungary, Bulgaria and Romania are other countries that have had problems with short-term license plates. It is best if the car stays in Germany as long as it is only registered with a short-term license plate.
Long-distance registrations with short-term license plates are not permitted
It is not permitted to apply for a short-term license plate in Germany and then transport it abroad to attach it to a car and transfer it to Germany. That would be a so-called inadmissible remote authorizationwhich is to be avoided.
What happens after the approval expires?
After the daily admission has expired, nothing happens at first, since the admission is more pro forma. However, other things must be considered:
a new car with one-day registration can usually no longer be configured according to one's own preferences because it is already finished
on the registration certificate, the buyer is listed as the second owner, since the dealer is considered the first owner
Watch out for insurance: some providers withdraw the new car discount for one-day registrations because the buyer is officially no longer the first owner. You should ask here beforehand.
the warranty period begins on the day the car was registered with the daily registration and is shortened accordingly
In contrast to other types of vehicle registration, the short-term license plate is limited. This means that after the five-day period has expired, the car is automatically deregistered. The insurance cover also lapses.
A special deregistration is therefore not required. The license plates can be returned, but there is no obligation to do so. The insurance office usually takes the number plates back free of charge and takes care of disposal.
How do I know when my number plates are no longer valid?
In addition to the designation as a short-term license plate or 5-day license plate, this type of approval also has another name: yellow license plate.
The reason for this is the right, yellow edge. The expiry date of the license plate is noted on this. The date is read from top to bottom. For example, if the number plate reads 08, 09 and 23 one below the other, it is valid until September 8th, 2023 – to be precise until 23:59:59.
Conclusion: Short-term license plate and daily registration
Both the short-term license plate and the daily registration are ways to register a vehicle for a short period of time. With daily registration, car dealers have greater scope for price adjustments. Buyers also benefit from the lower purchase price. However, a few things must be considered in the subsequent approval and possibly invalid insurance premiums.
Buyers can register the short-term license plate to officially register the car for a maximum of five days. During this period, the car can be moved in the registration district and in an adjacent district, for example to bring it to the TÜV. After the five-day period, the registration expires automatically. If the number plate is still used, a fine of 50 euros is to be expected.