Cat hammock: let your cat completely relax in the house
You can attach a cat hammock to the radiator, the window, the four legs of a chair or table or to the wall or ceiling. This offers your cat a wonderful place to retreat and from there to oversee the rest of the room. If you have a cat that likes to retreat to small and often difficult to reach places, a special hammock for cats can be a nice addition to the furniture. Cat hammocks come in all shapes and sizes so that there is something for everyone.
Hammock for your cat
Where does your cat feel safe and comfortable?
Cat hammock: your cat feels like a king
Different types of hammocks for the cat
Availability and price
Where does your cat feel safe and comfortable?
Every cat owner knows: cats can be strange animals. Where one person behaves very calmly and affectionately and likes to be stroked on the head, the other is extremely skittish and avoids contact with people. Something that most cats seem to have in common, however, is the need to be able to retreat safely to different places. Preferably it concerns places where only they can reach, such as that one corner of the cupboard or on top of a high shelf. That is why you often see cats looking for small spaces. Many cats have their own places in the house. For example, one cat likes to sleep in his or her own basket while the other does not yet think about jumping on the couch if his favorite blanket is not there.
While every cat is different, of course, vets share several general tips for making your cat happy. A few tips that come back a lot are the following:
Make sure your cat has different sleeping places both high and low in the house
Provide various escape options and hiding places in the house
Make sure that each cat has its own water and food bowl in a place where they can eat and drink quietly
Offer your cat plenty of exercise options, especially if it doesn't go outside
Cats can get stressed from too much noise, so keep it limited
Cats like places in the warm sun, so make sure they can catch the sun's rays indoors as well
Cat hammock: your cat feels like a king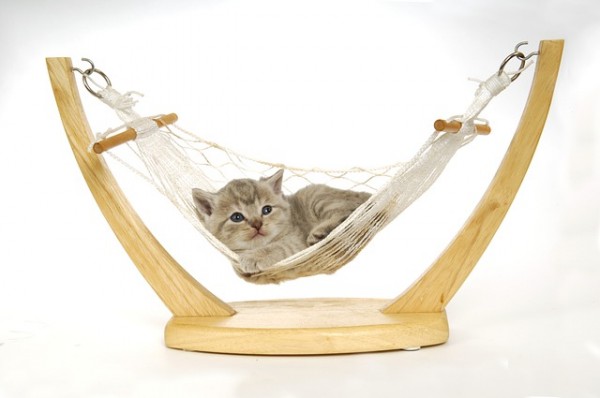 Source: MissKaiser, Pixabay
There are various products on the market with which you can make your cat extra comfortable. Consider, for example, a scratching post, various elements that you can attach to the wall or ceiling and of course cat toys. But have you ever thought of one cat hammock? A cat hammock is a hammock specially designed to offer the cat a nice place to retreat. Anyone who has ever lain in a hammock knows how to doze off in a nice mat that encloses your body. This is no different for cats. Because cats are not too big, there are many possibilities. This way you can offer your cat a throne from which he can see the rest of the room like a king. It may be a bit uncomfortable at first, but once your cat is used to it, it probably doesn't want to do anything else.
Different types of hammocks for the cat
Cat hammocks come in different shapes and sizes. There are various models that you can easily attach to the wall or ceiling. Especially popular is the radiator hammock. This can easily be hung on the radiator with hooks or a flap so that it immediately becomes a warm place in the winter, when you have the heating on. A hammock for the radiator takes up little space and does not get in the way when vacuuming.
Another type of cat hammock is the hammock that you can attach to the four legs of a chair or table. This way your cat can hang in a hammock under the chair or table without getting in the way of someone. There are also cat hammocks or cat beds that you can attach to the window with suction cups. Because the suction cups cannot bear that much weight, this type of hammock is often only suitable for kittens who do not yet weigh that much. Always check the packaging for how many kilos the hammock is suitable for.
Availability and price
If you are looking for a cat hammock to make your cat feel completely at home, you can go to various pet stores and web shops. A cat hammock doesn't have to be expensive. For a simple model you pay no more than approx. ?? 15 (2020). If you opt for a design model that immediately complements your interior nicely, the costs can rise to more than ?? 100. Examples of brands with various cat hammocks in the range are Beeztees, Comfort Pillow, Adori, Trixie, Ebi, Doegly, Nobby and Vadigran. The English name is one cat hammock. You may come across it under this name in the store or webshop.